Greed is Good Theater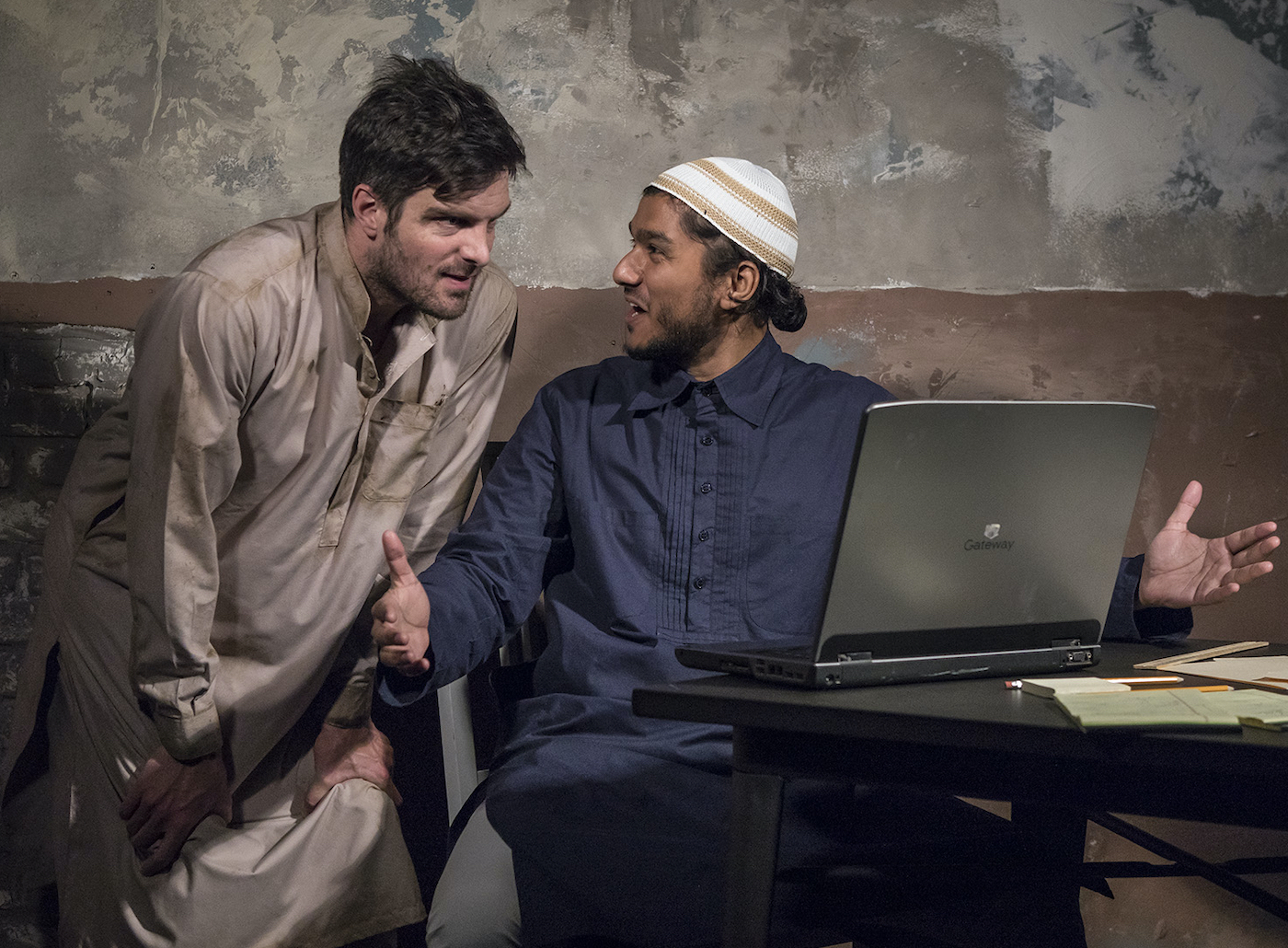 John Tufts's most recent pair of theater jobs featured the actor playing multiple roles. In I Am My Own Wife – in which Tufts just finished reprising his stunning turn in Doug Wright's Pulitzer Prize-winning one-man show that played at Ensemble Theatre in 2016 at the Laguna Playhouse – he played some 40 different roles, from the elegant and eccentric 65-year-old German transvestite Charlotte von Mahlsdorf to a Stassi office to the playwright himself. Just before that, he was in New York appearing in an acclaimed new production of Pride and Prejudice as both Bingley and Mary, only two characters, but diametrically opposed in tone and temperament.
Tufts only has one role in Ensemble's area premier of The Invisible Hand, a political thriller by Ayad Akhtar, who won a Pulitzer of his own for his previous work, Disgraced, which also addressed issues of Islam in today's world. But it's a meaty part.
Tufts portrays American investment banker Nick Bright, who has been kidnapped by an extremist organization and held for a $10 million ransom. But his company refuses to meet the terrorists' demands, so Bright attempts to save himself by convincing his captors that he can manipulate the stock market to meet their demands.
"The play is about right now," Tufts said in a recent interview. "It takes many of the issues we are currently experiencing in Middle East and South Asia (and Wall Street) and distills them into this remarkably compelling and furiously fast story."
But it isn't the global politics aspect that challenges the Tufts, though it's hard to draw from your own experiences when playing someone who might face beheading at any moment. The play has also been characterized as an economics seminar due to the complicated issues that boil down to basic monetary greed exhibited by each of the four characters in the work. Indeed, the title itself is a reference to concept put forth by Adam Smith in the assumption that a free-market capitalist economy works because everyone is motivated by their own self-interest, which provides a system of checks and balances. In Akhtar's play, the finance is tricky Wall Street-style maneuvering.
For Tufts, language surrounding financial finagling and market manipulation prove a lot tougher to master than Elizabethan language.
"It wasn't so hard to research what happens to a person in captivity, but a basic understanding of the financial stuff, that was hard," he said. "As an actor, all I know is money comes in and goes out. So, I didn't know anything about shorting the market, betting against currency and hedging on stocks decreasing in value."
Having found himself confused re-watching The Big Short, Tufts turned to his stepfather, who actually could have been the role model for his character. "He was a banker at JP Morgan for 40 years, so he understands all of this. To him, it's Econ 101, child's play."
The other challenge was simply working with present-time material, unlike the period pieces he usually specializes in, Tufts said. "I wanted to challenge myself," he explained. "What I found is that the language is as poetic and rhythmic as any classical piece, but with contemporary words and phrasing. So, there's a visceral kinetic feel to it. I'm really enjoying digging into it."
Parsing the language also led to another viewpoint on the title. "I think 'invisible hand' also refers to something that's pushing the events of the plot forward rapidly and dramatically and dangerously," Tufts explained. "It works beyond the control of the characters, but it's still greed that's creates what happens."
Tufts and director Jonathan Fox also have another entryway into playwright Akhtar's intent, via Jameal Ali, who portrays the volatile Pakistani-British kidnapper Bashir. He starred in the original New York production of the play. "He's been so helpful in rehearsals anytime we have a question about understanding the author's intent," Tufts said. "We've been using him to unlock questions all the time."
Does the Pakistani jail cell door unlock long enough to free Tufts's investment banker character? Tufts isn't saying.
"The audience is just desperate to know if he will earn his ransom to set himself free, if he can he solve the puzzle in time. That's what gives it such nail-biting tension."
(Ensemble Theatre's production of The Invisible Hand previews April 12-13, opens April 14, and runs through Sunday, April 29, at The New Vic, 33 W. Victoria Street. Tickets cost $20 to $70. Special related events include a Book Club discussion at 5:30 pm before the Wednesday, April 18, performance [Scripts are available for checkout at the Central Library]; Pre-Show Talks at 7:15 pm on April 18 & 25; Martini Night with a complimentary martini and mingle at 7:15 pm on Friday, April 20; and Talk Back with the cast and director Jonathan Fox after the performance on Thursday, April 26. Visit www.etcsb.org or call 965-5400.)
Stage Start-ups
With King Lear in the rear-view mirror, Rubicon Theatre Company in Ventura has two special events on the schedule this week, including the world premiere of a one-man show based on the life of and starring a Ventura native. George Christie was among the most prominent leaders of the Hell's Angels, the motorcycle club (or gang, depending on perspective), and founded the club's Ventura chapter in 1978, running the chapter for more than 30 years while battling police, prosecutors, rival gangs, and members of his own organization. With Outlaw, written and directed by Richard La Plante based on Christie's memoir, Exile on Front Street: My Life as a Hells Angel and Beyond, the biker is taking his journey to the stage, covering all for his trials, tribulations, and triumphs seven years after he left Hell's Angels for good. The show premieres at the Rubicon on Wednesday and Thursday, April 11-12, plays Palm Desert on April 14, then comes to Center Stage Theater in Santa Barbara on May 2-3 in anticipation of a national tour.
Rubicon then moves from Hell to the garden, via Melissa Hammans's "Back to the Garden" show as part of the theater's Broadway Concert Series on April 14-15. Hammans's tribute concert showcases the lives and music of Patsy Cline, Loretta Lynn, Tammy Wynette, Dolly Parton, and many others, as through story and song she puts a fresh spin on classic hits including "Walkin' After Midnight", "Stand by Your Man", "Coal Miner's Daughter", "Jolene", and more. The Sunday afternoon performance also offers a post-show talkback. Info at 667-2900 or www.rubicontheatre.org.
Closer to home, SBCC's Theatre Group also examines deviant behavior, but in this case it's more Crimes of the Heart, the 1981 Pulitzer Prize-winning drama that was adapted into a Oscar-nominated film. The three Magrath sisters have returned to the family home in Mississippi as their patriarch grandfather is dying in the hospital. Each has their own issues: the oldest is unmarried and facing diminishing marital prospects, the middle sister has come home following a failed singing career on the West Coast, and the youngest is out on bail after having shot her husband. Department co-chair R. Michael Gros directs the April 13-28 run at SBCC's Jurkowitz Theater, the intimate cousin to the Garvin. Details and tickets at www.theatregroupsbcc.com or call 965-5935.
You might also be interested in...