McEuen to Greene & Sitars to Sax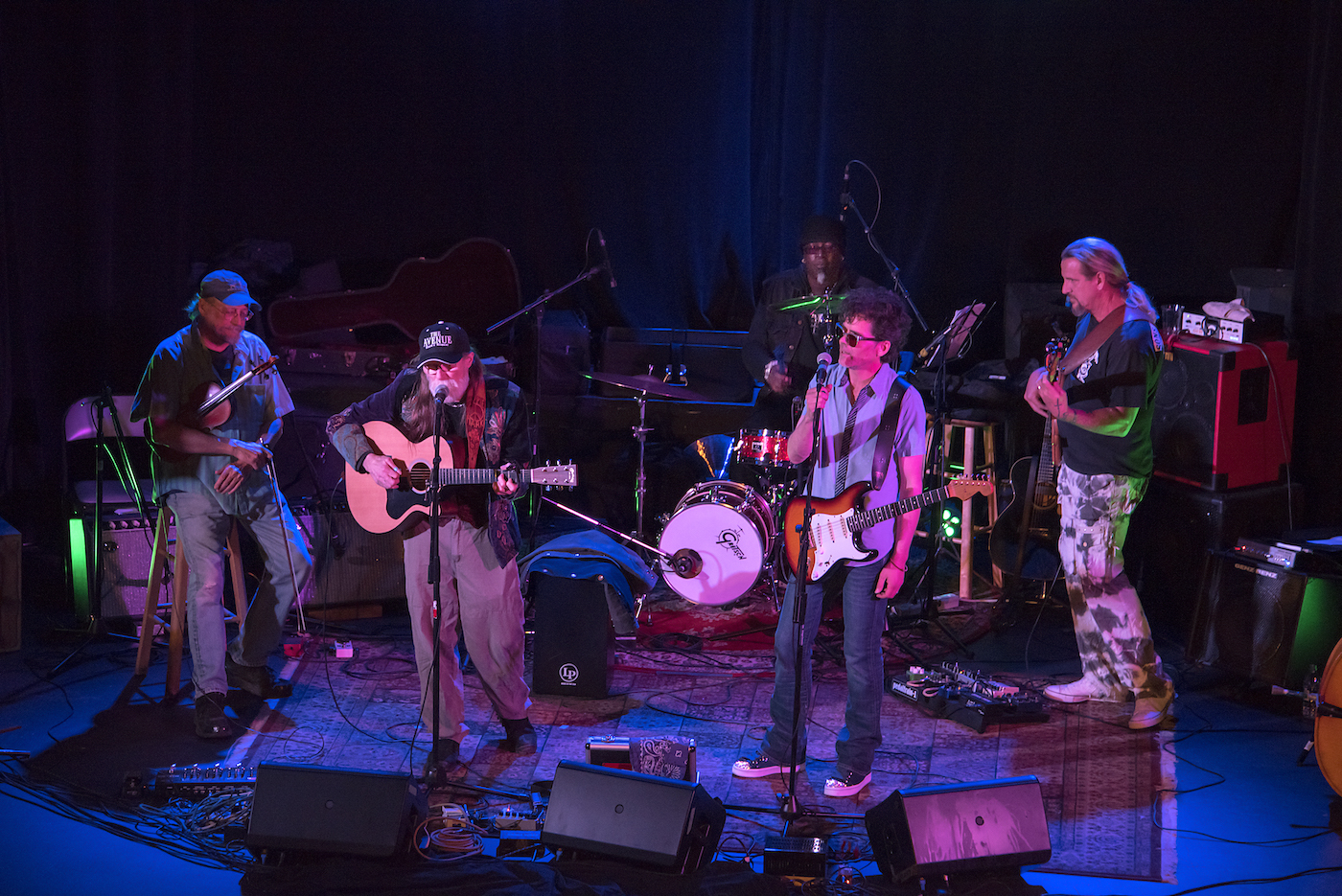 Returning to the live performing circuit but no stranger to it, Jonathan McEuen performed an "Americana Showcase" in Carpinteria on March 24. With him were Mark Corradetti [Nashville] on lead bass, Phil Salazar fiddle [Ventura], Alvino M. Bennett drums [Chicago/Burbank], Sean Ingoldsby [Ojai] bass, and Mark Searcy acoustic guitar [Ventura]. The opening set show-cased 11 songs from McEuen's new LP, Through the Sun Gate, a mix of McEuen-genre music he recorded with various local artists, summing up his travels from his time at Cafe Voltaire Ventura, around the country and back.
Songs named "Faktory" and "Ventucky" note he enjoys the double entendre just as much as his music-making does. This multi-instrumentalist talent humbly shares his stage, though clearly standing free in his own rite, rather, an enigmatic soul-bearer strumming, drumming, plucking, and free-form glass-sliding on the delicate neck of his classic '62 sunburst Fender Stratocaster – even burning a new memory for his audience of The Allman Brothers Band's "Statesboro Blues", totally zeal yet taken. Congrats, JMcE, certainly one not to miss: "Et tu, Scorcese?"
Celebrating his 20th year as a noted blues composer and guitarist, Santa Barbara's Alastair Greene gave no less than a three-hour gig at SOhO SB on March 23, sold-out as the line to get in was around the corner. Backed by the SB Blues Society and a large loyal fan base, his not-so-shy kick-a blues music got us all up dancing, and the club had cleared the entire front of house just for that.
The concert was filmed for Alastair's upcoming music videos and other "surprises" for 2018. The 40-song set list was a walk through his two decade songbook, including hits "Trouble At Your Door", "State Street Shuffle", a set with Chris Chalk from his former band called Scarecrow, and songs from his new multi-hit LP, Dream Train. Been awhile since this town was treated to such a seamless stream of live music made with a three-man band – himself with Jim Rankin on bass and Austin Beede drums; less truly is more.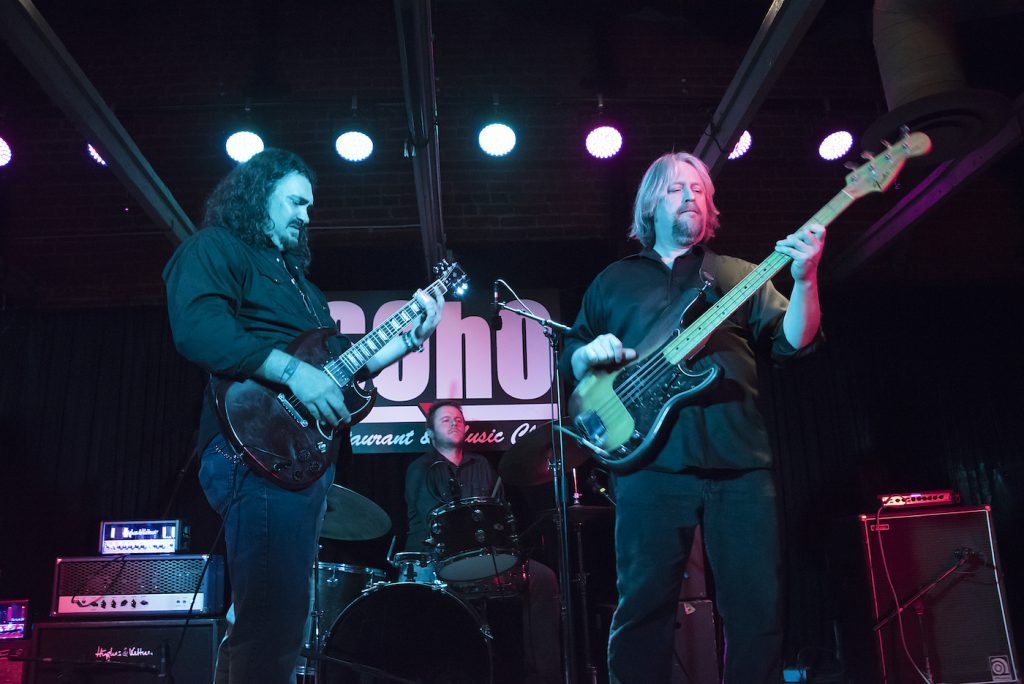 Two ensemble groups at UCSB held spring concerts. The Music of India Ensemble directed by Dr. Scott Marcus, chair of the UCSB Department of Music, held its spring concert of Indian classical music on March 15 at Karl Geiringer Hall. The musicians were seated barefoot on floor carpets in the middle of the semi-arena shaped room, as tradition for Indian music. The ensemble is an ever-changing group of musicians from beginner to advanced, studying under Scott's direction from January through June each year, a program founded by him in 1989. His interpretations of classic ragas and teaching methods afford students the opportunity to perform a raga by the end of a 10-week session. Scott went over the program about the ragas to be performed with a sitar demo, discussing the basic structure of ragas, the order of the compositions, and its unique differences to Western composition and mastery. To his expertise, he tuned the 18 student sitars by ear. 
The sitar ragas were Rag Durga and Rag Juanpuri, with Neal Kumar, son of Ramesh Kumar, on tabla. Scott used his iPhone with an app for the harmonium. The vocal class performed Rag Bageshri, a classic tale of the woman and man trying to see each other for a late-night rendezvous, but the woman has to walk across an open courtyard to him without her ankle bracelets waking anyone. The concert was sold-out with many new Indian music fans.
The UCSB Jazz Ensemble directed by Dr. Jon Nathan held its first large ensemble concert of the year titled "The Full Spectrum" to celebrate standards to modern jazz styles and compositions, in both vocal and instrumental works. The set list started with "The Blues Machine" by Sammy Nestico, which led into "Bonga" and "Caravan" by Duke Ellington. The band changed players for the jazz standards "Get Happy", "I've Caught a Touch of your Love", and "People Will Say We're in Love". The second half of the concert switched gears to the modern jazz, Grammy-winning composer Maria Schneider's works "Dane You Monster to My Soft Song" and "Green Piece", and the concert finale was Joe Farrell's "Sound Down", arranged by Ray Ricker.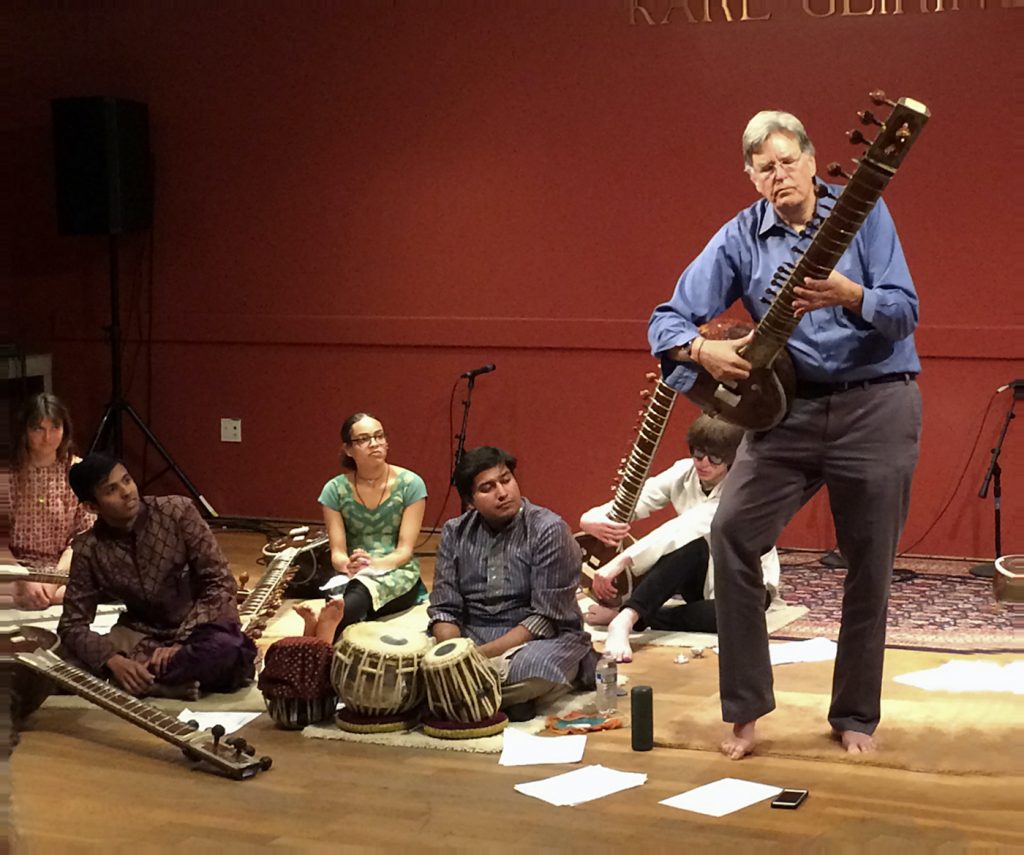 High-note mentions go to musicians Collin McCrary on alto and soprano sax, Milo Weising on tenor and baritone sax, Danny Toomey on guitar, Mitchell Solkov and Nina Spring on – bass, Reno Behnken on piano, Charlie Prindle on drums, vocalist Kennedy Didier, and guest soloist Josh Sheltzer on alto sax. In addition to mastering jazz music, members of the band are also graduate students in geology, political science, astrophysics, engineering, and clinical psychology.
The Jazz Ensemble will be in concert at SOhO Music Club Santa Barbara on April 29, and at Lotte Lehmann Hall on June 6 with musician Jeff Babko, who is a house band member for ABC's Jimmy Kimmel Live.
411:
Jonathan McEuen: www.jonathanmceuenmusic.com
Alastair Greene: www.agsongs.com
Jazz Ensemble: www.music.ucsb.edu/ensembles/jazz
Indian Ensemble: www.music.ucsb.edu
You might also be interested in...