Jewish Film Fest's New Math: 11 = 3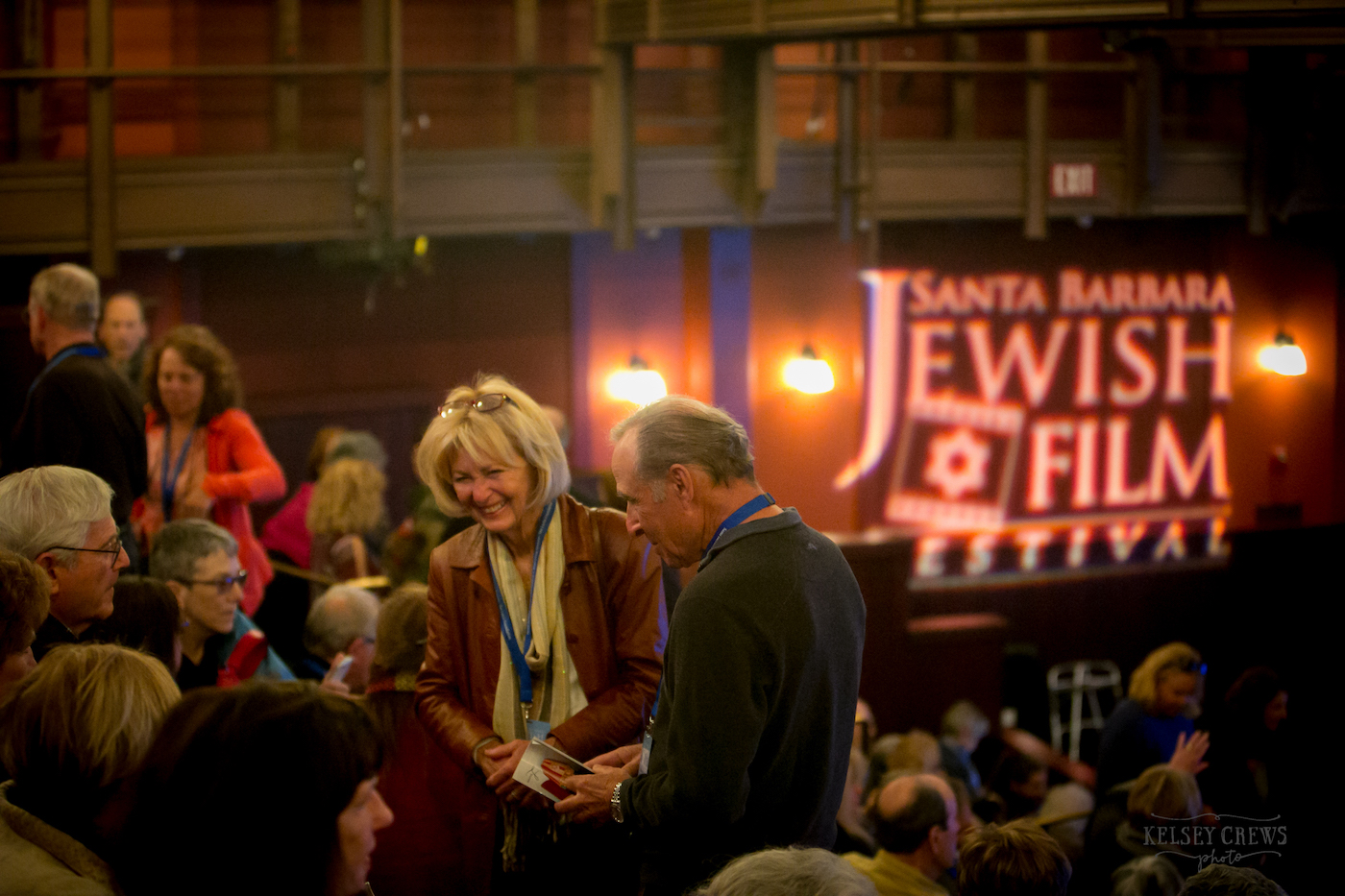 The Santa Barbara Jewish Film Festival (JFF) got its start back at the turn of century, when Barbara Greenleaf and her husband, Jon, decided Santa Barbara needed its own fest devoted to Jewish films to add to the cultural community after attending a similar one in San Francisco. The fest ran for more eight years – along the way screening many movies and attracting such guests as Academy Award-winning actor Martin Landau, directors Paul Mazursky and Joan Micklin Silver, and Los Angeles Times film critic Kenneth Turan — but gave up running the event after 2010.
The fest sat dormant for five years, during which the Santa Barbara International Film Festival created its Kolnoa sidebar to feature Israeli films, before the Jewish Federation of Greater Santa Barbara took up the mantle with Kolnoa curator Mashey Bernstein – who had just retired as a professor at UCSB – at the helm.
"We started Kolnoa to have a Jewish presence at the festival," Bernstein explained, "because I was too busy to run a separate festival then. But now we're trying to spread our net a little further and make the JFF as broad as we possibly can."
Among the upgrades are having a full committee cull through the entries to select the best and a staff of volunteers to produce the event, instead of a single couple doing all the work, Mashey said. Indeed, where the earlier event ran over just a weekend at the Plaza de Oro theaters, the new JFF runs a full five days at the New Vic Theatre downtown and has booked an impressive line-up for what it calls the 3rd annual Santa Barbara Jewish Film Festival on March 15-19.
The lineup features a wide assortment of cinematic selections, including feature films, documentaries, and shorts from Israel, as well as Canada, the United Kingdom, Germany, Poland, India, and Czechoslovakia. Topics range from an examination of the special role that Indian Jewish women served in the establishment of Bollywood to stitching a torah by hand, a 90-year old rabbi with more vitality and innovation than men half his age – 14 different programs over the five days of the fest.
"We want to cover as much as we can about Jewish identity and culture from all over the world," Mashey said. "Drama, documentaries, comedies – anything that provides a prospective, as long as the film is really good. That's the number-one criteria."
In fact, Mashey said, all of the movies picked for the fest were unanimous selections by the committee.
"All of us had to agree that it was good, or we didn't take it. Quality was job one. And we're a very diverse group, so to get that 100 percent the movie has to appeal across the board, not just to one ideology. These movies all have universal themes, as simple as love lost, or aging, or ethnic identity… ones that offer insight into another's life."
Among the highlights are Children of Peace, a decade-spanning story of friendship between two Israeli children whose world was shattered when Israel withdrew from Gaza; Maktub, a dramedy about two small-time enforcers for a Jerusalem mob protection racket who, having survived a suicide bombing, now try to fulfill the wishes of those who leave notes at the Wailing Wall; Last Band in Lebanon, an army buddy movie combining comedy, romance, and music that was a huge box-office hit in Israel; and And Then She Arrived, a romantic story about a man who has everything – the perfect job at his father's law firm, a loving family and a great girlfriend – who has his life turned upside-down after a chance encounter with a waitress.
While there aren't a vast number of cast and filmmakers that often attend films at SBIFF at the Jewish Film Festival, a few will be on hand. Meanwhile, the opening night film, Past Life – which was inspired by a true story of two sisters, one an introverted classical musician and the other a scandal sheet journalist, who unravel a wartime mystery that has shadowed their lives – will be introduced by Nir Kabaretti, the music director of the Santa Barbara Symphony. "He knows the women it's based on," Mashey explained. "He was the one who suggested the film to us."
This year's SBJFF does have something new the earlier incarnation never offered: awards. "Now that we're getting more confident and successful, we wanted to move the festival to a higher level," Mashey explained. "There will be several categories. So, down the road, they'll be able to advertise 'Best feature at SBJFF', which can be very valuable for a short or indie film."
And it's good for the festival too, whether it's the third or the 11th.
(The Santa Barbara Jewish Film Festival runs March 15-19. Visit www.sbjewishfilmfestival.org for tickets and details.)
Focus on Film
Ira Opper, a seven-time Emmy-winner director who pioneered local cable programming in Santa Barbara back in 1971, returns to town for the local premiere of his latest documentary, Secrets of Desert Point, at Center Stage Theater on Thursday night, March 15. The film follows a few of California surfers who stumbled across a pristine spot and spent a decade trying to keep their treasure off the surf-media map. Their motto: "No talk, no maps, no photos… we became really good liars." The 6:30 and 8:30 pm screenings cost $20 and benefit Santa Barbara Surfrider Foundation.
Surf's Up is also the theme for Ohana Weekend at Sandbox Santa Barbara's first-year anniversary celebration on Saturday, March 17. A Surfboard and Gear Swap begins at 11 am, followed by screening of surf and ocean films including 180° South, The Fisherman's Son and FISHPEOPLE from 4 to 8 pm, and live music with Soul Pepper from 8 to 11 pm. The community fundraiser also features a silent auction, barbecue food, and drinks, with proceeds supporting families affected by the Montecito mudslides. Visit www.ohanaweekend.splashthat.com.
The Santa Barbara Public Library celebrates the just-released movie adaptation of Madeleine L'Engle's beloved literary classic A Wrinkle in Time with a family-oriented afternoon of activities exploring the novel's themes of science, outer space, and empowerment. From 1 to 3 pm on Saturday, March 17, children can conduct experiments in Mrs. Murry's Science Lab, travel through an outer space obstacle course, and go on a scavenger hunt to find Mr. Murry, as well as build spaceships with MakeDo cardboard construction kits, and design their own clay alien.
Join the Environmental Defense Center (EDC) at The New Vic Theatre at 6:30 pm on Tuesday, March 20, for an screening of Broke: The Santa Barbara Oil Pipeline Spill of 2015. The film about the break in Plains All-American's pipeline that sent 140,000 gallons of crude oil onto the Gaviota coast and into the ocean will be followed by a conversation with filmmaker and EDC Board member Gail Osherenko and EDC chief counsel Linda Krop, plus a reception.
You might also be interested in...