Muppets, Malkovich-Meister and More at PuppetPalooza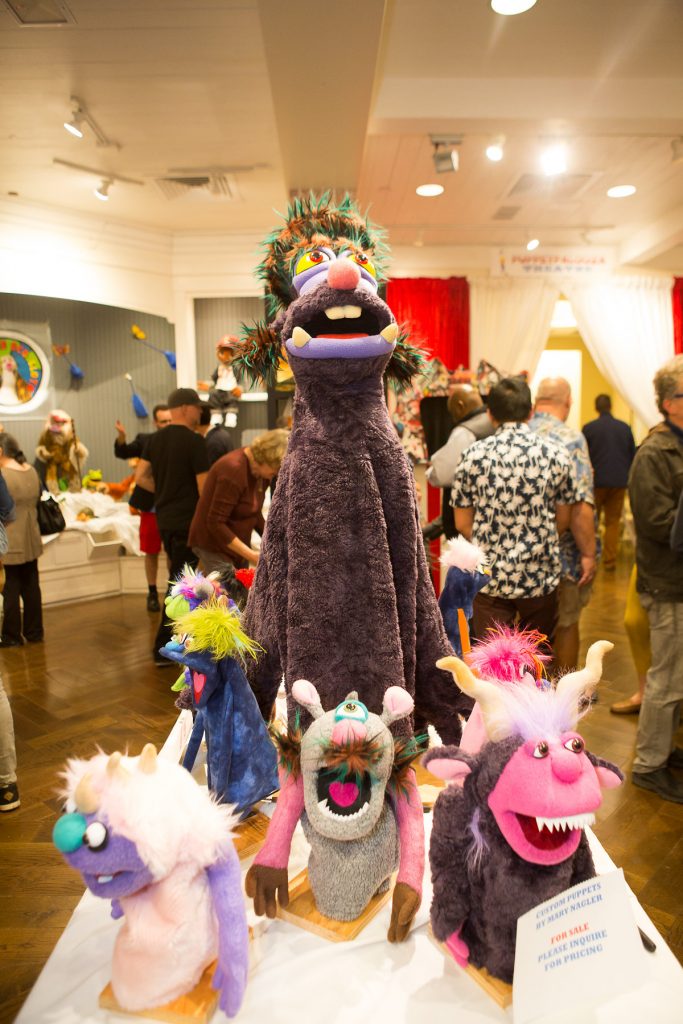 For Santa Barbara's first PuppetPalooza, creator Mitchell Kriegman has come up with a festival so vast and imaginatively populated with puppets, marionettes, and just about every other possible permutation of the genre giant and small, including literally the hand and glove, even his own character Clarissa might have a hard time explaining it all to you. Kriegman – a three-time Emmy winner as a creator, developer, and/or story editor of children and family TV series on Nickelodeon, Disney, and PBS, including Bear in the Big Blue House, Book of Pooh, It's a Big Big World, Clarissa Explains It All, Rugrats, Ren and Stimpy and Rocko's Modern Life, among others – envisioned PuppetPalooza as a Fiesta or Solstice-style family celebration.
But this first fest far exceeds either of those long-standing Santa Barbara traditions' debuts, as it boasts four full days when puppets will virtually take over the city with more than 20 performances and events featuring upward of 30 performers at venues and parks all over town, including the former Macy's and a vacant storefront in Paseo Nuevo that serves as PuppetPalooza central and has been showcasing several creatures all last month.
Indeed the build-up prior to the Thursday, March 1, official opening has been quite extensive, what with film screenings, preview parties, workshops at MOXI, Community Arts and Fishbon, and the dashing hand-puppet version of the omnipresent KEYT-TV reporter John Palminteri that might been even more tireless than he is. But the main event is even more impressive, as locals will get a chance to meet The Muppets, perhaps the most famous puppets in history, featuring Kermit, Miss Piggy, and the gang, as well as Phillip Huber, the world-renowned, Emmy award-winning marionettist of Being John Malkovich fame whose creative shows are as captivating as they are complex.
Beyond those two impressive headliners, there's also Manuel Morán's bilingual puppet theatre; Tarish "Jeghetto" Pipkins, who worked with Missy Elliott on her music video "WTF"; Puppetopia, a day full of stiltwalkers, face painting, bubbles, and sock puppet workshops for the kids; and Naked Puppet Theatre, a late-night performance of short puppet acts, including the L.A. Puppetry Guild's Puppetzilla Puppet Slam, for the over-18 set.
Details, a complete schedule, tickets, and more information are available online at  www.puppetpaloozasb.com.
Muppet Madness with Linz
Peter Linz, who was a part of Kriegman's Bear in the Big Blue House and played Pooh in Book of Pooh, portrays Walter on the Muppets and will also reprise an old role as Snook the Eco Sloth during the other days of the festival. He talked about his craft recently.
Q. Why puppets?
A. It's because I have a completely worthless skill set that doesn't work for anything else. Like (Muppet creator) Jim Henson said, we're actors from the wrist up. One of the earliest memories was playing a squirrel puppet in preschool. Being able to make the other kids laugh that way was like a magic trick. Puppets are really just one DNA strand removed from magicians. Getting people to care about and believe in a bag of cloth is astounding.
Why have the Muppets endured?
They speak so many truths. We all see ourselves in our characters. They embody human foibles and shortcomings, but in charming and endearing ways that are utterly relatable. They're timeless. And the audience is a participant in what's happening on stage or screen. The puppets aren't emoting. Kermit is just a green sack with some white circles and a flap that opens and closes. But in the right hands, that becomes a living, breathing character that people care about and love and laugh at. It's a symbol and the audience buys into it.
All the main Muppet characters are being interviewed by Debbie McClellan at the festival. What will take place?
It's like a panel. The four of us will be on stage, and we'll talk about what we do. We'll show some exclusive behind-the-scenes material, and we'll have the puppets there. So, we'll talk some as ourselves and also as the Muppets, sharing stories, songs, and some audience participation. It's a rare chance to get a glimpse of how we do what we do, the magic of TV puppetry. You can't do that with an animated character.
Strings Attached: Huber's Marionette Hubris
It's still hard to fathom how Philip Huber created the marionette shows "performed" by John Cusack and the title actor in Being John Malkovich, the 1999 inside-the-brain comedy-drama film that was the astounding feature debuts of director Spike Jonze and writer Charlie Kaufman. Huber won't be sharing his secrets at PuppetPalooza, but he will be performing an all-ages show that should prove even astounding, since it will be happening right in front of your eyes live on stage.
Q. How do you make the marionettes seem so lifelike when all you have is strings for control?
A. Marionettes are the most difficult form of puppetry, and I wasn't a natural. I started when I was 5, and they'd always get tangled so that my father would have to hang them on a lamp to get them free again. But I love the challenge of being able to project a personality down through the strings, rather than your hand. The object is to get beyond the mechanics, of having to think about how to pull or twist to get what you want, and instead be thinking about what the puppet is thinking, and project that personality. It's the same feeling as a classical pianist once he's mastered a piece of music.
We now live in a world of computer animation. Why do marionettes still connect?
It's true that some dismiss this as really low-tech. But live theater isn't robots. You don't know what you're going to get, because no two performances are identical. When you see people live, it has an impact because you know the puppeteer is doing everything for that puppet live in front of you. But if he's doing his job correctly, you don't even see him.
Turning to Being John Malkovich, how was it to see your creations in a critically acclaimed movie?
It has a special place in my heart as the first film where I was given that artistic freedom to produce the actions. The director demanded things from me that I thought were impossible for marionettes to do. So, it really stretched me. I had to work to produce the vision that he had. Ultimately, I was very proud of my finished work on the screen – getting the marionette to do the forward somersault and back flip. It took about 27 takes before we got one I really liked where the puppet didn't fall off-center. But we got it; what is on film is real. And it introduced marionettes to a whole new generation.
What will you be doing here at the festival?
"Suspended Animation", which is a variety show, one I tour all over the world. It's a bunch of vaudeville-style acts, so there's no language barriers. There are puppets doing everything from walking a tightrope to other circus acts, novelty acts, trained dogs, opera singers, violinists, and lots of other fun things you wouldn't think a marionette would be able to do. So, it appeals to all ages and cultures.
Blondell Gets Batty with Strauss
Westmont Theater's new version of Strauss's Die Fledermaus (The Bat) doesn't head into outer space either, but director John Blondell certainly shakes things up according to his oeuvre, which frequently favors movement over words. His brand-new, avant-garde production of the 1874 Viennese romp keeps the music intact but sets the period in modern times, adopting the "funky-chic" influence from haute couture of the present time annual Met Gala, and adding a choreographic staging that replaces much of the dialog with imagery and wordless acting, using silence and movement – as well as interacting with the physical set comprising found objects – to progress the plot. The 23-students cast is joined by members of the Westmont Orchestra, performing on stage in different locations for each act. The Bat swoops downtown this weekend also, with shows at 7 pm Friday and Sunday at the New Vic. Info at 965-5400 or www.newvictheater.com.
Merry Melodies as Bubbly Barber at Granada
With his Star Trek-themed Abduction from the Seraglio, opera stage director Josh Shaw messed with Mozart in a ultra-modern way, taking the tale of kidnapping and beaming it into outer space with a new book he wrote himself. He's not doing that radical a rearranging of Rossini's The Barber of Seville in his local debut with Opera Santa Barbara (OSB) at the Granada this weekend.
But there will be a twist or two in the beloved prequel to Mozart's The Marriage of Figaro, a clever tale of bribery, deceit, and disguise featuring Figaro as barber and matchmaker. After all, you don't hire Shaw if you're seeking a straight-down-the-line show.
In the opening scene of Act II, for example, when Count Almaviva enters in disguise to disrupt the proceedings, he'll be dressed in drag as Dona Alonza. "That gives the whole scene a very different dynamic," Shaw said. "Now he/she's not just an annoying distraction, but maybe also someone the Don wants to get to know." Then there's the role of Bartolo, portrayed by Peter Strummer, who Shaw said first performed in Barber back 1976. "He's done 50 productions since then, and I guarantee I'm asking him to do things that he never has before."
Shaw is also playing a little fast and loose with the setting, noting "We're still in the period of 1900, but we come and go out of that as we please. And there's the Gaudi-inspired, very not-realistic, set. I see Barber as just a cartoon come to life. There are these incredible melodies and a fantastic fireworks of singing, but there are so many silly situations, you can't take any of it too seriously."
As for the delivery of all those gorgeous arias and ensemble pieces? The cast is in good hands with Shaw too. The director is a former singer himself with more than 100 stage productions and 35 operatic roles to his credit, before he retired to co-found and serve as artistic director of the L.A.-based Pacific Opera Project (POP). He knows the challenges of singing on the move.
"I can't imagine trying to tell people what to do without knowing what it's like," he said. "Opera is so different in terms of demands, especially the physicality, which is something we focus on. At POP, we mostly do comedies, so I'm familiar with running around and doing choreography while you're trying to sing. The singer's perspective is always high in my mind."
Fortunately, OSB's chief Kostis Protopapas has put together an amazing array of artists for Barber's cast, in which virtually every member with a significant role boasts at least a time or two on the stage with The Met in New York on their resumés. "The cast is young, attractive, and very accomplished," Shaw said. "I think Kostis brought me up from L.A. because he has these great singing actors who can do the shtick that I create."
Which won't be quite as "out there" as his version of Abduction, which updated the book for the Mozart opera he described as "cheesy without being funny, but with some of the best music Mozart ever wrote" and became a big hit now entering its eighth production this fall. But for this moment in this place, Barber is best for Santa Barbara, Shaw said. "What's so great is the timing. Barber is the right opera and the right time after all that's happened (with the fire and mudslide). Such a lighthearted comedy is just what's needed. Everybody will be walking out with a smile."
(Opera Santa Barbara presents The Barber of Seville at 7:30 pm Friday, March 2, and 2:30 pm Sunday, March 4, at The Granada Theatre. Call 899-2222 or visit www.granadasb.org.)
Elsewhere in Classical: Start 'em up
The Catalyst Quartet, which comprises alumni of the internationally acclaimed Sphinx Competition, have become quite a favorite at the Santa Barbara Museum of Art's chamber music series. The quartet that has toured throughout the U.S. and abroad, including sold-out performances at the Kennedy Center, Chicago's Harris Theater, the Met, Carnegie Hall, and Lincoln Center returns to town Thursday, March 1, to perform Hemispheres: North America, which features "Valencia", by Caroline Shaw, the Grammy-winning singer in Roomful of Teeth and youngest-ever winner of the Pulitzer Prize for Music who was a composer-in-residence at the Music Academy of the West in 2016. Also on the intriguing program: Philip Glass's String Quartet No. 3; Barber's "Mishima" String Quartet in B minor, Op. 11; Javier Alvarez's "Metro Chabacano"; Kevin Putz's "Credo"; and "Strum", by Catalyst Quartet member Jessie Montgomery. Info at 963-4364 or www.sbma.net,
Acoustic Alchemy
Fill up your week with folkies and other assorted acoustic artists beginning with David Rawlings (and Gillian Welch) at the Lobero on Friday, March 2. Mystical singer-songwriter Johanna Warren headlines an intriguing event hosted by TOTEM that same night (www.facebook.com/events/321892361642829 for details), while Cambridge Drive Concert Series fave Dulcie Taylor returns to the Goleta venue with special guests Dennis Russell and Laura Hemenway. The Lobero also hosts a Sings Like Hell show with the bluesy Chris Smither Trio plus Jackie Venson on Saturday, with other choices including Matt Costa at the Alcazar Theater in Carpinteria, and veteran Ventura/Ojai folkie Alan Thornhill is at Trinity Backstage.
Back at the Lobero on Tuesday night, March 6, Ghostlight Society has an induction ceremony that also features a performance by the great country chanteuse k.d. lang on her Ingénue Redux Tour, celebrating a milestone for her breakthrough album. Finally, folk-pop frontman Johnny Irion teams with singer-songwriter sidekick John Goodwin for a Tales from the Tavern date at the Maverick in Santa Ynez also featuring The Mammals on Wednesday.
You might also be interested in...