Time to Get Gorka'd Again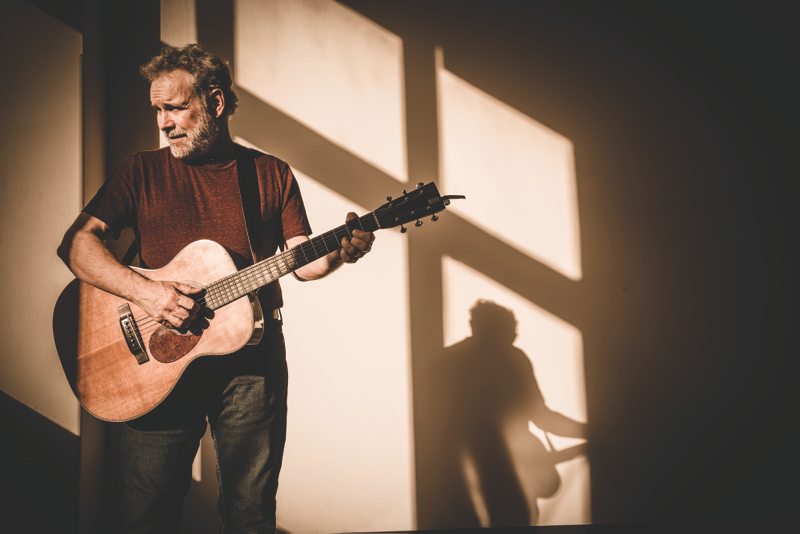 John Gorka is no stranger to the Santa Barbara music scene. The New Jersey-born, literate-but-fun singer-songwriter who started playing out in the late 1970s before moving to Minnesota in the 1990s has played at SOhO, done the Sings Like Hell thing, and made repeat visits to the Tales from the Tavern series in Santa Ynez, where he was the subject of a live concert/interview DVD released in 2014.
So, why now to talk to him again?
It's his new album, his 14th and perhaps his best since his stunning debut. True in Time is a career-capping achievement, a 12-song largely acoustic set that cleverly uses the title song – one whose lyrics are open to a variety of interpretations – as both the opening and closing track. But the entire album resonates with a keen sense of wistfulness, mostly looking back at life from his perspective of a man who turns 60 in July but still has plenty to say – at least in song – about regrets, love, and other relationships.
"Yesterday come backs in time," Gorka sings in "True in Time". "I look around and find the past is either here or close behind."
"The line that kept coming back to me as I was writing the songs was that the past doesn't go anywhere," Gorka explained over the phone the other day, noting that the song was inspired, indirectly, by the deaths of Carrie Fisher and her mom, Debbie Fisher, within days of each other, which got him thinking about "Mother and Child Reunion", a song by Carrie's ex Paul Simon. "We bring it with us. Sometimes the past is so present that it overwhelms us."
That same theme of self-examination and looking back permeates songs such as "Mennonite Girl", "Crowded Heart", and "Fallen For You", which also rely on his proven formula of simple but memorable refrains that create an instant connection with listeners but also stand up to repeated listening.
"I feel like we caught something special this time around," Gorka agreed. "Like it was inevitable or something. I wish I had the control, that I could do this every time."
Part of the magic came from the fact that Gorka – who will be performing at SOhO on Wednesday and the Ojai Concert Series in Ojai on Thursday, March 1 – recorded the album in just three days, basically live to disc with only minimal overdubs. That resulted in an album that is not only spare but organic in sound.
"I wanted the record to feel reachable, not like it's coming from behind a wall of sound," he explained. "Like it was made in a room that you could imagine, and you could touch the person. That level of intimacy, the human side, is one of the things I like about acoustic music."
True in Time also features two formally "lost" songs, "Blues with A Rising Sun" and "Red Eye & Roses", which were recovered by fan recordings and address similar themes of forgotten musicians in off-beat genres. Meanwhile, the "The Body Parts Medley" – which takes Gorka's usual quotient of word play (a la "Stranger with Your Hair," one if his earliest songs) decidedly to the silly side – acts as a bit of comic relief. "Yeah," Gorka said with a laugh. "We're living in ridiculous times, which means it's the time to record this song. It's that time of history."
SOS Gets Personal
The opening event of Speaking of Stories's (SOS) 2018 season was a washout in the wake of the Montecito mudslide devastation and freeway closure, with the slated special Nothing But Laughs performance in tribute to Jay Thomas – the Montecito-connected actor and former morning DJ (Cheers, Love & War, Murphy Brown) who passed away last August – postponed from January until next month. But perhaps kicking off the season with SOS's third annual Personal Stories readings – sort of our local version of The Moth – is an even more appropriate community-builder following the fire and debris flow disasters. Two separate programs each boasting 10 local writers and/or actors – pairing several first-time performers and relative newcomers alongside seasoned SOS veterans, all of whom penned their own first-person accounts – will be presented in repertory Sunday-Wednesday, February 25-28, at the Center Stage black box theater in Paseo Nuevo that has been Speaking of Stories's home for more than a decade.
The lineup for Sunday afternoon and Tuesday evening includes Joel Altschul's "The Best Defense is a Good Offense", Susan Chiavelli's "(Gravity, No Engines)", Susan Cochran's "I Have a Granddaughter", Lisa Gates's "Body Parts", Cami Helmuth's "Cloud Watching", Michelle Howard's "The Year I Failed Women's Studies", Tania Israel's "I Come From", Noah Lashly's "Straight to Gay", Tony Miratti's "The Killer in the Closet", Angie Swanson-Kyriaco's "Denial, Depression and Dysfunction: The 90's Edition". The Monday and Wednesday show features Megan Burwell's "Dear Megan Burwell", Anna Jordan's "I'm Gonna Need Backup", Rudi Lion's "Transported", Robert MacNeal's "Wooing", Kathy Marden's "Coming Home", Lesley Miller's "The Most Unexpected Year", Pauline Nelson's "Thereby Hangs A Tail", Marcia Orland's "Breakfast at Tiffany's", Jan K. Ruskin's "My Sexual Revolution", and Cynthia Waring's "Smoky".
Tickets cost $28 general, $18 students and military or for "early birds" who purchase tickets to Sunday or Wednesday shows by Friday, February 23. Call 963-0408 or visit www.CenterStageTheater.org.
You might also be interested in...