Kick Ash Bash Comes Together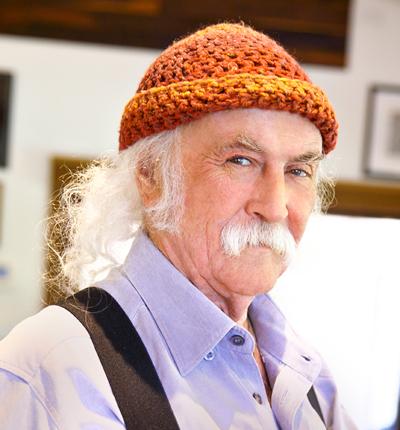 "Eye in the Sky" was a big hit for The Alan Parsons Project, reaching No. 3 on Billboard's chart back in 1982. Thirty-five years later, drones – something the British rocker and producer famed for his early work with The Beatles and Pink Floyd hinted at but probably didn't fully anticipate – proved especially helpful in fighting and surveying the damage from the Thomas Fire and ensuing Montecito mudslide/debris flow. The drones and other aircraft offered airborne perspective during and after the twin tragedies, helping firefighters see where to pinpoint their containment efforts as the biggest wildfire in California history crept ever closer to residential areas in mid-December, and the unmanned eyes in the sky helped in surveying the massive damage from the mudslide/debris flow that struck Montecito in January.
Now Parsons is returning the favor, as the longtime Santa Barbara resident is serving as a headliner of sorts Sunday, February 25, for the Kick Ash Bash, the massive benefit concert honoring first responders while also raising much-needed funds for emergency equipment and relief efforts. Billed as Alan Parsons & Friends, the British rocker – who already donated more than $10,000 in proceeds from the Alan Parsons Project's recent concert at the Chumash Casino Resort – will kick off a concert that also features famed record producer, composer, songwriter, and arranger David Foster, singer-actress Katharine McPhee, veteran Santa Barbara band Dishwalla (who also performed at an earlier Thomas Fire benefit at Carpinteria's Alcazar Theatre), country duo The Sisterhood Band (which features Rod Stewart's daughter Ruby), Montecito singer-songwriter Glen Phillips (of Toad the Wet Sprocket fame), three-time Grammy winning guitarist Steve Vai, adult contemporary pop star Richard Marx, pop band Wilson Phillips, and longtime Santa Barbara-based singer-songwriter Kenny Loggins. Veteran Montecito comedian/commentator Dennis Miller emcees.
The daytime portion of the event – which takes place noon to 6 pm at the Bella Vista Polo Club in Carpinteria – also features a dedicated kids' area where the young ones can meet and interact with cast members Emily Skinner, Molly Jackson, and Luke Mullen from the hit Disney show Andi Mack, the comedy-drama TV series that premiered last April and has already been renewed for a third season. The special section will also feature up-close encounters with Duncan the Dinosaur, Smokey Bear, Sparky the Fire Dog, and local Search & Rescue dogs, plus a Sea Center touch tank, face painting, obstacle course, three helicopters, two fire engines, and a squad car.
But the fun doesn't end when the sun goes down. Instead, the Kick Ash Bash – so named because the idea came about while the organizers were still evacuated from the Thomas Fire, but prior to the Montecito mudslide – transition to an "After Bash" party from 7 to 10 pm. The reggae band Iration is the official headliner, though many fans will be more excited to hear David Crosby and the Light Tails, the new band led by the 76-year-old singer-songwriter Crosby (The Byrds; Crosby, Stills, Nash & Young) who grew up in Santa Barbara. Also on the bill is Robby Krieger of The Doors, who will be focusing on classic tracks from the '60s Jim Morrison-led rock band for whom Krieger played guitar and co-wrote such classic tracks as "Light My Fire" and "Love Me Two Times", plus the Santa Barbara teen sensations The Caverns, L.A. indie rockers The Feal, and DJs Zeke Monarrez, Suzanne Boisvert, and Matt Moore, with other special guests still to be announced. As there is a complementary bar, guests must be 21 or older to attend the post-party, which carries an additional $100 ticket price.
The bash is being held largely as a gratitude event for the multitude of first responders who spent countless hours battling the Thomas Fire for weeks in December and, just days later, rescuing survivors and dealing with the massive damage caused by the unprecedented debris flow that struck Montecito on January 9. Of the 2,500-plus tickets available, 2,000 are being donated to first responders and their families to come spend a day relaxing, listening to music, and interacting with community members who wish to come and express their thanks in person. Limited tickets for the main event are available for $250 general, and $50 for children under 14 years of age.
Nearly $2 million has already been raised through a variety of sponsorships for the event, and all of the proceeds will be routed through the Santa Barbara Firefighters Alliance serving as the clearing house for all of the police and fire organizations that were involved in the disasters. A beneficiary committee comprised of first responders from Santa Barbara City Fire, County Fire, Montecito Fire, City Police, and the Sheriff's Department will determine the specific allocation of funds and equipment purchases, while Direct Relief will allocate the funds for survivor relief and the At-Ease Program, which provides counselors for first responders.
Visit www.one805.org for tickets and information.
Concert for Ventura
Also on Sunday afternoon, the Ventura Music Festival (VMF) is presenting a much more modest event meant to serve as a post-Thomas Fire celebration, held in downtown Ventura. The music lineup for the 3 to 4:30 pm program in Mission Park features Grammy-nominated singer-songwriter Perla Batalla, who also sang background vocals for the late Leonard Cohen, plus two Grammy-winners in guitar virtuoso Diego Garcia and Tom Scott & the LA Express, the jazz fusion all-stars who also supported Joni Mitchell on her landmark Court and Spark album. Rounding out the bill are VMF artistic director Nuvi Mehta, the Ventura College Singers led by Brent Wilson, and a secret guest artist or two.
The goal for the concert in Mission Park, 183 E. Santa Clara St. at the corner of Main Street across from Mission San Buenaventura in downtown Ventura, is to celebrate Ventura's spirit of recovery and community through unifying force of live music. Admission is free, and no tickets are required. Guests should bring their own chairs or blankets. Info online at www.venturamusicfestival.org.
Mixer to Mitigate Mudslide
The Firefighters Alliance is also the beneficiary for another event this week as Santa Barbara Young Professionals Club's (SBYPC) monthly mixer, which usually benefits a specific nonprofit that has been tagged as sponsor, has been turned into a charity event to support first responders of the Thomas Fire and Montecito mudslide/debris flow. February's mixer, which takes place Thursday, February 22, takes place at Richie's Barber Shop in Montecito in honor of owner Richie Ramirez, named SBYPC's Young Professional of the Year, who is being lauded for his involvement in giving back to the community and helping other small local businesses thrive. The event is being sponsored by Cutler's Artisan Spirits, and all proceeds from drink purchase will be donated to the Santa Barbara Firefighters Alliance, which is also SBYPC's Nonprofit of the Year.
Santa Barbara Young Professionals Club's members receive free admission as always, while guests can have the $10 fee waived by presenting a receipt indicating a purchase at any location in Montecito dated the day of the event. (Members will receive a thank-you gift if they show a receipt). Visit www.sbypc.org for details.
You might also be interested in...