Angels from Ashes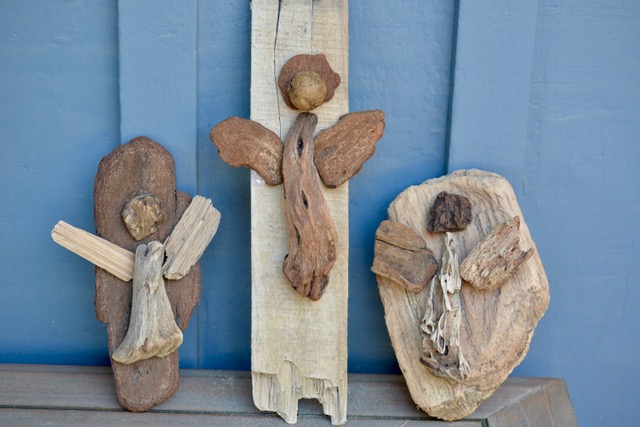 On the 26th of January, while driving south from Santa Ynez back to Redondo Beach, I went through Montecito and thought about my friend Missy. I knew she had been evacuated during the Thomas Fire, and again shortly thereafter, a second time, as a result of the mudslide. We had spoken only briefly in the previous week, to acknowledge she and her family were safe.
It was an all-consuming day for me. Having driven the alternate route around the freeway closure from Central to Southern California several times in the past two weeks, I at first decided to ignore my instinct to stop and see my friend. Preoccupied with tasks of life and a direct route home, I continued south on the newly opened 101 freeway, for about three more exits, before a feeling too strong to ignore pushed me to get off the freeway and turn around.
I really had no idea what to expect; I just knew I had to stop in.
I found my friend at her family's property in Summerland, heading into the office with her pet bird in hand, as the evacuation of her own Montecito home had not yet been lifted.
I knew the minute we made eye contact I was there for a reason.
Although smiling and cheerful, this lifetime Montecito resident wore her sadness, struck and saddened by the loss of life before her eyes, the potential loss of her home, and witness to countless personal and professional tragedies. I listened as she struggled to share her story, bearing witness to the loss of friends and neighbors. As she spoke of the trauma, I could feel her compassion, despair, and fear; at the same time, I could see her resolve, and watched as she unlocked the medicine within.
It is difficult to say watching someone in pain can be beautiful, but witnessing her transformation was exceptional.
As we spoke, she shared her recent interest in making angels. Missy asked me to walk with her across the property to the lawn of the main house so she could show me. Focused on demands of my own life, I almost refused, but something told me this was important. I was surprised by what I saw: clearly the beginnings of some creative process. There, piled high on picnic tables in the yard, were hundreds of broken pieces of lives, taking on the shape of angels.
Intrigued and curious, I followed my friend out the gate onto the beach and stopped dead in my tracks, stunned. In front of me were the remains of a number of homes, precious remnants of lives at my feet, washed up on the beach and now piled several feet high like giant bonfires, lined up along the shore. Among all the building materials and driftwood were items such as a single shoe, an article of clothing, a perfume bottle, a torn teddy bear – all personal effects of homes and lives lost. Most poignant of all, for some reason, a case for contact lenses wedged between a piece of siding and the sand.
My friend – a gifted artist and painter – had collected these pieces of people's lives from the beach, not exactly understanding why. Perhaps it was part of her own healing, but she began to see angels' wings and started creating angel sculptures. Trusting her instincts, staying present to her need to listen and express her feelings through creativity, I watched as she stepped into a door of opportunity.
My friend seemed to have a sense that she could take what was left of these lives and create something meaningful, something beautiful. She had just begun to put these unique and precious angels together, not yet really understanding their purpose, but I was moved, I was inspired, and I offered to come back to help collect items from the shoreline and assemble angels with my friend.
I returned a few days later, and we did just that. Together with another close friend and my friend's 95-year-old mother, we spent the day making angels. We made several trips back to the shore to collect more broken pieces of lives in the form of wings, arms, and halos, and perhaps just to connect with the spirits of those who were present. At last count, we had made more than 60 angels, often naming them, laughing a lot, and tearing up on occasion. It was a beautiful, exhausting, and triumphant day in a place where devastation had turned a community upside-down just days before.
There are people in life who leave a lasting impression, whose presence can be nothing shy of a divinely guided miracle of connection. How blessed I am to have found a kindred spirit in my friend Missy. I feel blessed. I am not sure her angels have found their new home yet; I only know they have been appropriately named "Angels from Ashes".
I am sure they are part of a transformation to embrace a new life.
You might also be interested in...