A Montecito "Boulder" Park
Please, let's keep as many boulders that have clobbered our community as possible; place them someplace in Montecito (Manning Park, Toro Canyon Park, the Cold Spring area, the lot we traded with the Y next to MUS) and build a big, big awesome (think Awahnee) community stone house recreation center. Have several big outdoor stone fireplaces, several stone fire pits, stone swimming pool, volleyball courts… and Make Montecito Greater with what we have been given: stones. big stones. And call it "Stonehouse Park" or "Stonewalls with No Gates Park" or something, and we dedicate it to all our precious beloved Montecitans who lost their lives in this tragic event and to the firefighters and first responders.
We can do this.
We can turn today's tragic reality into recreation and education, and forever have it as a reminder, especially for the youth and for Montecitans to come. (FYI: native Montecitans, now in their 90s, told me years ago that they remembered as youngsters seeing truck-sized boulders roll down from the mountains above and into the lemon grove that is now Birnam Wood.)
This has happened before here. We Montecitans must respond; think big, and respond with glorious thoughtful exuberance.
We must do this. I'm in.
Bill Toner
Montecito
(Editor's note: Good idea, Bill. We can get behind something like this too, so count us "in." – J.B.)
Brightest of Gems
My very best wishes and prayers to everyone affected by such overwhelming events. Montecito remains the brightest of gems in all of our wonderful state and country, and deepest thoughts and regards to all of the very special people in the community.
Michael Roush
Beverly Hills
Still Magical
Our hearts go out to any of our new friends and members who have suffered losses in this unbelievable tragic event. Please pass the word that we are okay and work has not stopped. Naturally, this will result in further delays, but we are very happy with our progress so far. We appreciate the early support of our invited charter members. If you have friends that are considering joining, please urge them to send in the application. More information on my blog: mistrals@tumvlr.com
Just remember — we are wonder workers and Montecito is still a magical paradise.
Milt and Arlene Larsen
Santa Barbara
(Editor's note: The Larsens are behind the creation of the Magic Castle Cabaret on the site of the former Cafe del Sol, scheduled to open as a private club sometime before spring, this year. Milt Larsen is owner and founder of Hollywood's Magic Castle. – J.B.)
Peace and Harmony on Call
How surreal 2018 has evolved. I recorded governor Jerry Brown's candid comments in which he described the "new normal" on December 11 on my favorite news show: BBC World w/reporter James Cook. I learned at that early date that the Thomas Fire had already reached the size of Manhattan and Paris combined: 90 miles long by 40 miles wide. It was predicted that it would become the largest wildfire in the history of California at the rate it was spreading. Jerry Brown said we would be experiencing firefighting as late as Christmas: "the new normal."
For me, the zenith of 2017 occurred on December 1. The turnout for the 65th Holiday Parade and Tree Lighting on State Street was a tremendous success. The atmosphere was lively and joyful wherever I looked. I ducked into the Funk Zone to celebrate the 1st year anniversary of the chic boutique named The Shop Keepers. To my surprise and complete delight, Kenny Loggins stepped up onto stage and entertained the full house. And before too long, the "Dude" Jeff Bridges also joined in. It made for a perfect day of wonderful people and many memories. I already anticipated more enjoyable events as the holiday season unfolded. My Christmas calendar was jam-packed.
John Lennon comes to mind. "Life is what happens when you're busy making other plans!"
On December 4, something unforeseen happened: The Thomas Fire started to take center stage. I didn't at first pay that much attention, until I encountered a great many families with many children at the Alice Keck Park who were under mandatory evacuation from Ojai. All 7,000 residents had to flee their homes at once. That was so unexpected, I realized this must be serious and had been underplayed on the local news. Previously, the Tea Fire was my only experience a decade ago, when I was new.
I remember being at a lecture presented by Westmont at the University Club. It was halted by a woman who announced that 192 had been closed because of a fire situation. I noticed once outside how the ash appeared white in color, like snow. Being from New England, although I had lived in San Francisco, too, all I had to deal with was frigid, horribly long winters and frozen/burst water pipes when it dropped below the freezing point. Fires were rather foreign to me.
There were 7,000 Mandatory Evacuation calls and 23,000 Voluntary Evacuation notices as well in the Thomas Fire. My three calls (voluntary notices) came at the ungodly hour of 6 am, when it's still pitch dark. I chose to stay put. I live across from the beach and have always had an affinity for the ocean. In contrast, I never felt safe in forest-like settings with limited access. It's just not my thing.
I grieve for the loss of San Diego firefighter Cory Iverson, a true hero, as were the 8,000+ experts he served with. I admire the archetype of these brave men and women whose "mission in life is to make the path safe for other people."
My heart also goes out to those who have been harmed in any way by this major tragedy called the Thomas Fire. The 3:45 am gas-bomb explosion, which came from Oprah's neighbors from behind, was a traumatic jolt to everybody I spoke with. The closing of Highway 101 due to 30 miles of mud in each direction is beyond belief. All those countless huge boulders have caused death and destruction; it is overwhelming to take it all in.
The previous day, on Sunday, January 7, we were celebrating at Our Lady of Carmel Church a rescheduled Christmas celebration. We felt the worst was behind us. The air smelled clean and all looked pretty much back to normal. Less than one day later, mud with a consistency of wet concrete had covered just about everything: Coast Village Road, Coral Casino, Butterfly Beach, Montecito Inn, entire neighborhoods, with roads and highways filled with debris, gushing water everywhere. We experienced an inch of water per second for five minutes! That's what it took to reverse so much progress made by so many in harm's way.
My heartfelt deepest wish is for all of us to become better stewards of this magnificent planet Earth, which we have long over-built, poisoned, and trashed, allowing our beautiful exotic animals to go extinct.
What is desperately missing is balance and harmony.
Leslie Nelson
Montecito
Admiration and Respect
It's been more than a decade since I left Montecito for the final time. But of course, the village still occupies a vast and special part of my heart. I live far away now, but recalling fond memories, first as a student at Montecito Union School and later as a proud member of the Montecito Journal staff, has always dependably narrowed the distance. Montecito is in my heart more than ever as I learn of the devastation caused by the fires, rain, and mudslides. I was sad to hear that the home I shared with MJ publisher Tim Buckley when we worked together at the Journal has been completely demolished by the mudflow. Our landlord, who lived next door in one of those small cottages, Richard Taylor, died in the calamity. The tragedy has ravaged people I know and many others I do not. To all those affected, I send my heartfelt condolences. And to all those who have heroically supported people in distress, I extend my deepest admiration and respect.
Hang in there, Montecito.
Guillaume Doane
Cape Town, South Africa
Broken-Hearted Butterfly Beach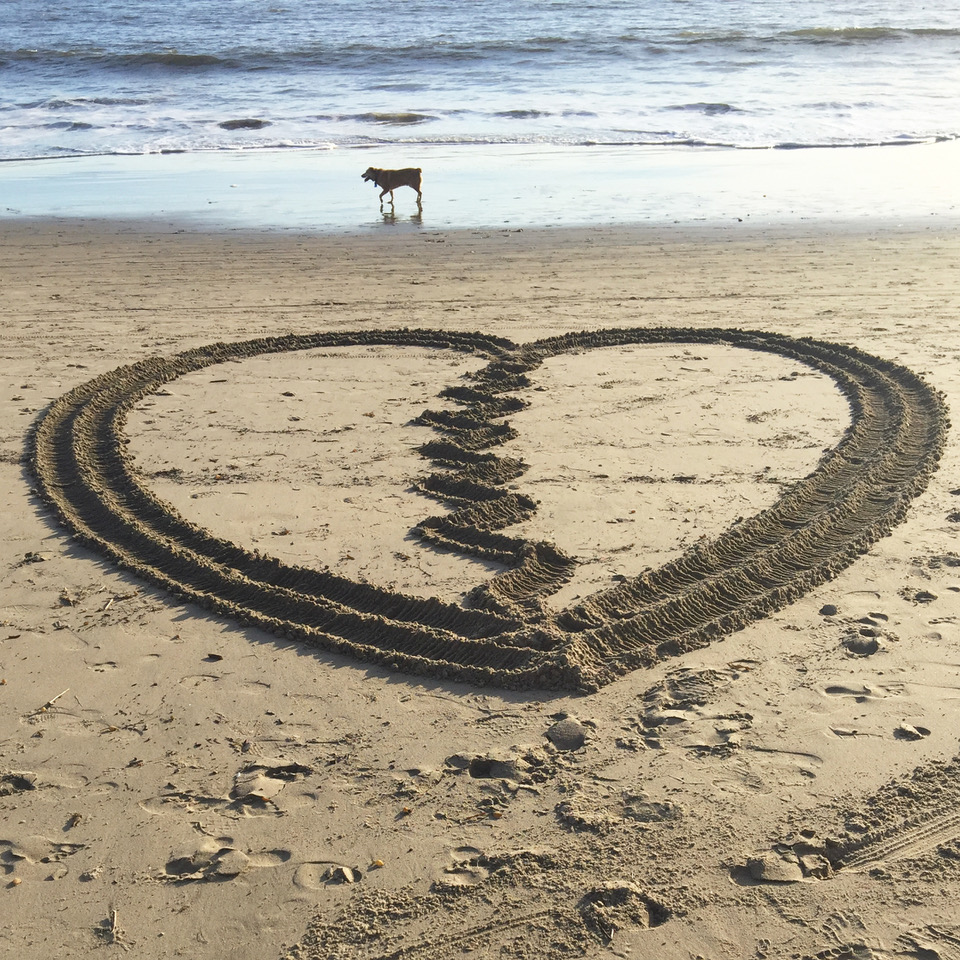 Two days after a mandatory evacuation was ordered for the entire former Public Safety Exclusion Zone, Roger and I walked the beach toward Montecito from our temporary "home" near Stearns Wharf in Santa Barbara. What we saw on Butterfly Beach brought tears to my eyes. There on the sand for all to see was the latest gift from the man who is the inspiration for what will become my third and final Butterfly Beach book.
With his shovel, "The Artist of Butterfly Beach" had drawn a very large broken heart and next to it had spelled out Montecito.
It's what we are all feeling at this moment, and I just wanted to share it with you and the readers of the Montecito Journal.
Polly Bookwalter
Montecito
(Editor's note: Ms Bookwalter is author of Butterfly Beach and The Keeper of Butterfly Beach. – J.B.)
The Real Heroes
We came through the mudslide fine, as did the birds in our yard (although they looked wet and bewildered), but my heart goes out to all the people who lost friends, loved ones, and property. And I'm filled with awe and gratitude toward the men who are rescue workers and who have been working all night in our neighborhood.
The actresses and actors at the Golden Globes called themselves "heroes" simply for wearing expensive black outfits and making claims about "male sexual harassment." They're not heroes. And they should stop focusing on a handful of jerky guys in the world and thank their lucky stars that there are thousands of real heroes: the men who risk their lives to fight fires and rescue disaster victims.
Polly Frost
Montecito
(Editor's note: Polly realizes there are plenty of women doing the same kind of rescue work as their male counterparts, but Ms Frost was interested in praising male heroes as a counterpoint to the claims of the black-clad cadre at this year's Golden Globes. – J.B.)
Time for Prayer
All affected by the rain and resultant mudslides are in our thoughts and prayers. Santa Barbara County, please pray the little prayer at www.de-vrouwe.info every day, and for those who know how, the Holy Rosary as well.
Matthew R. Dunnigan
Roma, Italia
Montecito Needs New OS
Were interactive maps circulated with televised warnings to buy flood insurance? In October 2017, I shared my attendance at the City's Flood Management Meeting, where flood map revisions were presented. I was thrilled to see I've minimal risk off Barker Pass Road.
After five weeks of mega-stress fire, evacuation uncertainty, alone, I suffered brain fade. Forgive me: I even have posted on my wall fire and flood maps.
Too bad Montecito with its multiple special districts lacks a leadership or any unified governmental structure to effectively distribute info.
On January 3, the Montecito Planning Commission (MPC) responded to my public testimony that it's not its job. Our District 1 Board of Supervisors office responded that MPC is autonomous, and accountable to no one. '"Das [Williams] only appoints commissioners," I was told. News to me after 37 years.
In southwest Montecito, we need posting and maps of water source boundaries from Kelly Dyer at the Santa Barbara Water District and from Montecito Water District (MWD). Some City residents think they get their water from MWD, others in the unincorporated area — like me – get city water. Renters do not necessary get bills. Realtors rarely get it right. My newer neighbors don't know whether to boil or not. Montecito proper for decades views us as stepchildren, making us independently resourceful.
We all remember jammed-packed MWD meetings at MUS during the drought. We do care. We do want info. We do appreciate leadership as we wonder who's in charge. (I attend meetings as a Montecito resident City Water Customer who votes and is taxed MWD and sanitation on my property tax bill. Go figure.)
After this mega-disaster ends, with all highly deserved praises and gratitude extended to our rescuers, and the depth of our sadness changes each of us, Montecito may want to rethink itself.
Is it finally time to form a more effective, accountable operating system to take serious implementation of recommendations presented in existing studies, from maps, and known from historical experience?
In hindsight, I wish I had called friends, spoken up at the Casa Dorinda expansion hearings, but it's never too late.
Stronger together; smarter together. We are our neighbors' keepers.
Denice Spangler Adams
MFA-8, SoWest Montecito
Cold Spring School District
SB City Water & Sewer
Where's the Journal?
Despite the monstrous situation, when and where might we see another Journal?
Anne French
Montecito
(Editor's note: We've been covering both the fire and the mud-and-debris-slide. Since there hasn't been any place at which to display Montecito Journal in either the upper village or the Coast Village area, we've been bringing copies to hotels and motels where Montecito's evacuees have been staying. Otherwise, the paper remains available all over Santa Barbara, Goleta, and Carpinteria. – J.B.)
Hanging Around
I don't know how you pulled it off, but there was the Montecito Journal in the machines, same as usual. Good job. Aren't you glad you stuck around?
Karen Friedman
Santa Barbara
(Editor's note: Well, gee Karen, I guess we are pleased that we're still here. – J.B.)
Handling the Overflow
And we thought we witnessed the defining event for Montecito in this century. Be not deceived by our ignorance. There was more to come. We have been part of the scourge of California's Four Horsemen: Drought, Fire, Flood… when will Earthquake show its ugly head?
Our hearts are in Montecito, especially at this time of year since we live most of the year in Seattle. Tonight our hearts and and prayers are full-on for our friends and neighbors in Montecito.
I hope our first responders from all over the West will be named Time Magazine's Men and Women of the Year, along with all those from the rest of the country who do their job unselfishly and honorably. We don't know how our Montecito home fared, but we are optimistic that it escaped major damage.
The story:
The Thomas Fire, which stands as the largest fire in California history at nearly 281,000 acres made a spectacular conclusion to 2017. The recent rains will bring it under full control. Fortunately, there were few injuries and only one fatality. The fire came very close to our home, but there was no damage other than some smoky residue. The firefighters and equipment came from all over the west. We join all our neighbors in appreciation and admiration of the well-trained, brave, and energetic first responders.
Last Monday night, rain came to Santa Barbara and Southern California; the rain had been predicted.
Mandatory and voluntary evacuation orders were (re)issued to protect lives in danger from possible flash flooding and mudslides, which can be expected below California's foothills after fire incidents. Not all residents heeded the warnings. Some estimates suggest that only 15 percent of those in evacuation areas sought higher ground. The mandatory warning areas were primarily above Hwy 192 from Mission Canyon to Hwy 150. Areas below Hwy 192 were under voluntary evacuation orders. Unfortunately, the mandatory areas are higher on the denuded hills overlooking Montecito. It would be through this area that floods would pass, but the lower areas would be where the water, mud, rocks, and debris would end up. Understandable "evacuation fatigue" had an effect. It should be also noted that Montecito has many part-time residents and residences.
The prediction was for modest rain over a period of time. Early Tuesday morning, somewhere between 0230 and 0400, the rain came – heavy and fast – at one point dumping 1 inch in 15 minutes. The total rainfall varies depending on specific location, but the intensity was enough to get things rolling. There are several significant small canyons and streambeds coming down the Montecito hills beginning in the Los Padres National Forest to our north. Montecito Creek is a combination of East Cold Spring and Hot Springs Creek, the lower reaches of which are forced into an armored channel that eventually crosses under Olive Mill Road, under Hwy 101 and onward to the Pacific Ocean. Other creeks from the hills of Montecito include Oak Creek, San Ysidro Creek (which boarders the world-famous San Ysidro Ranch), Romero Canyon, and Picay Creek. There are other un-named drainages that also carry water from the hills during heavy rain "events."
The photos and video coverage that have been seen thus far on TV, social media, and in newspapers are mostly in the area of the 300 block of Olive Mill Road where the Montecito Creek was intended to move on to the ocean, but there was too much mud, boulders, and debris for that to happen. The creek found its own way below and over the roads, through the neighborhood below, down Olive Mill to Coast Village Road and onto US 101, completely blocking the 101 for days to come.
As of this morning, 20 people including four children have died. Four are still missing as this is written. The injured include two in critical condition. This loss of life has, of course, added a grave emotional layer not felt so much during the fire. Our hearts go out to all who have lost.
Park Lane, where we have a home, remains closed as does CA 192 (East Valley Road). We do not know the status of the road or our house. We are optimistic since Park Lane is not at the bottom of a drainage or alongside a creek. Just a few hundred yards away, San Ysidro Creek surged with explosive force severally damaging San Ysidro Ranch.
Despite the damage nearby and wanting some information, our primary concern is for those who have lost family members and friends, the missing and, of course, the heroic first responders. Our hearts go out to those whose homes have been destroyed or damaged and to the small businesses needing to rebuild. Many dreams were shattered this week in our community.
We are in Seattle planning to return to Santa Barbara at the end of the month, unless we would be in the way of cleanup and recovery efforts.
Doug and Nancy Norberg
Seattle, Washington
(Editor's note: Thank you for reminding us and our readers that indeed these kinds of things have occurred in Montecito in the past, and will indeed do so again in the future. Even so, Montecito is an absolutely wonderful place to live and work. – J.B.)
Student Tuition Offered
My heart grieves for our entire community, particularly for each family who has suffered a loss in this week's tragic natural disaster. Some of us lost a family member or a friend. Homes have washed away. The mountains literally fell into the sea…You may be safe but isolated in a community without freeway access or without power. Livelihoods have been destroyed. All our lives have been disrupted to some extent, and we are far from living in our normal routines.
We are grateful that we have been able to keep school open this week. Upper School students who could get to school wrote their exams. Special accommodations have been made on a student-by-student basis for those who have not been able to attend school. Rod Meadth, our dean of students, has been stranded south of the mudflows, and has personally visited other families there and proctored exams. We've had to cancel concerts that we all were looking forward to. It is likely other events will be canceled or postponed. It is hard to find "normal" these days, when "normal" simply does not exist.
God is our refuge and strength, a very present help in trouble. Therefore, we will not fear. Though the earth should change and the mountains slip into the sea. (Psalm 46:1-2).
I want to assure you of the deep love and concern of your Providence family. The beauty of this community is that we pull together to support one another. If you have a need – for a meal, for housing, for a group of strong teens (or a stronger head of school) with shovels – please share it.
This is when the Christian community shines in pulling together to love and support each other. Pastors and counselors are on our campuses to support students and faculty. Our school community is gathering for prayer throughout the day. This disaster has reached deep into our midst. God is indeed our refuge and our strength. We are committed to supporting every student and family and the entire community with love and practical help in this time of trouble. If you are in need, please let us know how we can assist you.
If you know families whose students are displaced from schools located in Montecito and Carpinteria, please share with them that Providence's doors are open. Space-dependent, we will take in any displaced student, preschool (age 3) through eighth grade, with no charge for tuition for the first month. We want to support our brothers and sisters at All-Saints-by-the Sea Preschool, El Montecito Early School, Cold Springs School, Crane Country Day School, Montecito Union School, and Our Lady of Mt. Carmel School.
We will get through this together.
Dr. Scott Lisea
Providence 
A Santa Barbara Christian School
(Editor's note: This is an extremely generous offer, and no doubt there will be Montecito residents who'll take you up on your proposal. – J.B.)
You might also be interested in...