Parody Trumps President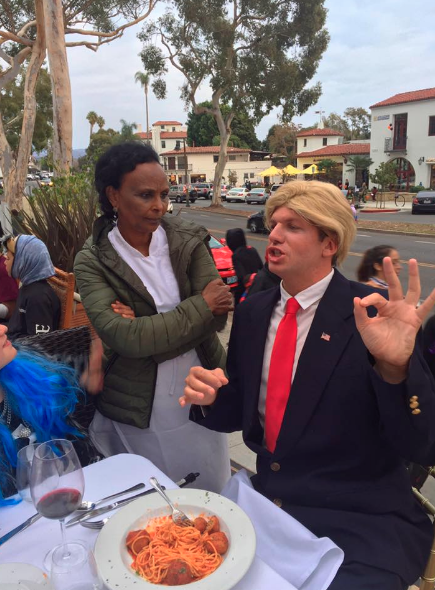 Fledgling actor-comedian Lauren Watson first thought of creative performance art mimicking Donald Trump late in 2015, when the real estate mogul and reality TV star announced his candidacy. After Trump won the presidency, Watson also stepped up his game, taking his impersonation into some local retail outlets, such as McDonald's and Ross Dress for Less stores.
"I dressed up as Trump and got a make-up artist to work with me and went into some places to say things like 'Let's make McDonald's great again', Watson recalled earlier this week. "It was just off-the-cuff stuff that I had a good time doing, mostly improv, joking with the customers."
Fast-forward another several months and Watson, along with producer Daniel Bollag, has turned the act into a full-fledged one-man show that debuts at the Center Stage Theatre on Monday evening. The show is a one-hour combo of sketch comedy and improv, set up as a 45-minute "pep rally/political speech scenario," Watson said. The last 15 minutes will be more like a town hall meet-and-greet, where Watson as Trump will answer questions from audience members.
Watson, who moved from his hometown in Phoenix to Santa Barbara back in 2014, has had a few odd jobs along with some acting and comedy gigs and open mics for Comedy Hideaway and TVSB. The Trump show will be something of a coming-out party. A magician will open the show with a short set that ends with him making Trump appear, and the act will also feature two parody songs Watson co-wrote with Santa Barbara singer-songwriter-producer Jesse Rhodes, including a Trump-ified version of John Lennon's "Imagine". All in all, as our president might say, "a huge, huge bigly night," Watson said.
Impersonating politicians is an old form of humor dating back at least to Rich Little famously portraying President Nixon in the late 1960s, and stretching to actor Alec Baldwin's own turn as Trump on Saturday Night Live, until recently a weekly occurrence on the late night staple. But Watson sees Monday's show as more than mimicry.
The idea, Watson said, is to be funny without being offensive. "That's hard enough with comedy in general, but even more so here. How do you walk that fine line? You have to go broad with the jokes and not attack anybody personally. With the aerial view, you can get away with a lot more."
Watson hopes fans of Martin Luther King, Jr. will have a more forgiving attitude, as the show – postponed twice from December dates due to the Thomas Fire – now takes place on the federal holiday celebrating the civil rights leader.
"There's that topic and also Oprah's speech last Sunday at the Golden Globes that I can feed off of. I'm going to have Trump offer his response at my show. She lives in Montecito. It would be great if she shows up."
(Trump, a One-Man Show, takes place 6:30 pm Monday at the Center Stage Theater, 751 Paseo Nuevo. Tickets cost $20.50 general, $10.25 students. Call 963-0408 or visit www.CenterStageTheater.org.)
Book 'em
Suzanne Jill Levine, professor of Spanish and Portuguese at UCSB where she is founder and director of the Translation Studies Program, specializing in 20th century Latin American literature, introduces her latest English-language work, Eduardo Lalo's novel Uselessness. The novel follows the life of its narrator, a young Puerto Rican writer studying in Paris, where he grapples with two long, tumultuous love affairs. He conveys these events in a dark yet witty tone, as if aware of the futility of his youthful follies. Upon his return to San Juan, he finds himself just as estranged and alienated at home as he felt abroad and is forced to confront choices made, ambitions lost or unmet, and lives not lived. Levine will read from and sign copies of the book at Chaucer's at 7 pm on Thursday, January 11.
Surviving Mortality: Life, Death, and the Doctor is the riveting title of the new book by Roger C. Dunham, an M.D. who has been practicing primary care Internal Medicine for more than 40 years in Santa Barbara. The tales in the tome draw on both his experiences with thousands of patients who have faced challenges in their own personal survival from serious medical conditions, as well as his previous years of service on a fast-attack nuclear submarine in the U.S. Navy, which provided him with a perspective about his own mortality. Some see impending death as a ferocious fight filled with fear and intensity, while others embrace a time of seeking peace as the new future beyond human knowledge arrives. The book takes the reader to that battlefront, and through the physician's eyes allows a better understanding of how patients may improve the circumstances that would otherwise seem inevitable. Dr. Dunham discusses the book at Chaucer's at 7 pm next Thursday, January 18.
Focus on Film
We're still nearly three weeks away from opening night of the Santa Barbara International Film Festival, but at least one of SBIFF's honorees has already claimed early gold. Darkest Hour's Gary Oldman took home a Golden Globe Award for his portrayal of Winston Churchill, and is considered a frontrunner for the Oscars that will be awarded about a month after he receives SBIFF's Modern Master, the festival's highest honor. We imagine we'll also see some of the actors, writers, and directors who also claimed Globes on January 7.
Meanwhile, cinephiles can bathe in the Bard captured on celluloid out at UCSB as the Carsey-Wolf Center begins its Shakespeare On Film series on Tuesday, January 16. Chimes at Midnight, Orson Welles's groundbreaking 1965 film that incorporates elements of five of Shakespeare's plays to re-frame the larger-than-life comedic presence of Falstaff, unspools at 7 pm, followed by a post-screening discussion with Joseph McBride of San Francisco State and author of a book on Welles, moderated by Jim Kearney (English, UCSB). Two days later make way for the latest and possibly darkest film adaptation of Macbeth, the 2015 version starring Michael Fassbender and Marion Cotillard as Macbeth and Lady Macbeth. Screenwriters Todd Louiso and Jacob Koskoff, who co-adapted the so-called Scottish Play, will be on-hand for a Q&A session. The series continues through February 22. Free admission. Visit www.carseywolf.ucsb.edu/pollock-theater-home/events to reserve tickets.
Christmas in January
White Christmas? A pipe dream in Santa Barbara, normally. We had our own version in 2017, what with ash from the Thomas Fire blanketing much of our streets, cars, and vegetation, a sickly gray rather than the pearly white of crystallized water. So now – if the torrential rains predicted for earlier this week don't cause more damaging flooding – some of the postponed holiday events are taking shape. The Milpas Holiday Parade is now slated for Saturday, January 13, when children's groups, classic cars, and other live performers start strolling down the east side thoroughfare at 5:30 pm from Canon Perdido rolling down to Mason Street. Ho, ho, ho, indeed.
You might also be interested in...