Midwestern Movements: SLSO Returns to SB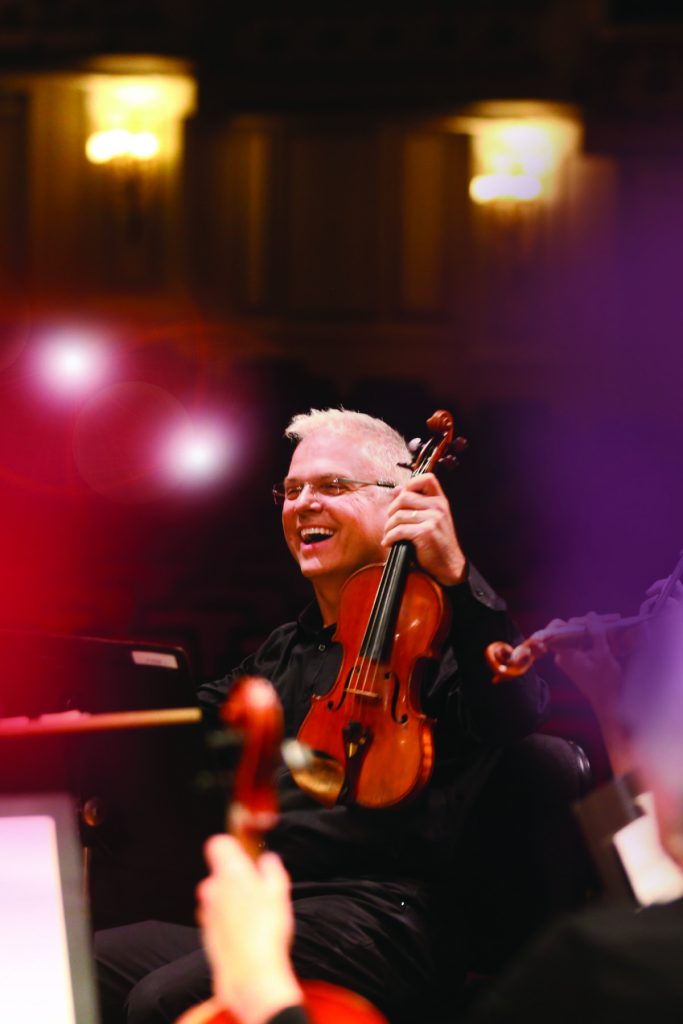 St. Louis has been in the news in recent years, for triumphs such as the Cardinals continued baseball dominance and the tragedy of the Michael Brown shooting in nearby Ferguson. But the city also happens to have a highly prized symphony orchestra, notable for both its history as the second oldest such ensemble in the U.S. and its distinctly American flavor. The St. Louis Symphony (SLSO) has also employed a succession of consummate musical directors, including its current leader, the ambitious, dynamic, sonically and intellectually stimulating David Robertson.
The American maestro wields the baton when the orchestra in its return to CAMA and Santa Barbara at the Granada next Thursday, January 18, when the soloist will be the great young violinist Augustin Hadelich, who claimed the inaugural Warner Music Prize in late 2015, then a month later won the 2016 Grammy for Best Classical Instrumental Solo. Musical America's 2018 Instrumentalist of the Year, Hadelich, who plays the 1723 "Kiesewetter" Stradivarius violin, takes on the Britten Concerto, Op.15, on a British-based program that also features Thomas Adès' Dances from the 2007 opera Powder Her Face and Shostakovich's Symphony No.1 in F minor, Op.10.
We caught up with longtime St. Louis concertmaster David Halen – the son whose parents are an orchestral musician and a violin professor and grew up attending St. Louis Symphony concerts before replacing Santa Barbara's own Nina Bodner in the first violin chair under then music director Leonard Slatkin – for his perspective on the orchestra and the Santa Barbara program.
Q. What makes the SLSO a great orchestra?
A. As an orchestra based in the heartland of America, it's always had a strong American focus in terms of the repertoire. And as old as we are, you get a sense of the tradition when you're a part of it and when listening to us. While a lot of orchestras have lost individuality, we still have that trait remaining with us. And there's a legacy of great performances of the repertoire we have a propensity for playing.
The program seems quite off the beaten track. Your thoughts?
No, these are not pieces you're going to hear every day. The Adès is a very unusual example of his writing style, because it was in the context of an English story. There's a lot of jazz influence, plus some tango. It's going to be amazing to see how the audience reacts on first hearing it, because it's quite appealing. I'm also excited because it hasn't been recorded and we're premiering it in the country. Shostakovich's first symphony is very airy, with a lot of vaudeville elements, and lots of instruments soloing, including oboe, trumpet, and cello. It's a really a formidable piece.
One of my students just won the solo competition at Michigan (where Halen teaches part-time) playing the Britten concerto, so I know it very well from the soloist's part. It's a masterpiece. Britten is so under-represented in the concert hall. And there's no reason for it. It's some of the most compelling English music ever written. I've never played it solo myself. It's so difficult! It's as challenging as anything on the solo violin. I'll leave it to Augustin.
Plus his violin, the 1753 Giovanni Battista Guadagnini, is a bit modern compared to his Strad. Why do you connect to this violin?
Yeah, it was made three years after Bach died. It's very new (laughs). I committed to playing a really fine instrument when I was very young, because the sound of the violin sets the tone for the entire orchestra. I bought it as a young man as an investment in my profession, and it was the smartest thing I ever did. They're priceless. Truly irreplaceable. The tone is just beautiful.
Looking ahead, David Robertson has announced his departure. Can you talk about what that will mean for the orchestra?
Stéphane Denève, the principal guest conductor of the Philadelphia Orchestra, is our incoming music director. We've done seven concerts with him as substitute, and it's hard to categorize him because he's arranged so many great programs. He has a terrific feel for Richard Strauss, and a lovely sense of French repertoire. But he's just about as diverse as they come, with extraordinary ideas. I'm excited about how he'll build on David's legacy.
You are married to a soprano, and you have a son together. Is he keeping up the family business, or does he want to be play for the Cardinals?
He's a junior majoring in bio-engineering. So he's not following in our footsteps. But we are hoping he ends up supporting (financially) the St. Louis Symphony. He's a big Cardinal fan too.
(The St. Louis Symphony performs at 8 pm Thursday, January 18, at The Granada Theatre. Tickets cost $39 to $119. Call 899-2222 or visit www.granadasb.org.)
Classical Corner
Bassoonist-composer-conductor Mathieu Lussier (born 1973) is a passionate promoter of the modern and baroque bassoon as solo instruments throughout North America and Europe. His "Bassango", in its version for bassoon and string orchestra, was a prizewinner in Contemporary Classical Song at the Just Plain Folks Awards in Nashville. We'll hear his "Spring Lullaby" (2005), a melodically driven piece highlighting the bassoon's capacity for sweetly tender lyricism, at the year's first Santa Barbara Music Club concert Saturday afternoon at 3 at the Faulkner Gallery. Bassoon soloist Paul Mori and a string quartet comprising violinists Andrea Lárez and Mirah Ray, violist Erik Fauss and cellist Timothy Beccue will also perform Vivaldi's sparkling Bassoon Concerto No. 23 in G minor, F. VIII, before the concert closes with an early work by Brahms, the Piano Trio #1 in B major, Op. 8, played by pianist Robert Hale, violinist Marie Hébert, and cellist Elizabeth Olson. Admission is free. Info at www.sbmusicclub.org.
You might also be interested in...