Shredding the Dream: 4Qs with Alastair Greene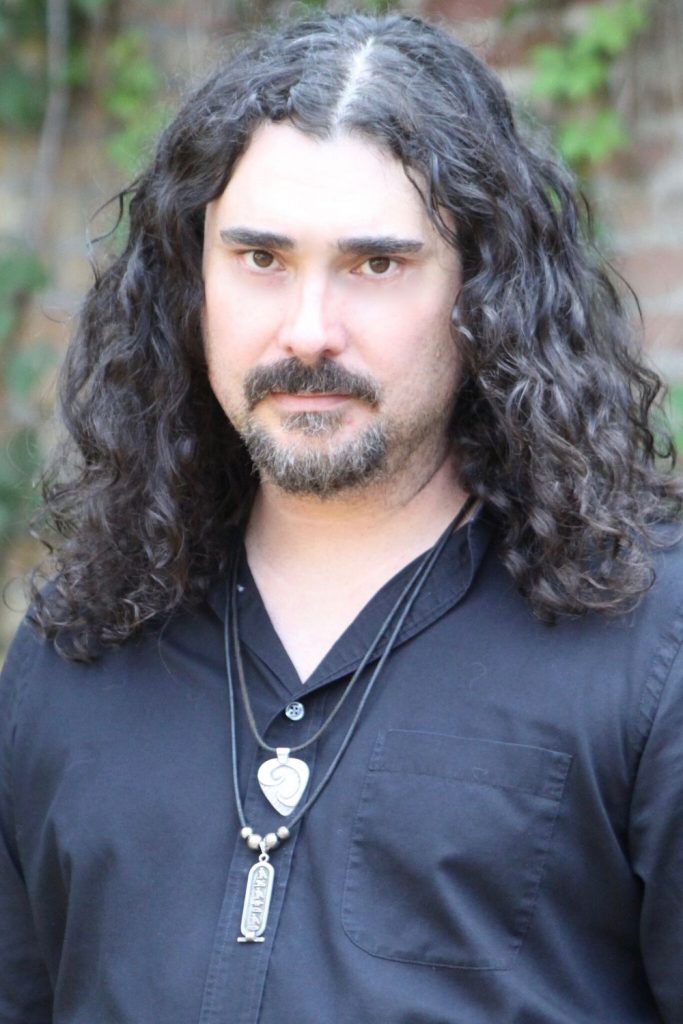 Santa Barbara-born, Berklee-trained blues guitarist-singer-songwriter Alastair Greene has been plying his trade professionally for 20 years now, but the last seven or so has seen him put his own trio on the back burner in favor of a lucrative role as sideman to Alan Parsons, one of progressive-rock's progenitors, who also lives locally. But now that Greene has said goodbye to that gig just as his new record, Dream Train, hits stores, the guitarist – who has regularly performed at clubs all over town – is aiming to ride on to greater blues glory on his own.
Produced and mixed by David Z – whose credits include Buddy Guy, Kenny Wayne Shepherd, and Jonny Lang – and augmented by an impressive array of guests shots from Walter Trout, Debbie Davies, Mike Zito, Mike Finnigan, and Dennis Gruenling, Dream Train boasts a dozen Greene originals that range all over the blues-rock map. The album has already garnered great reviews from genre publications since its release in October.
We grabbed Greene for a few questions on the eve of his special 20th anniversary show at SOhO on Saturday night, December 16.
Q. How would you say your sound has refined since you began back in the late 1990s?
A. It's always developing. But when I listen to the first record I made in 2001, A Little Wiser, it's still the template of what I'm doing today. It's got acoustic, straight blues, experimental – very much a blues-rock record that goes in different directions. So while each record might focus on a different aspect, I've just gotten better at everything.
What makes Dream Train so different from your previous albums?
A bunch of things. It's the first time I've worked with outside name producer – David Z, who spent a lot of time going over the songs with me and refining them before we got into the studio. And he brought in the song ("Nome Zayne", the album's only cover) by Billy Gibbons – who to me is one of the founding fathers of blues-rock – one that hadn't been recorded before… The other game-changer was that I learned how to use (new recording software) while writing, which let me be able to listen back to the songs here at home and be able to hear what was working and not. That changed things for me as a writer – I was able to work with the songs over time and really craft them. Some of the tracks from the demos actually made it onto the album, because the performances captured what I was trying to get across.
It seems that lyrically you've made some advances too.
Yeah, I tried to stay away from blues clichés and just try to find lyrical themes that resonated with me. So there's a song about the drought in Santa Barbara ("Rain Stomp"), and a couple of ones that are very personal, including one for my grandmother ("Iowa") and another about my lost cat ("Song for Rufus"). And musically, I grew up with The Beatles, so I'm into sing-able choruses and lots of hooks. I tried to put those into my blues-rock. I'm not trying to write pop tunes, but great songs have great melodies and riffs. It's fun for me and for the listeners.
You've just stepped away from your long-time gig as touring guitarist with Alan Parsons. Why?
It's never easy to walk away from something that cool. I got to tour the world playing guitar on a bunch of classic rock hits, even singing on some of them. Those are things you dream about when you're 16… but that takes a good chunk of time. I did it for seven years. It's the 20th anniversary of my band, but it had been a long time since I had all my eggs in that basket. Time is going by and I'm not getting any younger. I just made what I feel is far and away the best record of my career. Also, Alan's in the twilight of his career and doesn't want to be on the road forever. With all of that happening, it became obvious that it was the time to cut loose and go after my career, with my songs and my music. The stars were aligned, the universe spoke and I listened. So, I'm just going to do what I do and see what happens.
10 Years with the Cast: Revel-ing in a New Tradition
Over the nine years since Montecito resident Susan Keller first brought the Christmas Revels to town, the annual show in Santa Barbara that serves as a seasonal celebration of cultures through story, song, and dance – one of 10 such companies across the nation – has visited the Renaissance and heralded the heritage of everywhere from Victorian England to Bavaria, Appalachi, Ireland, Scotland, Spain, and Andalusia.
About the only place that hasn't received any attention is Santa Barbara itself. Until now.
For its 10th anniversary, Keller undertook the challenging task of creating a new Revels from scratch, one that would take into account Alta California's Rancho period in the city's history. Now that the show is set to make its debut at the Lobero this weekend, Keller is savoring her labor of love.
"It's been in my sights for a long time," explained Keller, who has been threatening to retire for at least half of Revels's local tenure, but "not before we had a chance to do our own original show."
The catalyst was the connection with Richard Henry Dana, whose memoir Two Years Before the Mast chronicles his two-year sea voyage from Boston to California on a merchant ship starting in the 1830s. Dana was invited to attend the wedding of Anita de la Guerra, daughter of the Santa Barbara Presidio's comandante, to Alfred Robinson, local representative for a Boston-based hide and tallow trading company. That event forms the central story of this year's show.
"It's a true story. It was all in his book, which is very detailed," Keller said. "We just added in a lot of other details from the era."
Keller, who still serves as artistic director, though she handed over stage directing reins to Matt Tavianini a couple of years ago, collaborated with Santa Barbara historian (and Montecito Journal columnist) Erin Graffy on the script, with the latter contributing a version of her text for an Old Spanish Days Fiesta show drawn from her history book. "She added nice little twists based on her knowledge of the history," Keller said.
Since the wedding actually took place in January, the timing of Christmas Revels also required an extrapolation that Dana and his landing party were on shore for pre-nuptial parties around the holidays.
"Our conceit is that everybody exchanged customs," Keller explained. "Since they were learning all about Spanish traditions, the sailors traded tales about their American culture, singing sea chanties on the ship and Christmas carols on shore. They shared all their seasonal tradition. That gave us a chance to bring out all of the usual Revels touchstones."
That includes the traditional Mummers play, singing of English carols, and other Christmas-time offerings included in all Winter Solstice Revels plays across the country.
The new show's authenticity includes having famed former KEYT-TV newscaster Paula Lopez, a seventh-generation Santa Barbara native, portraying Maria de la Guerra. "She's actually related to Antonio Carrillo, who is also in the show," Keller said.
This year's special guests also include Baile de California, which specializes in the dances of the Rancho times, plus Ernestine DeSoto from the Barbareño Band of Chumash, who will share "The story of Rainbow Bridge", about how her tribe crossed from the islands to the mainland.
And of course, as always, the first act ends with "Lord of the Dance", in which the audience is invited to join the cast in dancing out to the theater's promenade.
"We dance and sing until everyone is out of breath," Keller said. "It's exhilarating."
Perhaps that's when the company should sign her up for another 10 years.
Classical Corner: Mysteries of Christmas
Quire of Voyces's annual holiday concert features a cappella works by Spanish Renaissance master Thomas Luis de Victoria along with contemporary and modern pieces that are aimed to lift spirits at this special time of year – especially now in the wake of the Thomas Fire. Envisioned and founded in 1993 by artistic director Nathan Kreitzer, who still leads the ensemble, the Quire comprises professional volunteer singers from around the area who create the ensemble's acclaimed "crystalline" sound. At its pair of concerts this weekend (Saturday night and Sunday afternoon) at St. Anthony's Chapel on the campus of the Garden Street Academy, the Quire will perform Victoria's Salve Regina for eight voices (in two choirs of four parts each) and his Missa Salve Regina,a compendium of Victoria's polychoral works.
Also on the program is Of the Father's Love Begotten, a new commissioned work by Steve Dombek, who sings baritone in the Quire and previously served as composer-in-residence at the Santa Barbara Choral Society, conductor, and chorusmaster of the Civic Light Opera, conductor of the SB Youth Symphony and the Ventura County Gold Coast Concert Chorus. Among other modern pieces are Sir Herbert Howells's Three Carol-Anthems (comprising "Here Is The Little Door", "A Spotless Rose", and "Sing Lullaby", from 1918-20), Alexander L'Estrange's 2015 work "Song of the Angels", 27-year-old Norwegian composer Kim André Arnesen's setting of "The Lamb" from Songs of Innocence by William Blake and three pieces by Quire favorite Daniel Brinsmead, the 29-year-old Australian native 2015, who contributes the quasi-minimalist work "Spiritus Sanctus" (on a poem by St. Hildegard von Bingen), his new "King of Glory" (on a poem by George Herbert), and a fresh interpretation of the timeless holiday classic, "Silent Night" from 2014.
Strings and Things
More than 50 students ages 5 to 19 from area elementary, junior high, high schools, and home schools have been training every Saturday since early September to present Santa Barbara Strings's ninth annual Winter Concert, a program of beautiful music written or arranged for strings. At 6 pm on Sunday, December 17, at Hahn Hall on the Music Academy of the West campus, three different string orchestras will perform a selection of baroque and classical works, as well as holiday favorites, ranging from traditional folk songs to works by Mozart, Holst, and Handel's Concerto Grosso in F Major. All of the students will come together to share in playing a string arrangement of the perennial favorite "A Charlie Brown Christmas". Tickets are $10, free for kids 17 and under. More info online at www.santabarbarastrings.org.   
Cocktails for Recovery
Mica Rousseau, an award-winning mixologist who is the co-creator of Fifty Mils, Four Seasons Hotel Mexico's bar and lounge, comes to Santa Barbara on Thursday evening, December 14, in a creative pop-up event in honor of the Biltmore Resort's 90th birthday. Fifty Mils – whose name comes from the 50-millimeter size of a jigger, the classic bartender's measuring glass – comes alive at the Biltmore's Ty Lounge with exclusively created cocktails from Rousseau geared to pair perfectly with modern Mexican bites. Rousseau – who has led the signature cocktail experience at the Mexico City resort since 2013 and launched the hotel's creative bar concept Fifty Mils – was born in France and left behind nuclear physics and electronics engineering studies to devote his time to mixology. He began working in restaurants and bars at 16 and opened his own bar in Paris at the age of 22.
For Rousseau, mixology is as much about connection as it is the cocktails: "Every cocktail has a drop of your essence, and sharing the story behind a drink with a guest enhances the experience and makes it even more tasteful." There will be plenty of stories to tell about cocktails created for this event on the edge of the Thomas Fire, while proceeds will benefit those who been affected by the conflagration. A donation center will also be accepting clothing for the victims during the 4 to 11 pm event. Call 969-2261 or visit www.fourseasons.com/santabarbara.
Fire Makes for Dickens of a Time
Rubicon Theatre Company in Ventura was forced to cancel the opening weekend of its holiday production of Charles Dickens's A Christmas Carol as the Thomas Fire raged right nearby. While the theater itself was spared, the cancelation of the 20th anniversary season kickoff is a major blow to the company, costing approximately $50,000 in ticket sales, plus smoke damage to its interior. Once the show opens, perhaps this weekend, the theater plans to provide free tickets to first responders and the families of those who have been directly affected. Call 667-2900 or visit www.rubicontheatre.org.
The fire also caused postponement of last weekend's closing performances of the local Carpinteria production of Charles Dickens's A Christmas Carol at the newly renamed Alcazar Theatre (formerly Plaza Playhouse), The dates, directed by Åsa Olsson, have been rescheduled for this weekend, with shows at 7:30 pm on Friday and 3 pm Sunday. (No show on Saturday, as that's when the Christmas film Elf screens, in addition to an Ugly Sweater Contest and Toy Drive for Unity Shoppe. Call 684-6380 or visit 222.thealcazar.org.
Parody Trumped by Thomas
Air quality concerns in Santa Barbara caused postponement of last Friday's presentation of Trump, a one-man show starring Lauren Watson as the president in a one-on-one town-hall setting at Center Stage, with time at the end for a Q&A session that should be something akin to what goes on in the White House briefing room.  Tickets will be honored for the new date of Friday, December 15 – or contact the box office at 963-0408 or www.centerstagetheater.org for refunds.
Un-Healthy Air at Hillside House
Air quality concerns from the Thomas Fire prompted Hillside House to cancel its official outdoor opening of "Shining Light on Abilities" that was slated for last Saturday. However, the lights will continue to shine for those who would like to drive through the loop in front of facility on Veronica Springs Road next to Assistance League® of Santa Barbara after dark through Monday, December 25. The holiday lights display offers a spectacular array of decorations designed by Riccardo Morrison, the popular artistic director of the Santa Barbara Summer Solstice Parade. Also featured is an inflatable sculpture created by artist Pali X-Man that was part of the Solstice Parade repurposed into a giant snow globe. Santa Barbara Trolley, The Land Shark, and Rock Star Trolley are all including the bright spot featuring the two nonprofits on their holiday light tours.
Holiday Pop-Up Shop
Edible Santa Barbara and the artisan producers in the magazine's fall Issue Holiday Gift Guide, have a new date for the special pop-up shop at Carr Winery, originally slated for last Saturday: this Sunday, December 17 from 1 to 5 pm. a wide selection of culinary and artisanal gifts. Glasses of vino from Carr Winery and food from Scratch Kitchen and Chooket Fine French Pastry & Event accompanies the opportunity to shop a wide selection of culinary and artisanal gifts from such outfits as Santa Barbara Company, Pa-Per Made Washable Bags, Lark Ellen Farm, Inc., Rancho Olivos, The Grapeseed Company, Lavande Farm, and Black Bow Sweets. a portion of the proceeds benefiting Fairview Gardens Center for Urban Agriculture. Admission is free. Call 965-7985 or visit www.ediblesantabarbara.com/holiday-pop-shop.
You might also be interested in...