Fire in Montecito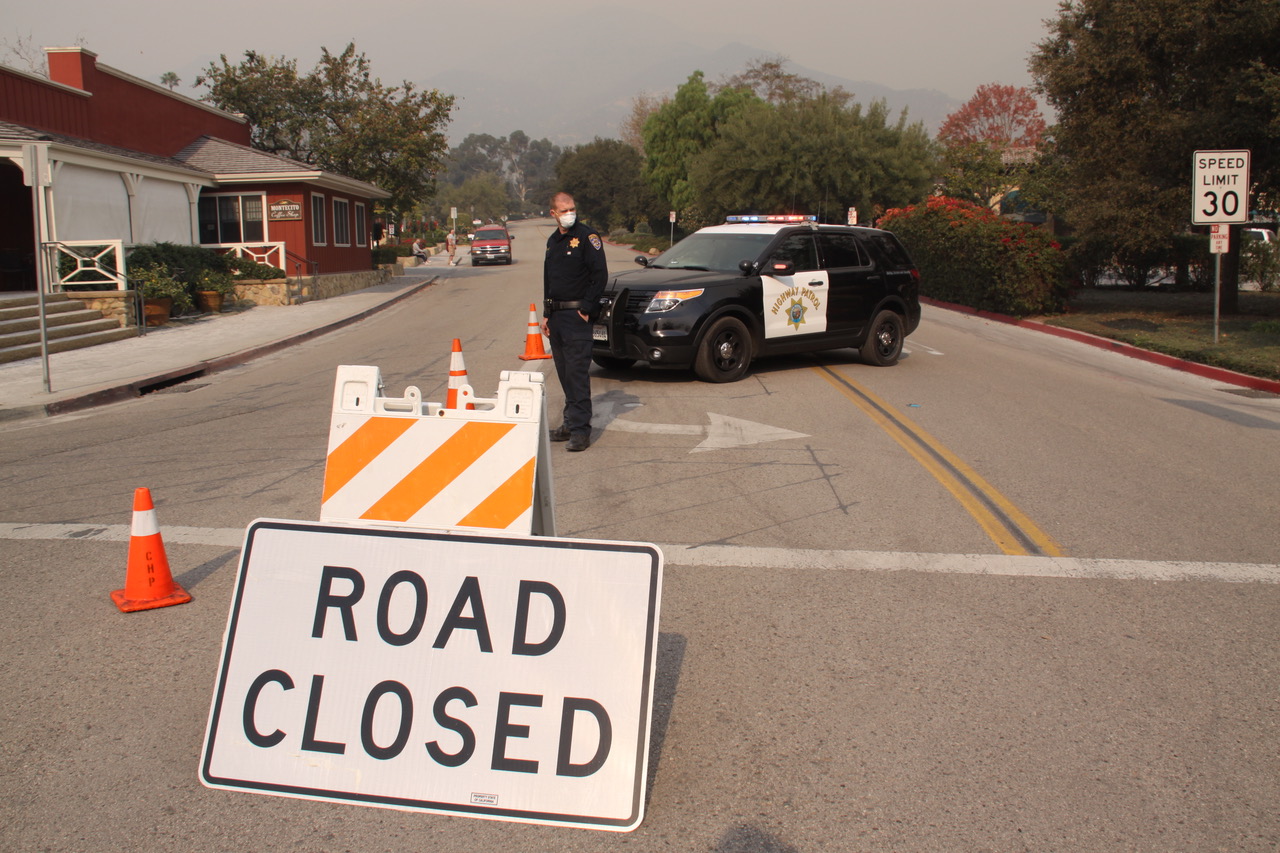 A virtual army of nearly 6,500 firefighters, along with 30-plus helicopters, various other aircraft, fire trucks, bulldozers, and more are, as we write this, working in the back country, mostly out of sight, securing fire lines and control points by a combination of controlled backfires, soaking unburned vegetation, creating breaks where no dry foliage is present, et cetera. 
All of this in an effort to beat back what has become, as of this writing, the fifth-largest wildfire in California history.
Because of all that activity (that we mostly can't see), a long stretch of East Valley Road – from Sycamore Canyon to Ladera Lane – has been closed, mainly to facilitate the movement of men and machines. Most residents north of East Valley Road (State highway 192) have come under a mandatory evacuation order, turning much of Montecito's upper village into a ghost town. Pierre Lafond, which we jokingly report is "open 366 days a year, every year," was closed on a Sunday and in the middle of the week for the first time in memory. The Montecito Village Shopping Center stayed open for awhile, but on December 11, it too succumbed to the situation at hand and all its shops closed.
It's called the Thomas Fire because, I believe, it began near the campus of St. Thomas Aquinas College in Santa Paula, and it has consumed more than 230,500 acres as of this writing (December 11). Some 794 structures have been destroyed, and it is still only about 15 percent contained. Montecito's lower village – centered around Coast Village Road – has not been evacuated, but it may as well have been. The popular strip has resorted to its former "Ghost Village Road" moniker, as many businesses there too have closed, and those that remained open didn't have much to show for it.
We fully expect all this to change by the weekend of December 15, but because of this disruption in daily life, we are reprinting Bob Hazard's Guest Editorial of last week that featured San Ysidro Village and Pierre Lafond's Plaza del Sol. He will follow up with the Montecito Shopping Center in the following issues.
Guest Editorial by Bob Hazard
Upper Village Charm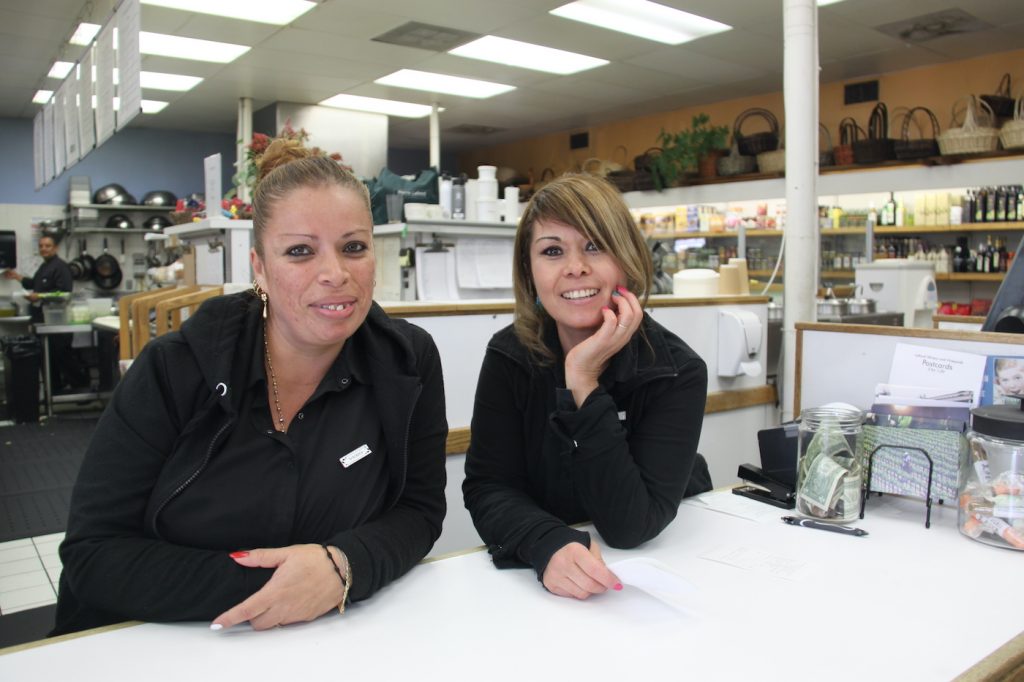 The shops and businesses in Montecito's upper village are unhurried, laid-back, charming, uniquely engaged, and offer small town friendly service, and they are locally owned. Parking is generous and traffic is light, except around the lunch hour; congestion is minimal. It is a place of safety and serenity, free from the kind of aggressive panhandling and unpleasant street behavior sometimes found in downtown shopping areas.
The upper village is a community gathering spot. You are just as likely to encounter Montecito Fire chief "Chip" Hickman as talk-show queen Oprah Winfrey. Both are acknowledged with a simple nod of the head and both are as likely to return a welcoming smile.
The challenge for Montecito residents is to preserve this treasured character and charm, and to pass the experience on to future generations. In a world of commerce that is shifting to smart phones, drone delivery, and mouse-click marketing, our local businesses will thrive and survive as long as residents support them.
Upper village shopping is divided into multiple components:
Plaza del Sol
Dominating the northeast corner of San Ysidro and East Valley roads are the five family shops operated by Pierre Lafond and Wendy Foster:
• Pierre Lafond Market & Deli was built in 1964 on the site of the former Hodges lemon orchard. Today, residents and tourists can sit outside the stylish deli overlooking a blue-tiled bubbling fountain, sip wine from the Pierre Lafond Winery, read and relax, and meet neighbors and friends.
• The Wine Bistro, successor to Café del Sol and Piatti, has been dedicated to the concept of "farm to table." A varied menu, combined with cozy fireplaces and picturesque front and back patios, have created a dining experience embraced by both residents and out-of-towners.
• Wendy Foster Montecito features a selection of European casual clothing, offered by a "personal shopper" experience. Wendy Foster has been a style setter and Montecito tradition for more than 30 years.
• Wendy Foster Sportswear supplies subtle and sophisticated resort casual wear for shoppers of all ages.
• Upstairs features one-of-a-kind art, textiles, ceramics, jewelry and hand-picked gifts for home interiors. Buyer Shelley Koury is the secret sauce.
Two for the Road
Sitting down with Pierre Lafond and his wife, Wendy Foster, is a history lesson in winemaking, women's clothing, gift giving, gourmet delis and restaurants. As the original tenants of Plaza del Sol, the Lafond-Foster team has now leased the entire complex, creating the perfect synergy of a delicious sidewalk deli, a casual sit-down restaurant, convenient parking, sportswear, and the sale of women's clothing: Santa Barbara style.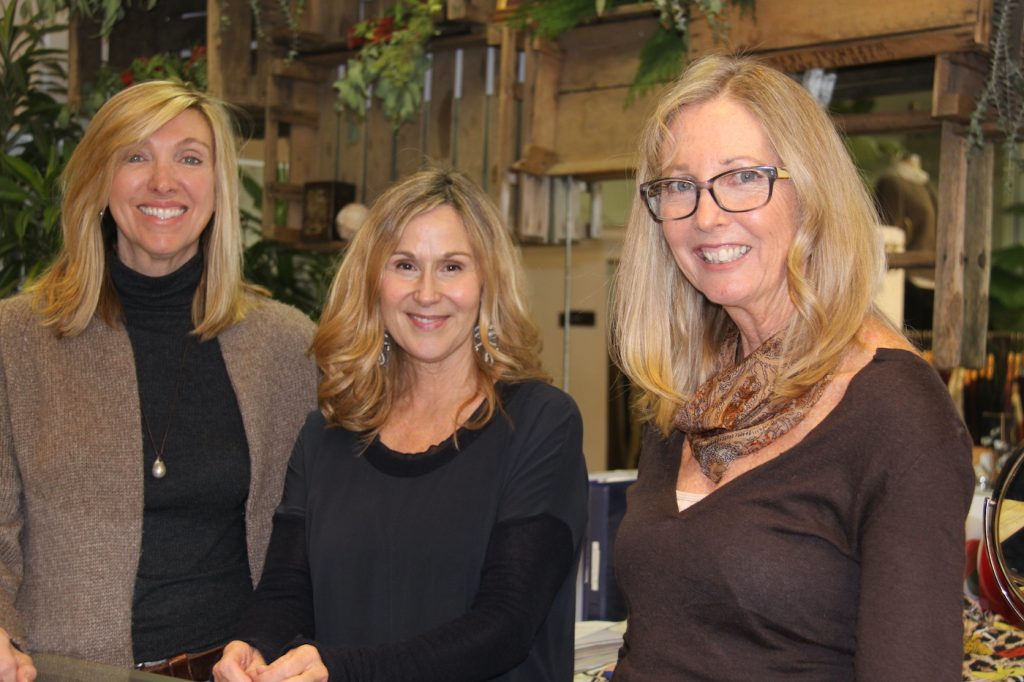 Mr. Lafond began his career as an architect, after graduating from McGill University in Montreal. In 1962, at the age of 32, he founded the first post-prohibition commercial winery in Santa Barbara County. Pierre now owns two wineries in Santa Ynez – the original Santa Barbara Winery in partnership with winemaker Bruce McGuire, and the Lafond Winery & Vineyards in partnership with his son, David.
Ms Foster owned a print business when the two first met and married 44 years ago. She traveled the world as a young woman, including stints as an UNESCO ambassador in Paris and a chef in Israel. It wasn't until she was nearly 40 years old that she landed in Santa Barbara to launch her fashion career by opening her first boutique on State Street. Since then, she has opened the three stores in the upper village, Angel on Coast Village Road, and a Wendy Foster in Los Olivos.
The Corner Green
The Corner Green on the northeast corner of San Ysidro and East Valley roads, for years the site of a Union 76 gas station, was purchased in 1993 through the generosity of the Montecito Community Foundation and its donors and converted to a park. Proceeds from the Pierre Lafond-Wendy Foster businesses maintain the Corner Green in its present pristine condition. Dogs, kids, and diners get to enjoy a romp in the grass after eating or even overeating.
The San Ysidro Pharmacy and Montecito Coffee Shop
The distinctive red building on the northwest corner of San Ysidro and East Valley Road houses the venerable San Ysidro Pharmacy, owned and managed since 2000 by Steven Hoyt, who teaches judo at City College.
The integrated Montecito Coffee Shop, a local favorite with roots dating back to 1929, has been serving breakfast and lunch, inside or on a shaded porch, since 1984. In 2003, waitress Debbie Ousey took over ownership from Tom Ruklic and Bob Goodall, retaining long-time chef Frederico, who had served customers for 28 years.
The San Ysidro Village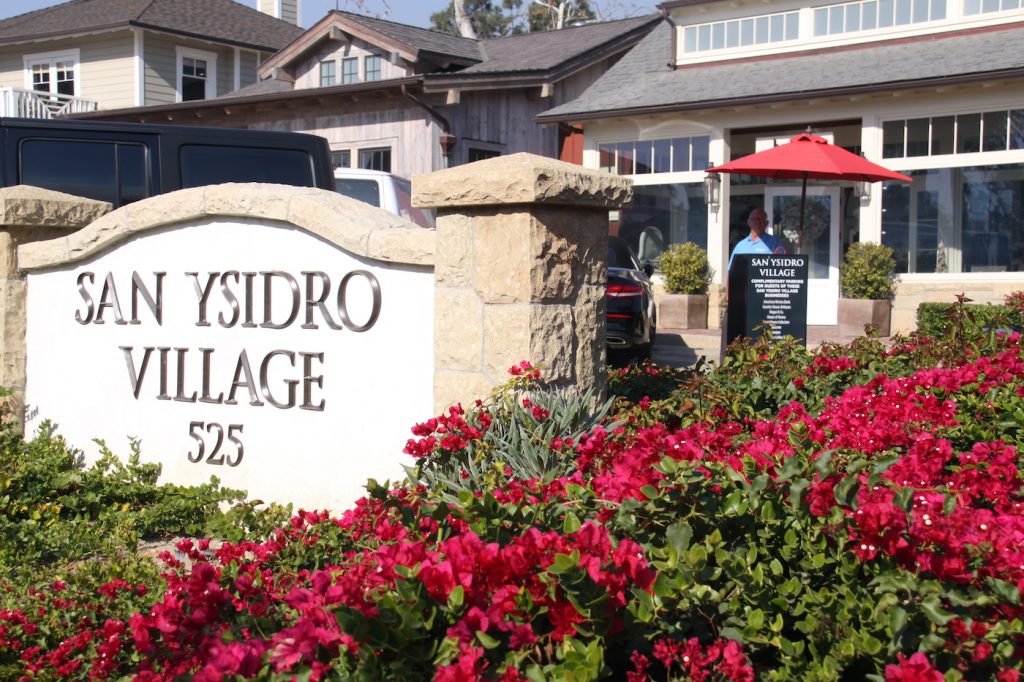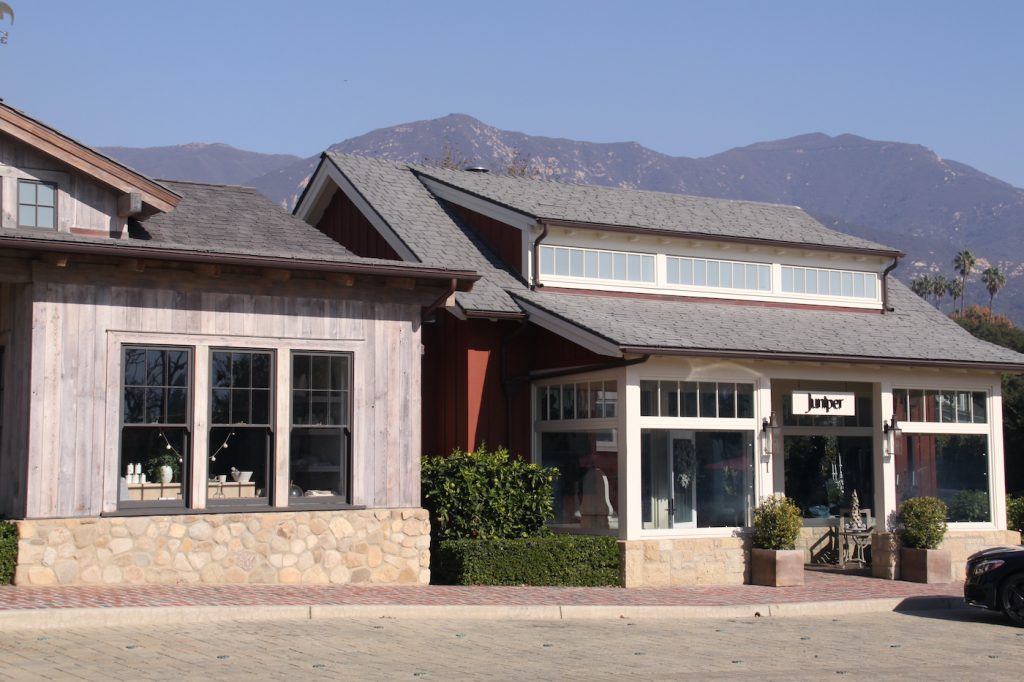 • Country House Antiques. In selecting my favorite shop in the upper village, I would have to name Jennifer Sanan's Country House Antiques. Jennifer is both charming and delightful, with a positive, can-do attitude. This will be her 20th year as the owner of Country House Antiques, selling to local residents, interior designers, and visitors from around the world. Jennifer specializes in 18th– and 19th-century English, Swedish (her real passion), and French country furniture, which she personally selects on two to three European buying trips each year. Jennifer describes her business like this: "It takes over your life. It cannot be your source of support. You have to love it. Why else would you do it?"
• Hogue & Co. In the year 2000, Jerad Peddicord and Kristi Meland, who were then employees of the renowned floral designer Scott Hogue, opted to buy the business when Scott retired. They relocated the retail workshop to its present location in the San Ysidro Village, where it has grown to 13 employees over the past 17 years. Kristi focuses on the people side, while Jerry leads the creative design team in their successful partnership. With more than 25 years' experience, they have become the region's premier florist.
• Randy Solakian at Coldwell Banker's Preview Estates maintains a private professional office to service clients.
• William Laman Furniture Gardens & Antiques. William Layman and his partner, "Hall of Fame" interior designer Bruce Gregga, have a long history of providing Montecito homes with an understated elegance and an exceptional eye for detail. Their boutique offers a stunning collection of one-of-a-kind home and garden pieces.
Landlords and developers Richard and Michael Gunner have received rave reviews for the architecture and construction of their seven new commercial units north of the San Ysidro Pharmacy. Of the seven new shops created by the Gunners, five are now occupied with tenants; the sixth will be leased to UPS this spring, and the last was vacated by Jennie Kayne when she consolidated her two stores.
• Juniper. In April 2017, Marie Ferris, owner of Matti D in Del Mar was persuaded to move to Montecito to open Juniper in the San Ysidro Village as a replacement for the former Elu. The strength of her new boutique is helping women look good while having fun.
• Jenni Kayne. Ms Kayne is a young California designer with five shops in California and a sixth in the Tribeca section of New York City. The boutique offers classic styling and beautiful fabrics in both the Jenni Kayne brand and a handpicked assortment of other lifestyle brands.
• American Riviera Bank is a growing community-based bank headquartered in Santa Barbara that provides private banking services and responsive commercial support to local businesses.
• House of Honey Home Furnishings is a residential and commercial interior design studio and retail showroom owned by Tamera Honey. The shop features an interesting selection of unique items for the home.
• Julianne is an upscale women's clothing shop that is so exclusive it doesn't even have an exterior sign. It describes its collections as "cutting-edge chic."
San Ysidro Road Antique Shops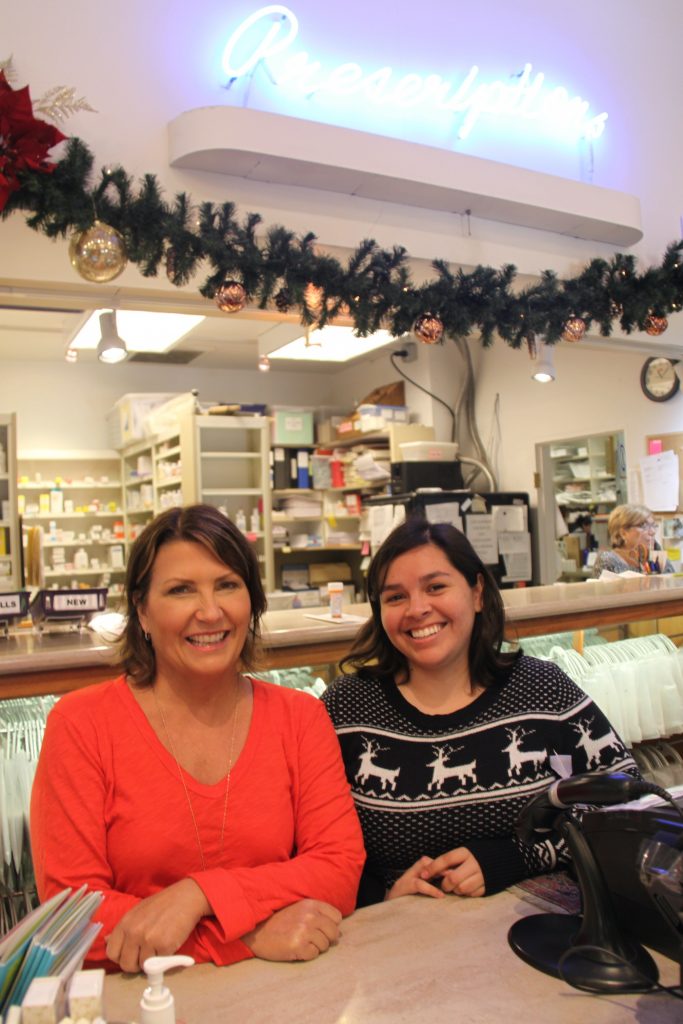 David Bertrand, long-time landlord for three of Montecito's best-known antique shops, has kept his rents low and his leases reasonable.
• Carty & Carty Antiques. Edward & Anne Carty are twin brother and sister who relocated to Montecito from the Antique Collective in Summerland, more than 10 years ago. They both got their start in San Francisco, where their parents were shopkeepers specializing in antique clocks. Today's business features antiques, custom reproductions, appraisals, and the sale of lovely furnishings that once graced large local estates.
• Haskell Antiques. Michael Haskell, joined in recent years byhis son, Eric, has been in business since 1969, specializing in Spanish Colonial antiques and Native American arts. Their business has shifted to developing custom lines for local designers.
• Brostrom's Antiques. Alan Brostrom has been in business since 1999 featuring Asian furnishings and accessories. Welcoming and knowledgeable, Brostrom has an eye for unique and beautiful collectibles.
Gazebo Gardens
Gazebo has been in business since 1973 creating flower arrangements, providing landscape design, and maintaining home gardens. A year and a half ago, Steve Domines, a local estate manager, bought the business at the southeast corner of San Ysidro Road and East Valley and changed the focus to Gazebo Gardens. The landlords for the complex are Martha and William Gray, partners in Gray & Gray architects, domiciled on the site along with Bob Easton, architect, and Miller & Berryhill, Attorneys at Law. Paul Gray, father of both Will and Martha Gray, was the original architect, builder, and owner when he teamed up with Jack Warner at Warner & Gray.
Next Week: North and south Montecito Village. The amazing Norm Borgatello story.
You might also be interested in...