Singer Lvoff Goes to the Head(less) of the Lane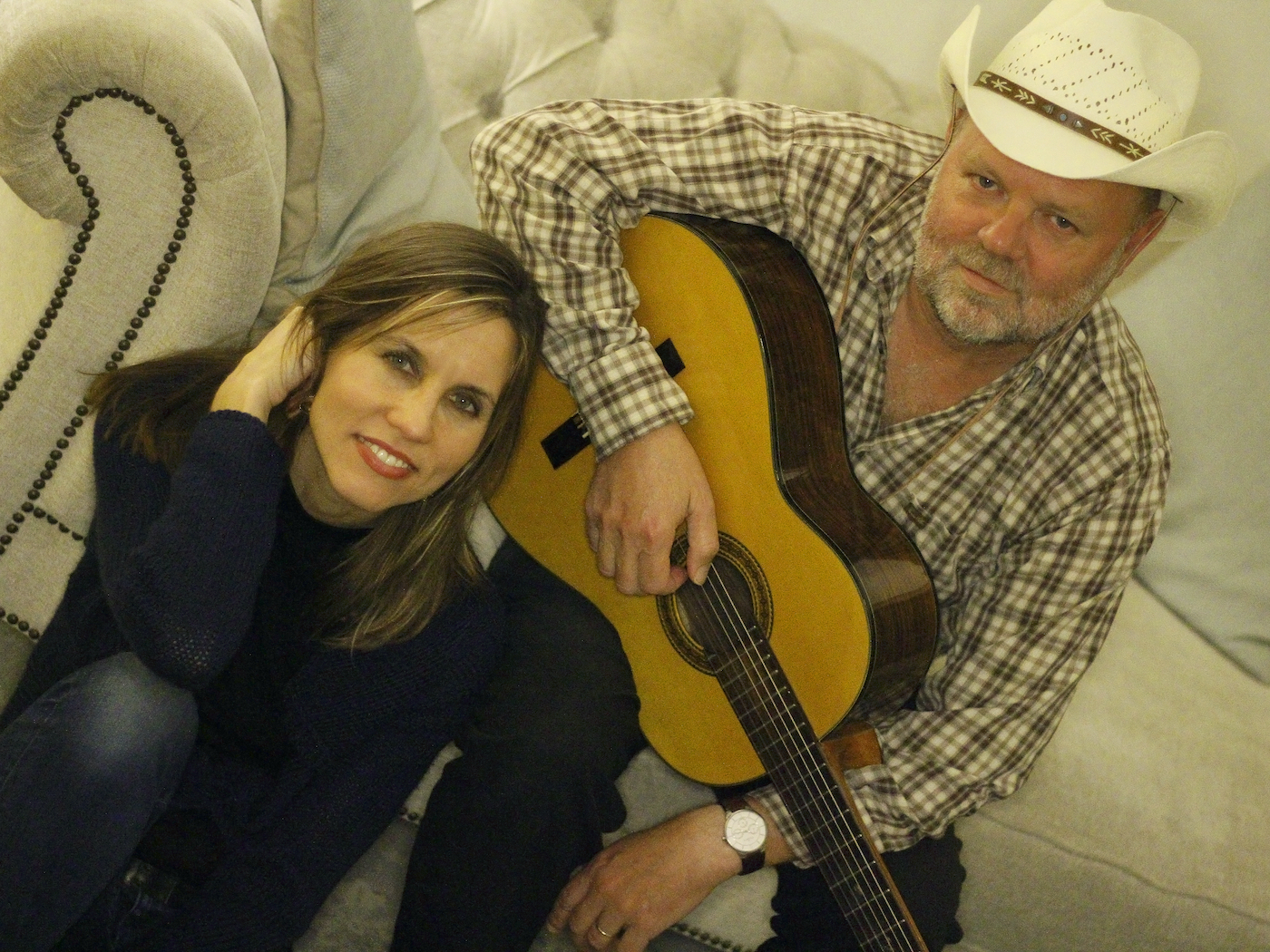 If Nicole Lvoff could swing it, she'd rather be singing jazz music full-time for a living than working in the public library system. On the other hand, if it weren't for her library job, she might never have met Joe Woodard, another Santa Barbara who is well-known in town as an entertainment journalist (The News-Press and Independent) and musician who's had a hand in several indie projects. They befriended each other years ago, and eventually decided to try making some music together. It was through that connection that Lvoff landed her newest gig, stepping into the featured vocalist role in Headless Household, the eclectic, genre-expanding jazz/experimental ensemble fronted by guitarist-songwriter Woodard.
Lvoff, who has performed jazz standards periodically all around town for more than a decade, is taking over for Julie Christensen, the nationally known singer-songwriter (and longtime background vocalist for the late Leonard Cohen) who recently moved from Ojai. Her first gig with the band takes place Tuesday night at SOhO, when the opening act is Lucinda Lane, the self-described "IndieBossaSwingTwang" band she co-leads, also with Woodard.
"I don't do all the ones she (Christensen) did with Headless Household, because she was very versatile. Those are very big shoes to fill," Lvoff explained the other day. "I'm starting out with a few I think I might sound good on – not the polka songs, because that's just not my style. I have to do what I'm in love with."
That's also what defines the material she sings with Lane, for which the songs are all written by Woodard – some with her voice in mind, she said – but are approved jointly. "Right from the beginning, I told him that I can only sing songs that I really like. Otherwise, it doesn't work. I'm not good at faking it. I have to believe in the song."
Fortunately, Lvoff – who comes from a household of classically trained musicians, including her father, Juilliard-trained violinist Andre Lvoff who played with the Santa Barbara Symphony – serves as a muse for one of Woodard's cherished genres of altered roots-country. Lvoff, who was previously purely a jazz singer, didn't realize she felt kinship with the style until she heard his takes.
"It's fun to wear a different hat and get out of my usual repertoire," she said. "Jazz songs are beautiful, but a lot of them are serious and moody. It's been great to see what else I can do. I never thought I would, but I really like the whole country thing, what Joe calls his 'shoegazer songs'. They're just so fun to sing."
Lane, an "expandable and contractible group" that can range from a harmonizing duo to as large as a dozen-strong ensemble, will show up as a quartet for Tuesday's gig, with Santa Barbara stalwarts Tom Lackner on drums and Randy Tico – who is also making his Headless Household debut – on bass. Both groups plan to record CDs in the new year, after Woodard finishes laying down tracks with the erstwhile "rock and droll" band flapping, Flapping (which features Glen Phillips, among others). The forthcoming discs will be Lane's debut and the umpteenth for Household.
Meanwhile, Lvoff also plans to make a new album soon, a follow-up to her 2010 debut Here's that Rainy Day. With Tico producing and playing bass, the singer has already recorded two tracks, "Beju Sem" and "The Nearness of You", both a bit outside the mainstream of standards. And while her public jazz are few and far between these days as her time is taking up by her job and nearly 4-year-old son, one of her favorites is coming up this Wednesday: La Arcada Christmas Walk.
"It's a major children's fest, which I love because I do children's programs at the library," she said. "I get to sing Christmas songs, which is so much fun."
From Rome, with Love
Colorado native Nate Birkey lived in Santa Barbara for an extended period surrounding the turning of the millennium, a time that saw him finish his education and establish his credentials as a jazz trumpeter and vocalist deeply devoted to the Bix Beiderbecke/Chet Baker-school of lyrical playing mostly in the instrument's middle-low register. Then, craving a more thriving musical scene, he departed for the jazz mecca of New York City more than a dozen years ago, where he further honed his chops and developed a core trio that has helped him delve deeper into his desires and his gifts.
But the city that might actually own his musical heart, or at least his muse, is all the way on the other side of the Atlantic Ocean. Birkey first visited Rome, Italy, back in 2006, spurred on by a colleague who referred him to Alessandro Marzi, a drummer with a like-minded musical approach. The two clicked right away, forging a bond both musical and personal that has only grown as Birkey returned half a dozen times over the years, playing mini tours of the country that has something of an affinity for jazz and romantic music, with a cultural temperament that clearly appeals to the laid-back trumpeter. His last visit, which took place just last summer, resulted in a nearly impromptu recording session, suggested and set up by Marzi, who put together the rest of the band for the single day in the studio.
The resulting album, Nate Birkey: Rome, might just be the best recording yet in Birkey's already impressive 10-CD catalog on the Santa Barbara-based Household Ink Records. Somehow the band assembled for the one-day session – which included some of Italy's most respected musicians (Roberto Tarenzi and Manuel Magrini on piano, Luca Bulgarelli on bass, and Marzi on drums) – created the kind of intuitive chemistry that characterizes the best jazz outfits, even though they had absolutely no rehearsal prior to arriving in the studio. Beyond the playing, however, Rome also captures the spirit of the city, or at least Birkey's bittersweet take on the place, his subtle emotions dripping from every note and phrase. Birkey's four original songs, which he wrote just before departing for the 11-show tour of Italy, settle quite comfortably next to carefully chosen covers that range from movie music (Morricone's "Cinema Paradiso") to Michel Legrand's classic "Windmills of Your Mind" and include two understated vocal numbers.
Birkey returns to town to perform at SOhO on January 3, though he won't have the Italian musicians from the album – which came out earlier this month – with him, instead playing with his longtime local cohorts Jamieson Trotter on piano, Jim Connolly on bass, Tom Buckner on tenor sax, and Peter Buck on drums. But he'll play all of the music from Rome, setting the new year with a romantic and lyrical tone.
Q, It's absolutely astonishing how great the band sounds together, considering there was just the single day and you'd never met before. How do you explain that?
A. Actually, I was pleasantly surprised myself at how it turned out. They didn't even have the music ahead of time. We just met at the studio, I gave them the music, and we talked through a few things. It's the beauty of jazz and working with accomplished musicians that wonderful things can happen without having any history together. It just intuitively happens. All of us were into adapting and being open and having, as they say, "big ears", listening to the others and reacting to what they play.In some ways, jazz is actually meant to be more that way – spontaneous and intuitive rather than too carefully planned out and over-rehearsed, which can take the life out of it…
What is it about Italy and Rome that inspires you?
The Italians love jazz and they love more of the romantic side of it, which tends to be how I approach the music myself, from the lyrical side rather than technical. I just love walking the streets. Rome doesn't feel like a big city when you're walking around in the little streets and outer parts of the city, especially at night. That's what inspired "Roma di Notte", which means Rome by Night, and came from my remembering my first visit, when Alessandro took me around to all the tourist sights at night. "Adriatica" is about my time in a town by the Adriatic Sea, when a big storm came in very suddenly and intensely, and then moments later it was gone. Even "How I Find You", which was partially written to be cathartic about a past relationship that didn't work out, is also about how I find Italy, how I relate to what's around me.
The album is truly lovely, easy to listen to, but still rife with nuances and implications that intrigue.
I always want my music to be beautiful. But this was an album that I wanted to be really pretty – not at all flashy. There's improvisation, but that's not what it's about. It's really more the songs. I picked ones that are romantic and beautiful. I was particular about the mood that I wanted to set.
And that is?
Introspective, a little sadness but also some serenity and peacefulness. It's melancholy, but it's heartfelt and sincere. Not to get political, but I'm struggling with where we are, the state of our country and the world, with so much vitriol and hate speech. It impacted how I approached the album. I wanted it to be beautiful and positive. I made it as an antidote to what's happening right now.
(Nate Birkey: Rome is available on Birkey's website, www.natebirkey.com. For tickets to January 3 concert at SOhO, visit www.sohosb.com.)
Focus on film: Dame Dench dubbed Douglas winner
Academy Award-winning actress Dame Judi Dench will be honored with the Santa Barbara International Film Festival's (SBIFF) 12th annual Kirk Douglas Award for Excellence in Film at The Ritz-Carlton Bacara next Thursday, November 30. The black-tie gala dinner fundraiser may serve as a precursor to another nod next March for Dench, who won supporting actress Oscar playing a Queen Elizabeth in Shakespeare in Love,for her latest role portraying another British monarch, Queen Victoria, in Stephen Frears's Victoria & Abdul. Dench, whose filmography includes Philomena, Notes on a Scandal and the James Bond thriller Skyfall, also has a smaller role in Kenneth Branagh's just-released remake of Agatha Christie's Murder on the Orient Express.
Ali Fazal, Dench's co-star in Victoria & Abdul, and Montecito favorite sonJeff Bridges are among the luminaries who will be on hand to laud the actress at the gala and on the red-carpet cocktail reception, which begins at 6 pm. Funding from the event supports the many educational and community programs hosted by the Santa Barbara International Film Festival including Film Camp, its new initiative to be launched next summer.
SBIFF Selects Early Winners
Meanwhile, two of the slate of honorees to receive tribute awards at next year's 33rd annual festival have been announced. Gary Oldman gets SBIFF's top prize, the Maltin Modern Master Award, on February 2, in honor of a career that currently culminates with Darkest Hour. In the British war drama directed by Joe Wright, Oldman stars as Winston Churchill in his early days as prime minister as Hitler closes in on Britain in World War II. It opened in theaters earlier this week. Among the former member of the Royal Shakespeare Company's earlier iconic roles are Sid Vicious in Sid and Nancy, Lee Harvey Oswald in JFK, Count Dracula in Bram Stoker's Dracula, Ludwig van Beethoven in Immortal Beloved, Sirius Black in the Harry Potter series, and an Oscar-nominated turn as George Smiley in Tinker Tailor Soldier Spy.
Also grabbing honors the night before is Willem Dafoe, who receives SBIFF's Cinema Vanguard Award for his role in Sean Baker's The Florida Project, on February 1. Dafoe's 37-year career dates back to an uncredited role in Heaven's Gate and includes Academy Award nominations for Platoon and Shadow of the Vampire. For more information and tickets to all SBIFF events, visit www.sbiff.org or call 963-0023.
Shape up at UCSB
UCSB Pollock Theatre's Script to Screen series gets in on the award season hoopla with its own event not far from the Bacara also on Thursday, November 30. The Shape of Water, Guillermo del Toro's otherworldly fairy tale set against the backdrop of Cold War-era America circa 1962 that is being hailed as the auteur's best work since Pan's Labyrinth, stars a much decorated cast headed by Sally Hawkins and Octavia Spencer, and also features former nominees Michael Shannon and Richard Jenkins. Screenwriter Vanessa Taylor will be on hand for a post-screening Q&A moderated by Pollock Theater director Matt Ryan. Tickets are free for the screening of The Shape of Water, which opens in theaters a week later, three months after it claimed the Golden Lion when it premiered at the Venice International Film Festival. Visit www.carseywolf.ucsb.edu/pollock/script-screen.
Inspiration through inks
Joanna Murphy, the Santa Barbara artist (profiled here in last week's column) whose first solo exhibition of alcohol inks painting opened last weekend at Nutbelly in Carpinteria, is passing on her passion for the medium in a workshop at Center of the Heart this Saturday, November 25. Alcohol inks "brings its own ideas about what your painting might look like," Murphy says, which makes it an excellent way to create something eye-catching and original, even if you have no artistic experience. Murphy invites all to come participate from a playful, exploratory place, one of willingness to let go and connect with painting as spiritual creative experience. Participants will have the chance to create several paintings on ceramic tiles, which will be provided along with all other materials. Details and registration at www.centeroftheheart.com.
You might also be interested in...