New Tune at the Red Piano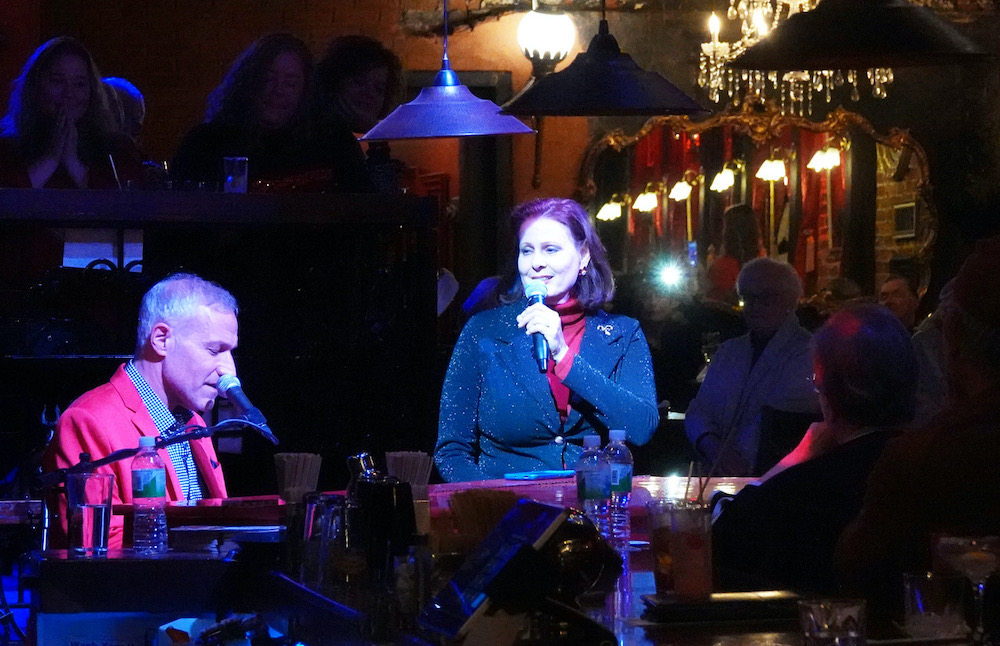 It was music to everyone's ears when the Santa Barbara Symphony hosted a fundraising bash at the State Street eatery, The Red Piano, with syndicated radio host Jim Brickman, who has two Grammy nominations and 21 Number One albums, tickling the ivories magnificently for two hours as part of his 28-stop A Very Merry Christmas tour.
The event was organized by award-winning actress and opera singer Deborah Bertling and Catherine Remak, morning show co-host on K-LITE radio, on which Brinkman hosts his eponymous show on weekends.
Brickman, who has worked with Carly Simon, Herb Alpert, Kenny Rogers, Donny Osmond, Johnny Mathis, Kenny Loggins, and Michael Bolton, sang a selection of his songs as well as many Yuletide hits and carols.
Among the supporters cramming the bijou spot were Ralph and Diana MacFarlane, Dan and Meg Burnham, John and Hazel Blankenship, Peter and Kathryn Martin, Julie Askew, George Konstantinow, John Palminteri, Jeep Holden, Fred and Nancy Golden, Ginny Bliss, and Henry and Gwen Baker.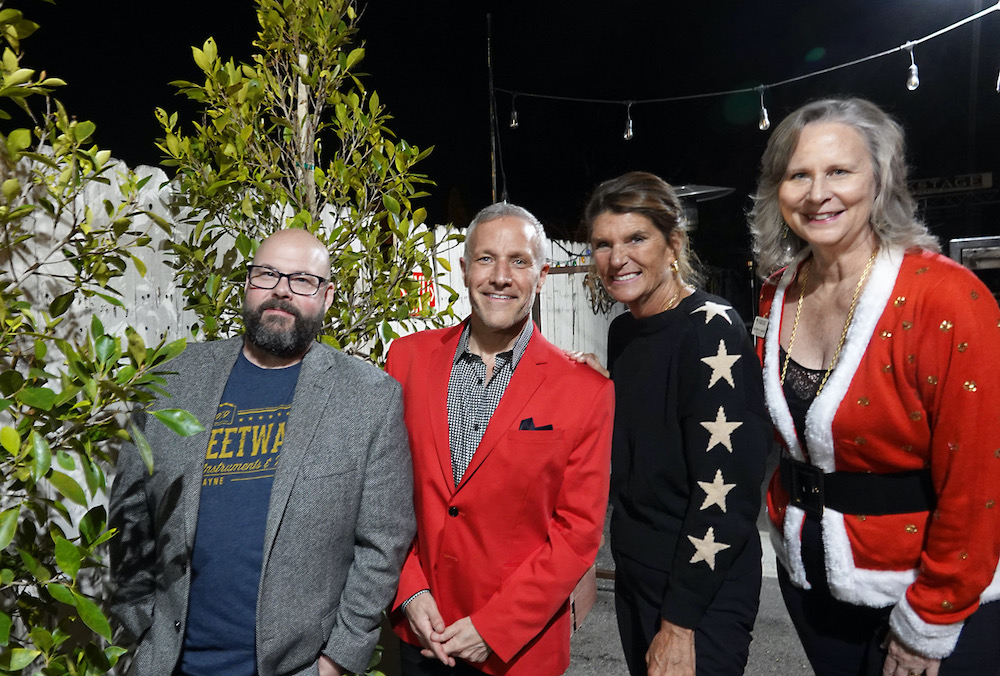 Local Couple Shares Photos
The battle of the Windsors has been ramping up!
As Prince William and his wife Kate launched their whirlwind three-day tour in Boston for an Earshot Prize gala, younger brother, Riven Rock-based Harry, 38, and his actress wife Meghan Markle, 41, released an incredibly ill-timed one-minute-12-second trailer for their highly anticipated Netflix documentary, part of their $100 million deal with the streaming giant.
The tony twosome shared a series of never-before-seen photos of them as a couple, while hinting the documentary will see them launching fresh unwelcome attention on the Monarchy.
It comes after William's godmother, Lady Susan Hussey, who served as the late Queen Elizabeth's lady-in-waiting faultlessly for 60 years, was accused of making racist comments to a black domestic abuse campaigner at a Buckingham Palace reception hosted by Queen Consort Camilla, which ended with her resignation.
Open House
Lebanese TV personality Marcus Lemonis, 48, is selling his Montecito home in the gated Ennisbrook enclave for $22.75 million.
Lemonis, who hosts CNBC's The Profit about taking over struggling businesses, paid $6.85 million for the five-bedroom, eight-bathroom 1989-built home on 2.09 acres when he bought it from British financier and car collector Andrew Pisker in 2017.
He put the 8,100-square-foot single-story farmhouse property, which has been totally renovated, on the market in February for $24.9 million.
The U-shaped house also has a pavilion tennis court, olive tree garden, and a three-car garage.
Stern Requests Modesty
Don't expect former TV talk show titan Oprah Winfrey to be inviting New York radio shock jock Howard Stern over for tea and crumpets any time soon.
The controversial radio host, 68, has blasted Oprah for showing off her lavish lifestyle on social media.
Stern, who earns $90 million annually, spoke out about how the media mogul, 68, worth about $2.5 billion according to Forbes, "loves showing off her wealth" and "is not embarrassed by it" on his eponymous nationally syndicate show.
"I find it mind blowing when you follow her on Instagram," he told his co-host Robin Quivers, 70, before adding: "You gotta be a little self-aware and know that these people are struggling out there.
"Oprah's not embarrassed by her wealth at all," he said. Stern, who is worth around $650 million, also stated that when you follow Oprah on Instagram "you see her estates, her gardens, and the people who service her."
He added: "She knows how to be rich and likes to show it off, which is something I'm not comfortable with. I don't think people should show off their wealth."
Wood on Board
Community Arts Music Association of Santa Barbara, which is celebrating its 104th concert season, has elected Nancy Wood to its board of directors.
Wood, who recently moved back to our Eden by the Beach after 10 years in Oakland, served on CAMA's women's board from 1998 and as its president from 2003 to 2005, where she chaired the successful Hidden Gardens Tours for several years.
She was elected to the board of directors in April 2005 and served until 2012, during which time she elected second Vice President from 2008 to 2011 and chaired CAMA's International Circle.
In 2004, Wood was named Volunteer of the Year for the Santa Barbara-Ventura Counties Chapter of the Association of Fundraising Professionals.
Joining the Dream
Landon Pollack, managing partner of Ignite Venture Partners, has joined the board of directors of the Dream Foundation.
As an executive advisor, Pollack has worked with some of the world's most famous brands. He has a track record of identifying problems, creating solutions, and guiding those solutions to success.
Pollack is considered a human catalyst, pairing organizations with the world-class people they need, whether it's from the perspective of an investor, partner, advisor, director, or management.
He has helped more than 100 companies create advisory boards and sits on many himself with the Dream Foundation his latest addition.
Pollack's business acumen developed early. At just 13, he built a multimillion-dollar sports memorabilia business while training to play professional baseball. And before the age of 20, he had founded five different companies, on his way to being a founder or founding investor in over 20 more.
Kirstie Alley Remembered
On a personal note, I remember actress Kirstie Alley, who has died aged 71 after a battle with cancer.
Kirstie, a two-time Emmy winning for the classic TV series Cheers, owned a home in Dark Harbor, Maine, the former Isleboro Inn, where I used to sail annually in Penobscot Bay with friends.
I remember one particular occasion when her then-husband, actor Parker Stevenson, former Cheers star Woody Harrelson, and Danny DeVito and his wife Rhea Perlman, were entertained to a concert at the idyllic spot by the Tigertones, the acapella choir from Parker's alma mater Princeton.
Another day we all sailed over to nearby Camden and had a very raucous lunch at the Waterfront restaurant.
Fond memories…
Sightings
Actor Harry Hamlin and Real Housewives of Beverly Hills wife Lisa Rinna strolling on Miramar Beach… Ellen DeGeneres and actress wife Portia de Rossi at the Honor Bar… Oscar winner Gwyneth Paltrow and producer husband Brad Falchuk enjoying the sights of Paris.
Pip! Pip! Be safe, wear a mask when necessary, and get vaccinated.
You might also be interested in...