Where It All Vegan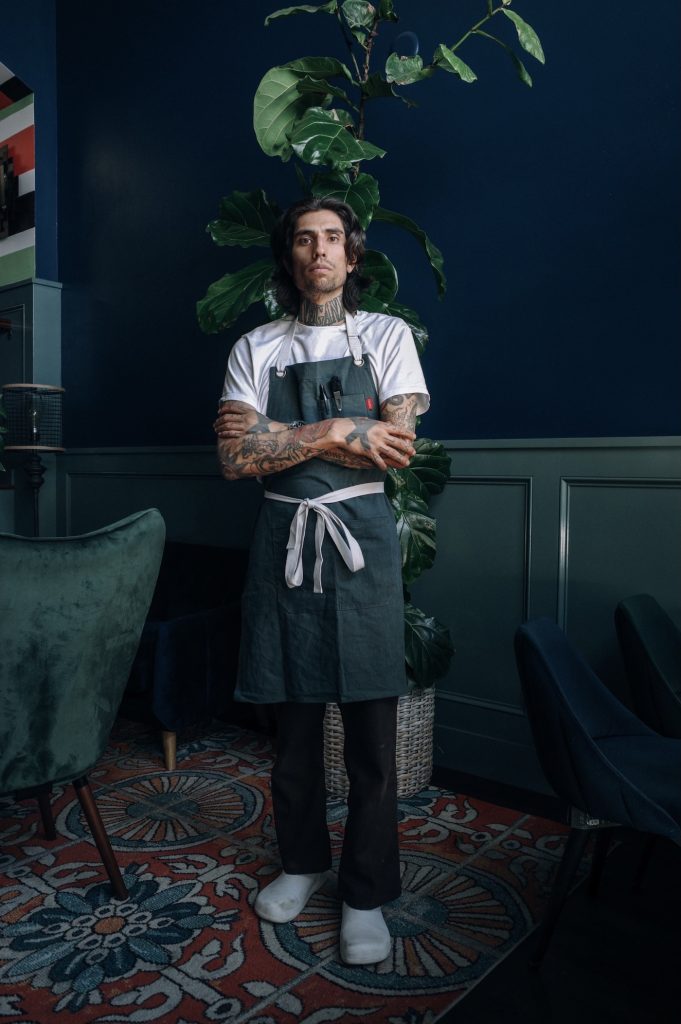 Who remembers that cookbook How It All Vegan by Tanya Barnard and Sarah Kramer? If you do, congrats, you're older than you think. If you don't, well, who can blame you? It was a vegan cookbook published in 2002. Before vegan burgers started popping up at fast food chains, before walls were packed with specialty vegan cheeses, and celebs choosing a 30-day diet of no animal products. It was a tough time for those who abstained from foods without a face.
Now Santa Barbara and Montecito boasts a handful of all-vegan spots — Rascal's, Oliver's, Mesa Verde, and Fala Bar, as well as restaurants that feature a healthy variety of options. How did we get here? That's the question I asked my best friend of 30 years, Dalan Moreno, who just happens to be the owner of Rascal's, the downtown vegan restaurant that just celebrated its one-year brick and mortar anniversary with a totally epic party.
How did Dalan find himself giving up construction to cook authentic Mexican tacos? Was he faced with the existential question: to torta or not to torta? Who knew this would open a can of worms? Gummy of course. With no gelatin.
To arrive at this crucial moment, we couldn't help but reminisce about the vegan scene when we were growing up. Nearly two decades ago, starting around 2004.
Let me just say, this isn't a totally comprehensive look at the history of veganism in our seaside town. This is a recollection of two friends who have been vegan for some odd 17 years. I mean, with 17-plus years of B12 and protein deficiency, there's bound to be some mistakes, right?
So, in the early to mid 2000s we had our go-to spots. Super Cucas on Micheltorena and their bean, rice, and guac burritos the size of your forearm for just under four dollars. There was Natural Café, and you either fell on the side of the Good Karma Burger or Zen Burger. Or you could find common ground over the Old Town Salad: no feta, sautéed tofu, extra guac, and tahini dressing. If you wanted a late-night hot dog there was Mad Dogs. We just had to make sure the guys coming out of Sharkeez didn't see us eating a soy dog. We'd risk becoming a different kind of pulverized meat.
Trips to the legendary Sojourner on Canon Perdido were common. We had a few friends working there, which unfortunately for them meant fielding constant pleas for family discounts on Reubens and vegan chocolate chip cookies. Please, please? No? Okay, well, charge it up anyway! Those Reubens were too good to pass up.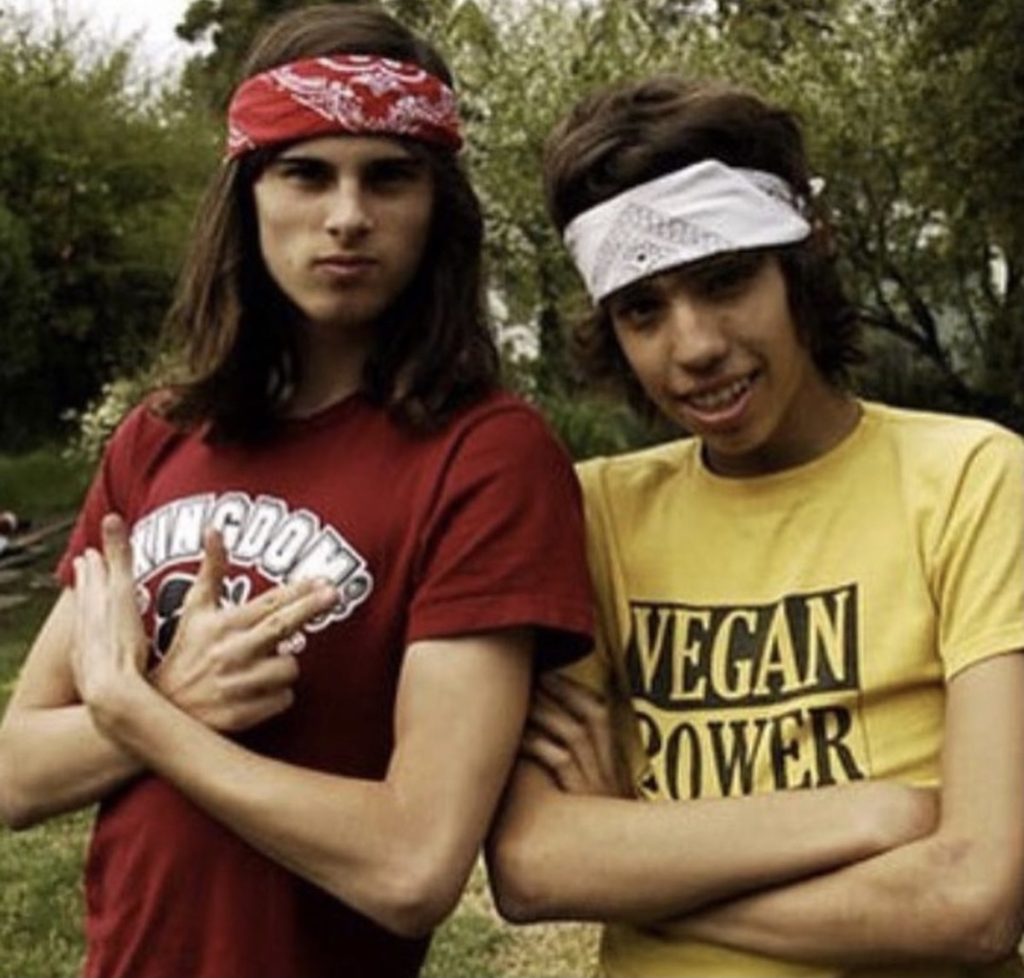 On the Eastside there was Shanghai, a Milpas staple since 1983. So many soy meats it'd make your head spin. Lazy Acres on the Mesa had a vegan mushroom pizza, and even though the cheese barely melted, we considered it a true delicacy. We still find ourselves occasionally waking up in cold sweats craving it. Speaking of pizza…
Pizza Guru! Huge. It was the first pizzeria in the area with vegan cheese. "Back then, all throughout California you'd try to find the pizzeria with vegan cheese."
These rare places would become destinations. If they had a specialty vegan menu, it went on our "Vegan Food Almanac." Any traveling vegans would have to make the pizza pilgrimage.
There was Your Choice, Your Place, Flavor of India, Himalayan Kitchen, Chilangos, Savoy Café & Deli, and Saigon. Isla Vista had Naan Stop and the IV Co-Op, where we'd snag some sandwiches filled with sprouts and hummus before going to the Biko and Pink Mailbox for shows. Sometimes we'd even make the trek to Ventura for Mary's Secret Garden.
We'd also spend time at Dalan's house on the Westside, making home cooked meals, setting the foundation of what was to come. We'd host huge potlucks, listen to The Smiths on a beat-up boom box, "Meat is Murder" playing on repeat, and connect with other vegans in an effort to build a community. Then we'd head to the local anti-KFC demonstration, protest the rodeo, and get yelled at by cowboys. Ah, those were the days… If only they knew Dal's favorite song is "Boot Scootin' Boogie."
But what about totally vegan spots in Santa Barbara? As far as we can recall, the first was Adama.
"Adama made cool stuff. A lot was made from scratch. And it was really good. We couldn't afford to go there all the time. And then they changed to all gluten-free, and we never went again."
One of our pet peeves is the conflation of vegan food and gluten-free food. But that's a rant for another time.
As the years went on, Adama closed, and we endured another Great Vegan Depression before there was a plant-based explosion, which Dal attributes to the 2011 documentary, Forks Over Knives. Vegan options became more accepted, more widely seen in restaurants. Places like Pizza Rev, Blaze Pizza, and Hanna Kitchen started carrying vegan options. And then in the late 2010s, Oliver's in Montecito, Mesa Verde on the Mesa, Modern Times in downtown (now closed), Fala Bar in the Public Market, and of course, Rascal's.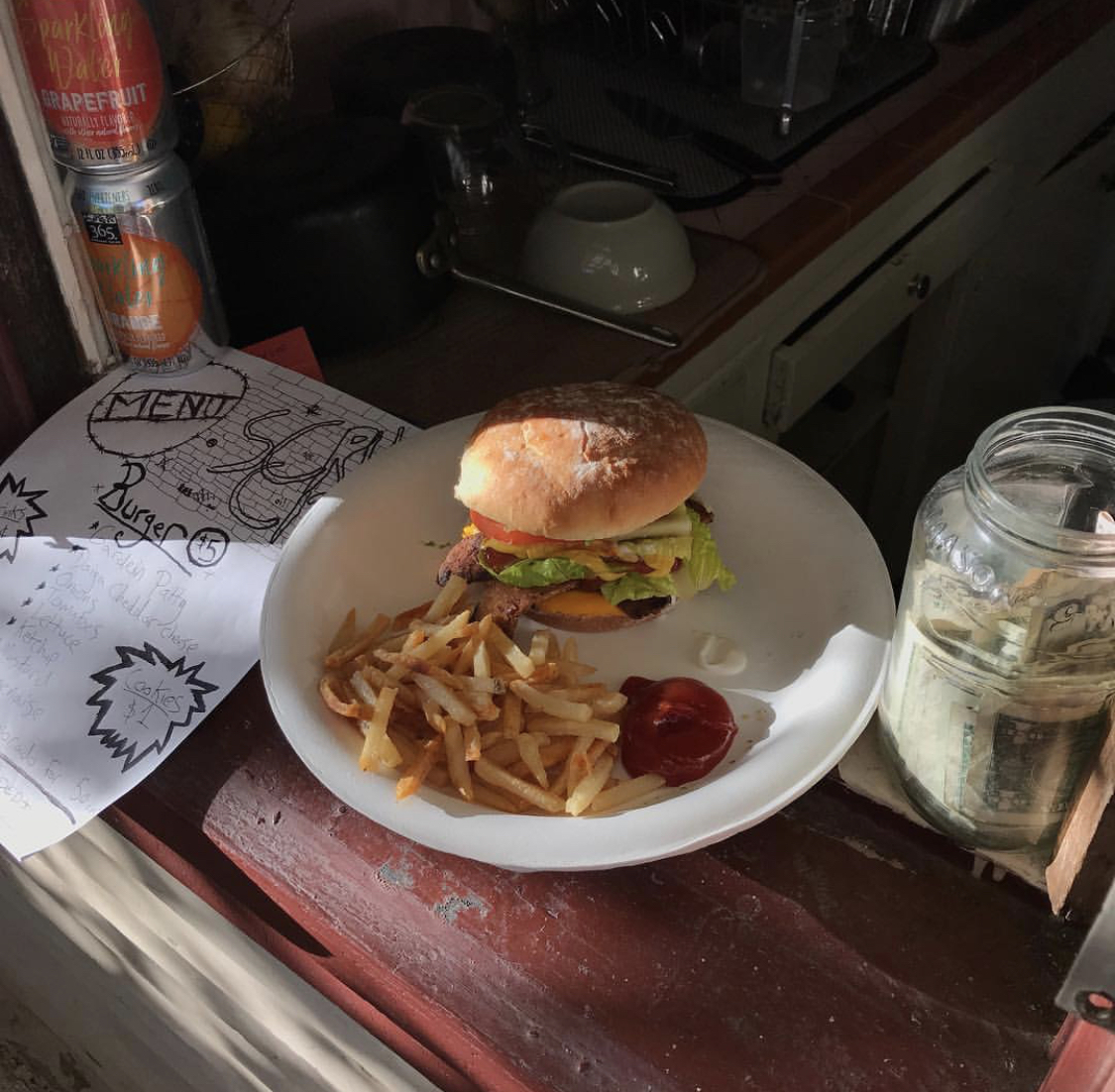 But how did Rascal's come to be? Dalan says the straw that broke the camel's back (wait, is that idiom even vegan???) was after he attended the grand opening of a now-defunct vegan joint that turned out to be worse than moldy pita bread. He said, screw it. He was gonna make the food he wanted to see in Santa Barbara. This was 2018.
He started making tortas in his kitchen, and sold them out his back patio window, health department be damned. After two kitchen-to-patio pop-ups, a close friend's father got wind of the DIY operation and offered use of his industrial kitchen. That guardian angel of the vegans was none other than the late and great Pete Clements, a big figure — literally and figuratively — in the Santa Barbara food scene, and someone who lent support to someone at a time who really needed it.
A renowned chef, cyclist, caterer, surfer, and all-round good person, Pete was the father to a close friend we had known for years. He cooked us some of the best spaghetti dinners we ever had in those early vegan years when we were just rowdy teenagers. And he offered Dalan his space for free.
"I didn't have to pay for anything. It was huge. I never cooked in a kitchen like that before. He was really cool. He had corporate accounts through Jordano's, so I could just buy it directly through his account. I learned how to do ordering through him. He had connections with a bunch of farmers, so he'd kick down lettuce, tomatoes, and stuff like that."
Dal reached out to Muni Wine in the Funk Zone. He went in on a Wednesday, and had a pop-up scheduled for that Friday. Dal prepped at Pete's kitchen, then took everything over in hot boxes and other crucial equipment.
That first downtown pop-up at Muni sold out in thirty minutes. A flurry of tortas gone before you could say, "Wait, that was vegan?" Dalan stayed at Pete's for eight months, working construction by day, making tortas by night, until Pete moved out of the kitchen. Dal was left as high and dry as a falafel wrap without tahini.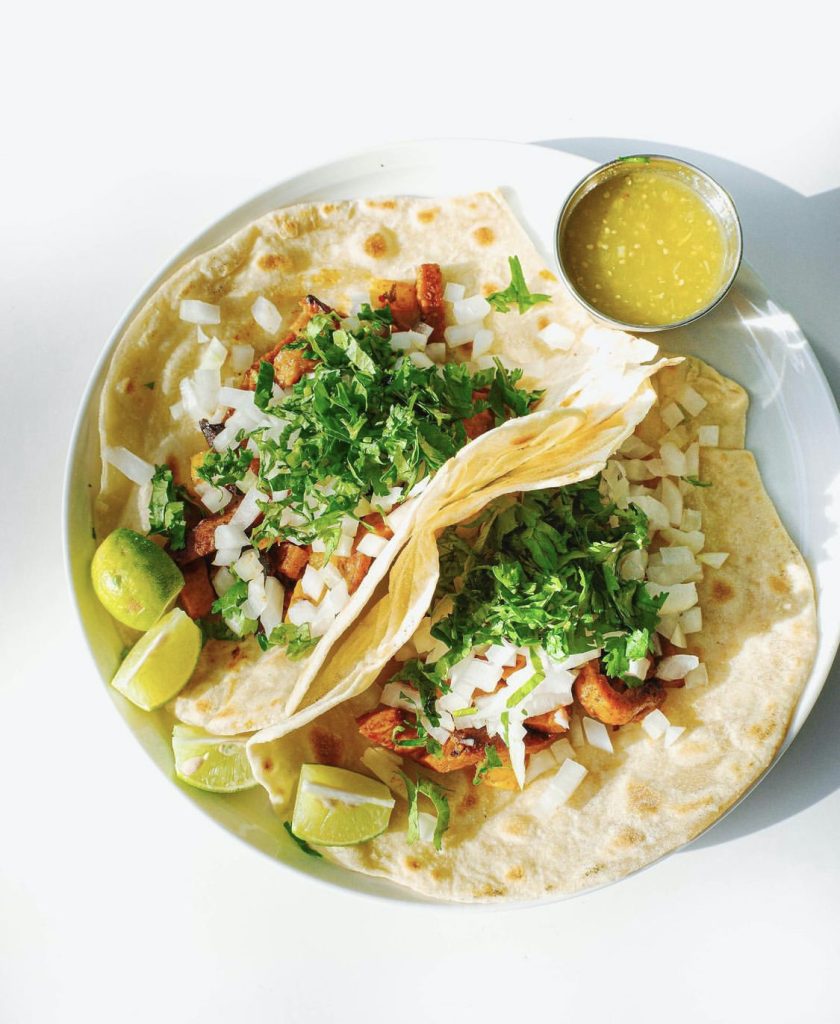 Around this point the tragic 2018 mudslides struck Montecito and Santa Barbara. Dalan's construction job ground to a halt. He resulted to flash-mob style burrito pop-ups in between traveling to Mexico to learn how to make authentic meat and salsas from the huge vegan scene in Mexico City. With the knowledge he learned there, he came back and went straight to one of our old watering holes: Super Cucas. Owner and friend Rudolfo, the always-smiling man with the mustache, struck a deal. Our favorite burrito spot was now featuring Rascal's soy meats. And it snowballed from there. 
Dal talks about all the people who helped him along the way: a one-off collaboration with Satellite and Emma West. I ask if it went well, a question I asked a lot.
"We sold out in an hour and a half." Pretty good by my metric. Good enough that he decided to leave construction.
Then there was Alejandro Medina of Bibi Ji, who offered him a place to pop-up at during the height of the pandemic. This was after Dalan was barely getting by with Rascal home deliveries.
Bibi Ji changed gears and had to take full use of the kitchen. "At that point I was freaking out. I didn't know what to do. So I was gonna go back to Mexico until I found an answer. And I posted on Instagram for any leads."
Dal had been doing Egg McMuffin pop-ups at Low Pigeon. Dennis Medina, at the time head roaster, and his partner Carrie Nelson, were well connected and introduced Dalan to Brandon Ristaino and Misty Orman of Good Lion fame. By chance, the kitchen at their other bar, Venus in Furs, was opening up. Wanna become partners? Rascal's and Venus in Furs struck a deal. Easy as that.
I ask how opening day was. Were there a lot of people? "It was crazy." Lines around the corner. Think Handlebar Coffee Roasters on the busiest of days. Rascal's grand opening at Venus in Furs was June 16, 2021.
And what's the menu been like? "We've never definitively been one specific thing. Sometimes it's Mexican. One time I did Italian. I just like making vegan food. Mostly Mexican. But on Sundays we do the Burger Town menu. We've even done pizza nights here [with Ventura's Back Bench Pizza]."
Since the opening there have been lots of ups and downs. Now, Rascal's is the only one set up in the space. Venus in Furs, while still leasing the building, has moved out. So what's he doing with all that extra room?
"We've been trying to keep it lively. We print out a poster of the events we're doing for the month. We're using the space to showcase local artists. We posted about I Madonnari. We host different markets on the parklet. Like vintage, curated clothing. I want to try to utilize this space. I'm trying to do stuff with Michael Montenegro and Chicano Culture SB."
I think it's great. If you have the resources, why not bring people in and build community. I ask about I Madonnari, an event we'd go to every summer as kids. Long before we were vegan. Now Rascal's had a pop-up there. How trippy was it seeing everyone walk around with your elote? "It was crazy. It was really cool."
It doesn't get much better than seeing hundreds of people walking around with your Mexican corn, slathered in vegan mayonnaise and chili. Which makes me ask what he thinks about the rise of veganism in Santa Barbara.
He gets somber for a moment. "I honestly wish there was more going on. I started the project as a necessity, as a thing I wanted as a consumer. This is where I'm conflicted. Friends say I should go to L.A. But that's not the point. I like living in Santa Barbara."
He's trying to give back to the Santa Barbara scene and help kids that were like us, searching for a place. "I like the idea of people coming just to eat dinner. Vegan doesn't have to be weird and trippy."
What Dal wants is to help normalize vegan food. He wants to bridge that gap between being vegan and a normal restaurant.
"I feel like so many people are coming around to veganism. There's no real downside. So many people are open to trying. Think about it. Kim Kardashian is an ambassador for Beyond Meat."
He's right. It's everywhere. You can even see it while watching basketball games. There are Beyond Meat ads on the digital banners. You can get vegan burgers at Carl's Jr. and Burger King. Our 15-year-old selves would've laughed you all the way to the IV Co-Op.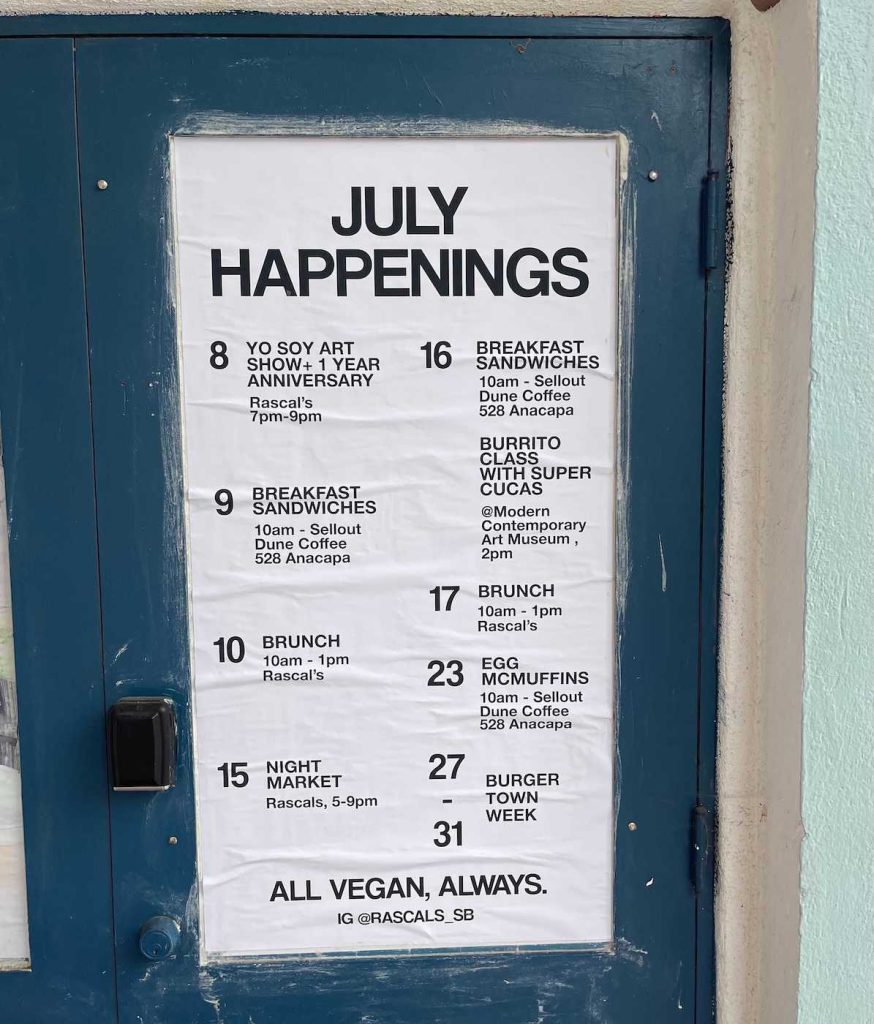 "I would've never thought any of that would happen when I was in high school. The only thing I could get was a Caesar salad and it was just spinach. So I would just eat spinach for lunch."
Now veganism has exploded far beyond wilted spinach moonlighting as a vegan Caesar. "Veganism can make food so much more exciting. When you're not vegan, you can just close your eyes and eat anywhere."
I agree. It makes eating an adventure. You learn to appreciate food in a different way. You twirl up some vegan pasta carbonara, and you're taken back to those days of visiting your family in Italy as a kid. You just can't believe it.
"I think that's what makes veganism exciting. There's so many good reasons to do it and then on top of that there's the hunt of finding something so incredible."
We could talk about this stuff forever. We've been talking about it well over 17 years. It's just that our lives have changed a bit. He's the owner of a vegan restaurant in Santa Barbara, and I'm writing about it. Pretty crazy for two people who still see ourselves as a couple of vegan punks against the world.
Before I forget, how was the anniversary party anyway? Did it go well? Were the churros a hit? Is there any point of even asking? The veganniversary was a total success! Line out the door, packed restaurant, people enjoying art and music. And most importantly the churros sold out.
And with the anniversary in the rearview, what's next? Dalan's keeping the party going! More events, more community building, more tacos and tortas. Can't argue with that.
So, now that you know how it all vegan, will we be seeing you there this weekend? Dalan emphasizes, vegan or not, everyone is welcome!
Christopher Matteo Connor is a writer and filmmaker. When he isn't writing, watching movies, and working on projects, you can be sure he's somewhere enjoying a big slice of vegan pizza.
You might also be interested in...