Sipping in Tune: The Merits of Pairing Wine with Music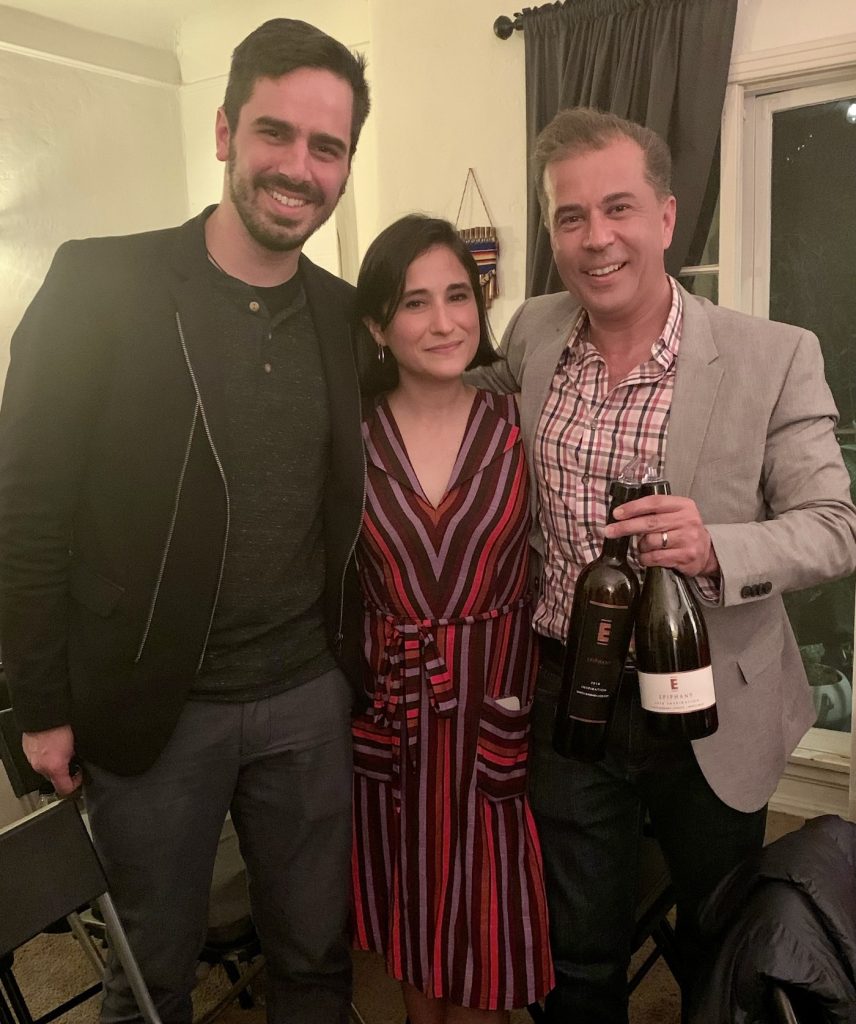 Two of our favorite pastimes have plenty to offer on their own. Drinking great wine enhances everything from consumption to conversation. Listening to music we love can lift our spirits and set the mood. Both also make us feel good.
But what about putting these two actions together? And I'm talking about beyond just turning up the volume as we quaff. What happens when we play a specific piece of music that we've carefully paired with a specific type of wine? How does performing these actions together, deliberately, enhance our enjoyment and appreciation of either, and both? And as we open ourselves up to the possibilities, do other senses awaken, too?
I recently stumbled onto a study out of Oxford University, published a few years ago, that studied music across various genres and its effects on the appreciation of wine. They cranked up everything from classical to punk, jazz to rock-and-roll. And, in the end, their assessment: people can get 15% more pleasure from the wine they're drinking if they're simultaneously listening to the right type of music. The idea? That humans naturally seek to match taste to outside influences, and if those outside sensations are pleasing, then taste is enhanced in a positive way. It's why wine does, indeed, seem to taste better when it's enjoyed in a beautiful setting or in the right company. This study, led by a researcher named Charles Spence, suggested that high-acidity Italian wines, for example, like Barbera, play well with music that has a fast tempo and high pitch; white wines heavy on oak and vanilla notes, like a California chardonnay, pair best with music with a slow tempo, even rhythm and soft timbre; and high-tannin wines, like merlot, taste even better with the raucous, if not distorted, sounds of rock-and-roll riffs on an electric guitar.
All quite subjective, to be sure – just as pleasure itself – and, at least, something worth exploring.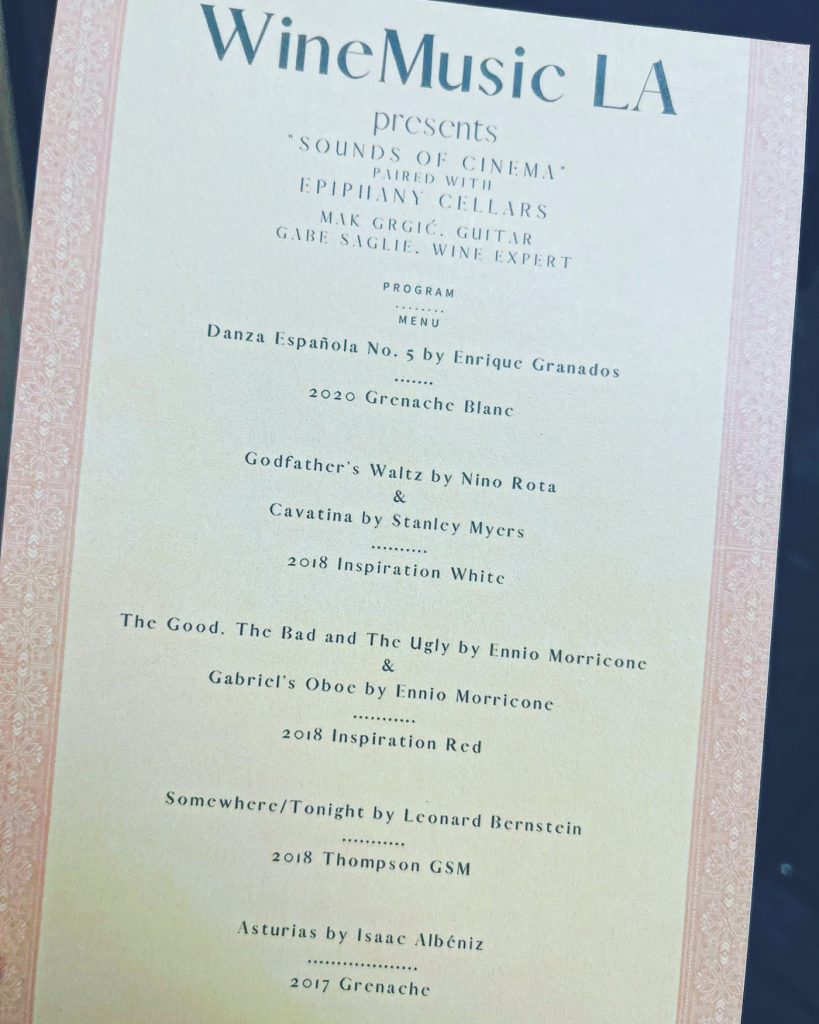 A few months ago, my sister and I decided to put this notion to the test. Meriette Saglie is an accomplished classical pianist who teaches privately in L.A. but also records professionally and goes on international tours. She recently earned a DMA (Doctor of Musical Arts) degree in piano performance from USC's Thornton School of Music. We pondered: what if we brought together world-class music and world-class wines – both, expressions of art in their own right – and presented them jointly in an intimate setting? Working through a nonprofit pro-music group, and on donations, the results from the first sessions of what's been dubbed Wine Music L.A. (@winemusic_la) have been fascinating.
The most recent meetup in late February, with an audience of only about 20 people, was titled "Sounds of Cinema" and featured Grammy-nominated classical guitarist Mak Grgić strumming movie themes – recognizable tunes from films like The Godfather, The Mission, and West Side Story. My role: to pair each selection with a specific wine, an exercise in coupling that, with a little bit of focus and a bigger bit of luck, would enhance the enjoyment of both. I tapped Epiphany Wine Company in Los Olivos, part of the Fess Parker portfolio, because of its breadth of white and red options and because the all-Rhône wines, made by Blair Fox, are consistently complex and delicious. Here are a few of the insights gleamed from the interactive feedback shared after each wine-matched performance.

– The "Danza Española No. 5" by Spanish composer Enrique Granados is a well-known piece featured in the 1993 comedy, Kika. The piece is lyrical and nostalgic, with a melody both dreamy and sensual. The 2020 Epiphany Grenache Blanc ($25) is flinty and refreshing, a match for the lyricism in this piece, and the seductive aromas – orange blossom, Asian pear, green apple – melded well with the sensuality in the music.
– The famous whistle-worthy theme from 1966's The Good, The Bad and The Ugly by Italian composer Ennio Morricone is dramatic, Western-inspired, and brimming with themes that connote heroism and adventure. Epiphany's 2018 Inspiration Red ($29) is an awesome blend of four Rhône grapes – mourvedre, counoise, cinsault, and grenache – that was aged for 19 months in French oak. The red fruit notes that pop in the glass matched the more ornamental moments in the music nicely, but it's the dustiness, earthiness, and layered notes of leather and oak – qualities that evolve as the wine sits in the glass – that paired especially well with this sweeping melody.
– "Asturias" by Isaac Albéniz is a staple of the classical guitar repertoire and a familiar standout in the soundtrack to Vicky Cristina Barcelona from 2008. I poured my favorite wine of the night, the Epiphany 2017 Grenache ($32), to match its intensity of flavor with the energy of the music and its splashy mouth feel, with the images of the rugged, sweeping Asturias region along the shores of northwestern Spain that Albeniz's music so wonderfully connotes. Flavors of dark cherry, chocolate, and herbs tap the rustic romance of the music, too.
Agreement on my own assertions around these pairings varied – as expected. Again, it's our own subjective, personal take on matches like these that drive our individual enjoyment of both the music and the wine. The trick, I'm finding, is simply to keep our mindsets receptive, to keep our senses on the alert and to keep ourselves open to the possibility that matching wine to other things in life we love can have beautiful, if not harmonious, effects.
Sparkling wine with the flourishes of jazz? Sounds good! A chilled pinot noir with the Beach Boys on repeat? Rad! Bourbon with your favorite Led Zeppelin album? Rock on! Cheers to the possibilities!
You might also be interested in...