Westmont Opera Returns to the Stage with 'Tender Land'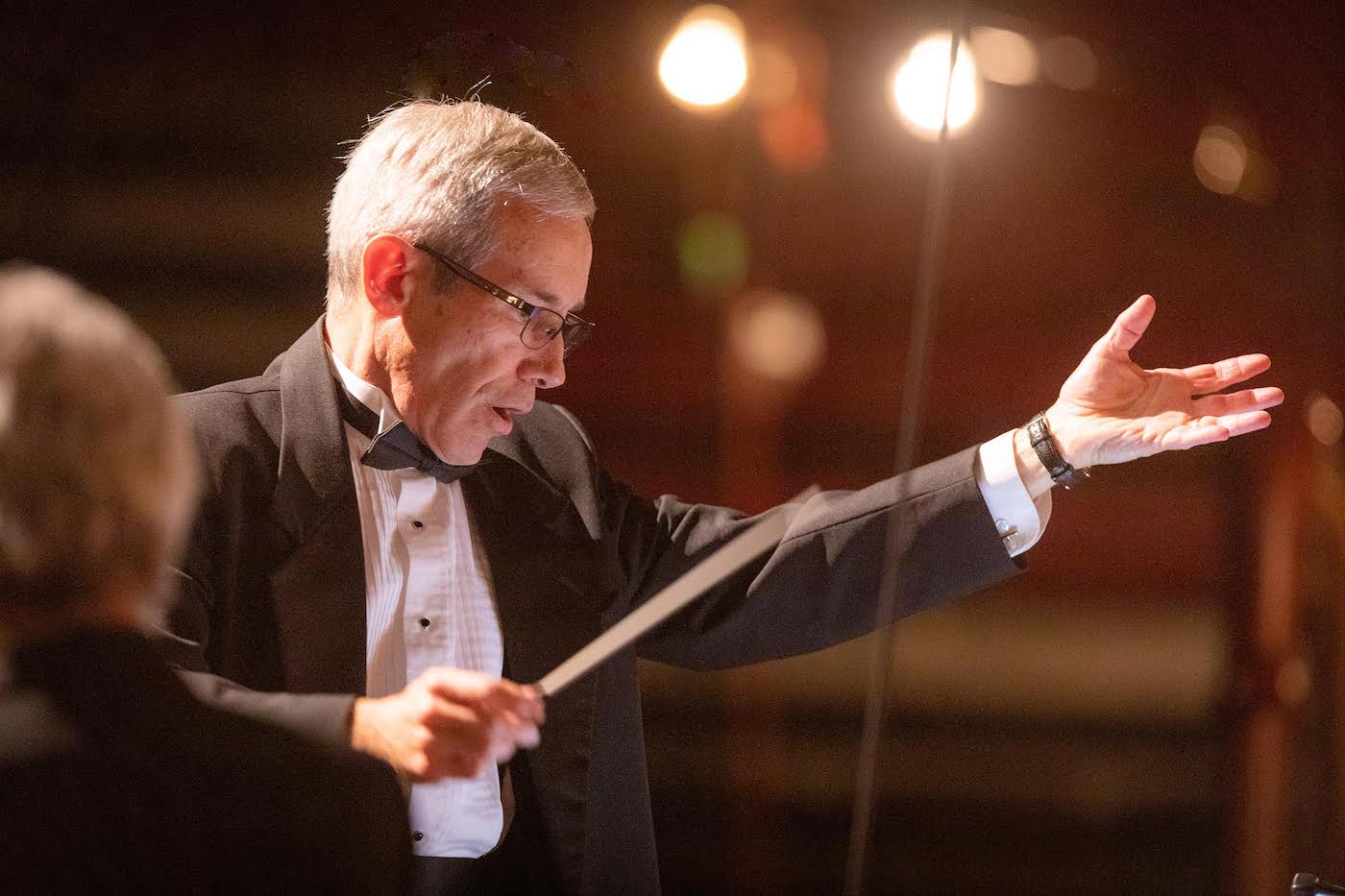 American composer Aaron Copland was inspired to write his opera The Tender Land when he saw Walker Evans' famed Depression-era photographs and read James Agee's "Let Us Now Praise Famous Men." Now, Westmont Opera is presenting the rarely seen 1954 work as its 2022 production at the Center Stage Theater, representing the school's return to live opera performance for the first time in two years.
Tender Land – a three-act piece about a rural farming family whose eldest daughter is about to graduate and is experiencing restlessness fueled by two worldly drifters who are hired to help with the harvest – also represents a second consecutive collaboration between music director Michael Shasberger, Adams professor of music and worship at Westmont, and stage director Christina Farris Jensen, a 2009 alumnus of the Christian college in Montecito, who teamed up to present a streaming version of The Elixir of Love last winter.
Jensen and Shasberger, who will retire from Westmont this spring after 17 years, talked about the production, which plays at the Center Stage Theater January 28 and 30, over the phone earlier this week.
Q. Why now for this opera? What makes it right for Westmont in 2022?
MS: It's Copland's quintessential American opera written about the 1930s Depression-era America, but it really speaks a lot about civilization and going through trial and building community and trust. It's a beautiful piece and with Westmont's faith traditions, it leans a lot into that… Copland wrote it with young people in mind with young casting, which fits for us. And it's also exciting that there's a crossover kind of singing – not musical theater, not pop music by any stretch, but colloquial in many ways. So it takes a different sort of approach from the singer, and maybe a little bit of training, which is great for our students.
Copland wrote The Tender Land with the intention of it being presented on television, but it actually premiered at New York City Opera, and never ran on TV. So in some ways I'm imagining that the black box stage at Center Stage works well for your production.
MS: Well, we're there partly for more controllable circumstances with the reality of COVID, taking a tiny step back toward full theater with the set more like a soundstage. A small venue is also good for college-age singers who don't yet have the development of voice to fill a large hall, where it's more healthy for them in terms of their growth dramatically and the scope and range that they can access.
Following up, last year's production of The Elixir of Love was performed at Center Stage, but filmed and only viewable for audiences on video. What did either of you learn from that experience that might inform this production?
CFJ: One of the joys for me in returning to Westmont again is to direct some of the actors that I worked with last year. Their growth dramatically has been wonderful to witness, and it's partly due to the fact that they were acting for the video camera, which is much more direct. You can't hide anything; you've got to be in character 100 percent of the time because the camera sees what the live audience might miss. You can't break character even for two seconds. So now going back into live performance, they're stronger actors and singers because of that experience.
Christina, last year you set Elixir in a circus. I can't imagine anything so out-of-the-box for Tender Land.
CFJ: No, there's no way you can set it anywhere other than the 1930s Midwest, so it's a fairly traditional set. But Michael and I agreed on a concept to address the issue of fences, using the ones that are around the family Moss's property in an interesting way to visually show the emotional status of the characters, when the outsiders are included in the community, when are they ostracized, how those fences move and how that is relevant in our culture today. The idea is to honor Copland but also make the opera visually, emotionally, and culturally relevant for today.
This opera was actually quite a challenge for me to stage because of the beauty of its simplicity. A big portion of the opera is conversation, rather than the big arias of Puccini, and adding grand movement didn't seem honest. So at the beginning of rehearsal, I just gave the students bookends for the beginning and end points and then I watched them do what they felt was right, and then we created something together that was much more believable because it came from their own bodies.
Tender Land is a farm and Dust Bowl story, but it's also a coming-of-age story. Does that 80-year-old tale resonate today?
MS: All of the stories are intertwined and Copland doesn't take an easy path. Issues of graduating from high school, falling in love, how to deal with outsiders, what does community mean. He just presses more questions implicitly into the drama like the questions at the end of a chapter in a textbook: "What do you think about what happened?" "How does that relate to your life?" There are questions about who is most faithful to the family structure, how you make choices, bigger questions than just the timely dramatic ones. Issues of self-actualization and faith and who we trust and how we make judgments. Those things are pretty universal and way older than 90 years and they'll be with us for a long time to come.
Michael, while the opera itself hasn't turned into a classic, Copland himself made a symphonic version that does get its share of play. What's the thrust?
MS: It has the resonance of the great American music that we hear in Rodeo or Billy the Kid or Appalachian Spring, but it's also got some traces of his edgier early writing, in the intensity and the underlying anxieties which really propels the dramatic essence of the piece. But there are beautiful moments: "The Promise of Living," which affirms the hope of the piece, and the Western hoedown "Stomp Your Foot." The duet between Martin and Lori that happens on the porch is unassailably beautiful and romantic, moments of anxiety and dissipation and music that laces them together, and decision-making that are really powerful in the music. The Westmont Orchestra played the symphonic version last fall so they're acquainted with the music, and the Westmont choir is singing in the production too. We've really tried to inculcate all of our students with the essence of this music. (Junior tenor Sibongakonkhe Msibi, an international student from Swaziland who will be a fellow at Music Academy of the West's 75th anniversary festival this summer – Westmont's first – portrays Martin in The Tender Land.)
Christina, I'm going to save my piece on Michael's retirement for later in the year, but how is it for you to be collaborating on his final opera production at Westmont?
CJF: It feels like I'm kind of completing the circle that began when Michael mentored me in my first-ever director job in my senior year at Westmont, but beyond that, it is such an honor to be entrusted with this piece that he has wanted to do for a number of years. I hope that it comes off well for Westmont but especially for him, that the product and the process has been something that he is proud of, something that he can feel good about retiring, setting it down, leave it here and say "Well done."
You might also be interested in...