From Commercial Portraits to the Streets of the Bronx: Artist Stephen Holland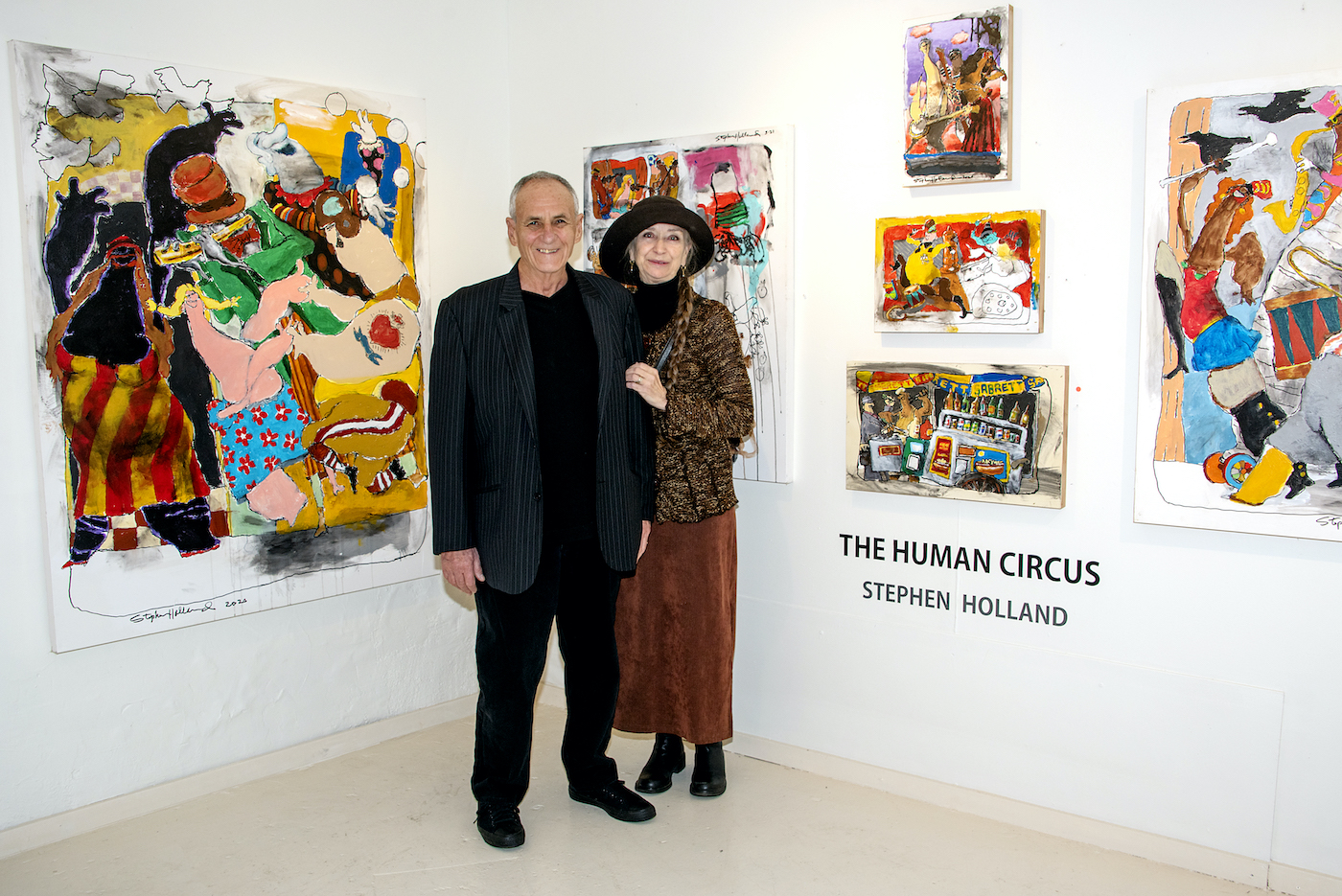 To start 2022 off strong in the local art world, renowned painter Stephen Holland, at 80 years young, is exhibiting his latest works in a show titled "Longneck Circus," at the Silo118 Gallery in the Funk Zone in Santa Barbara. 
The new art is a breakout session for Holland, who spent his career painting commissioned portraits of sports' greatest athletes, such as Muhammad Ali, Joe Namath, Joe DiMaggio, Tiger Woods, David Beckham, the L.A. Dodgers, the L.A. Kings, the 100th Anniversary of the Olympics, and of musicians for The GRAMMY Charities Art Collection. His works are in the American Sport Art Museum and Archives, and the Smithsonian Catalog of American Portraits, which includes his portrait of Barack Obama.
The elements of the "Longneck Circus"series are founded on his childhood experiences living in the Bronx, mixed with his life here in California. He is set free of accurate portraiture and nose dives into abstract expressionism using caricatures, each with a notably long neck disproportionate to the body, hinting a strong phallic finger that directs contrary movement across the canvas, yielding an open focal point. The street scene caricatures play music, dance, ride bikes, are food vendors, gun slingers, police, and politicians. He uses ink, sand, and acrylic on canvas in three scales – large at 4' x 5', medium 4' x 3' and smallest at 17" x 11.5" – and all are unframed, signed originals for sale.
Stand back in the gallery to view this unbiased nod to Willem de Kooning's complex figurative work and to Saul Steinberg's New Yorker Magazine art of unnaturally shaped people to chronicle history's social and political moments. Praise the mix of art with cartoon characters to make uncompromised statements about life around us so we can laugh about it! Get close to the textures and custom paint colors, along with heavy dabs of cerulean blue and cadmium yellows, outlined in black ink to appreciate the interplay of technique used in each piece.
When asked about his pieces being phallic, he told me with his unmistakable New York accent, "It is not my intent nor focus." Rather, he shares, "I'm having the most fun creating art every day, not worrying about it except to ask myself, is the painting strong enough?" We continued talking about the art:
Q. Has the lockdown affected your work and focus as an artist?
A. Most of this series started during lockdown in 2020. Some of these were ink drawings I did in my 20s as social commentary and anger I had at the time as an addict, but had put away. In 2018, the sports world started to change and then the lockdown in 2020 happened. I thought, I should just paint what I want now. I can focus on something that I have wanted to do for years; create from ideas I've had since growing up in the Bronx on the streets during the 1950s-60s. There are only 50 paintings done so far; my focus has slowed down so my paintings take more time, but I am having so much fun I can't stop! I am not finished doing this series: this is my next venture!
How did New York School's abstract expressionism influence you?
Artist Philip Guston moved from realism to abstract expressionism and deep psyche paintings, he was into comics like myself. The move to abstract expressionism is to have freedom, to be more spontaneous. My work now just flows out of me, even the process and struggle to get something out is still enjoyable!
What is your inspiration for the new work?
These are very lyrical; I listen to music and dance in my mind. I listen to all music; this work is a lot of Brandi Carlile, Avett Brothers, andMumford and Sons. All my paintings are of my wife, J'Nelle. There is a harmony there with us, we have been together 24/7 since the start in 1971, and I am painting that harmony and love I feel being around her.
What is your process in painting these?
The canvas is filled with the figures in action, a departure from portraiture where the focus is solely on the person. I get to play here, be in the flow of the scene I am re-imagining. I use Nova Color acrylic paint, some straight out of the tube, other colors I mix myself. The colors I am after are like the rich colorful Sunday comics, along with black ink outlines of shapes.
As a wrap Holland shared, "I studied under Sri Swami Satchidananda; I think it rubbed off on me. I have such great love and life with J'Nelle, and as she says every day to me, I wish this for everyone!"
Find Stephen Holland's works at Silo118 (118 Gray Street), where owner Bonnie Rubenstein reopened in-person gallery exhibitions in November 2021, after being solely online.Her gallery shows eclectic and avant-garde works from various places and cultures, reflecting many ideas.
411 
Steve Holland: www.longneckcircus.com 
Instagram: @longneckcircus
Silo: www.silo118.com
Joanne is a professional international photographer and journalist. Contact her at: artraks@yahoo.com
You might also be interested in...