Eating Italy My Roman Holiday: Part Two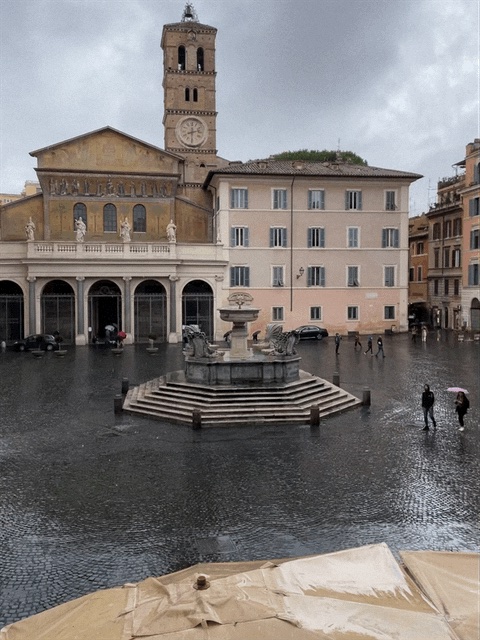 My first morning in Rome began with some much-appreciated exercise, as I was aching to hit the ground running. A person can run — or walk briskly as I did — with stops at historic sites on a special tour arranged by the dream team of concierges at my hotel Sofitel Villa Borghese. Along with a few other hotel guests, I joined knowledgeable guide Isa of ArcheoRunning, who supplied ear pods with transmitters that hung around our necks so we could enjoy Isa's art history lessons as we moved briskly through the quiet, early morning in the Eternal City. She offered a fascinating introduction to la bella città, and we had the famous and truly breathtaking Trevi Fountain to ourselves for a group selfie. When you go, toss a coin with your right hand over your left shoulder choosing one of three wishes:
— To return to Rome (my first wish!)
— Find a boyfriend or girlfriend
— Find a spouse
I did not have a coin with me that morning, but I did bring one home with me, which will be the first thing I'll do if I am lucky enough to return to Rome. That coin sits on my kitchen windowsill, which is a fine spot for daydreaming talismans.
A run-walk up the 12 flights and 135 Spanish Steps was briefly interrupted by phone call from an old friend in the U.S. who caught me slightly out of breath. I slowed my stroll beside the well-known, classic Hotel Hassler, where old friends have stayed in bygone years. We continued our tour past the dichotomies of Rome, from an ancient obelisk from the days of Cleopatra to stunning, over-the-top window displays at Valentino on the famous Piazza di Spagna, and the sunken boat fountain depicting the flooding of Rome's Tiber River in 1598.
This place has some history!
Cooking and Shopping with Paola
A quick shower followed by light breakfast at Settimo, the hotel's rooftop restaurant, then it was time for a cooking and shopping excursion led by the delightful and charming Chef Paola Sansalone, who left the corporate world for the much more fun food world. It was raining when we met her at an outdoor fresh produce farmers market, where she expertly selected fruit, vegetables, and herbs before leading us to a wonderful specialty food shop (all goods stacked high in cans/jars/boxes, wrapping paper or jars) and an equally amazing cheese shop.
Then it was off to Paola's teaching kitchen. Our project? To shop and learn how to make cavatelli, fatti a mano (made by hand), the tiny, hotdog bun-shaped pasta that literally means "hollowed out." We each rolled out dough at our individual workstations and using only our hands and small paring knife, were soon all experts after this fun, easy lesson. Meanwhile, Paola and her assistant prepared the pomodori caramellati (caramelized cherry tomato sauce), sharing instructions (which I repeated with ease at home recently), for our homemade lunch.
"Don't stir and don't add salt!" we were instructed as the simple Roma tomato-olive oil-garlic infusion gently bubbled away, the sweet aromas filling our nostrils. Time for appetizers: lovely cow and sheep cheeses from the cheese shop; prosecco and/or a Chardonnay from Puglia, mortadella and, hot out of the oven, the best crunchy, soft rosemary-topped focaccia I've ever had. Lunch around a large table for eight of us included our handmade cavatelli, in the fresh tomato basil sauce, topped with piquant shaved Pecorino Romano.
A fantastic puntarelle salad (a type of chicory, which I will search for in our winter markets here) – served with an excellent Primitivo wine, also from Puglia (of course I tracked down a bottle as soon as I got home!) rounded out the midday meal. A huge block of creamy gelato made by Chef Paola topped off our five-star lunch, food shopping and cooking lesson, congenially hosted by our maestra.
Put this on the top of your list if you desire an insider's view to local ways and cooking accompanied by an outdoor view from the classroom windows of the Basilica di Santa Maria and the beautiful square below accompanied by the sweet sound of church bells.
Local Night
Another evening, my friend and native Roman Dr. Alberto Calvieri — who had auspiciously emailed me before I arrived that I was going to gain weight while in Rome — graciously invited me and a friend to dinner. He met us in the hotel lobby, and we dashed out in the pouring rain and into a cab that delivered us to a favorite place of the good doctor's from his childhood neighborhood once famous — back in the day — for its pizzas. When he ordered, we had no idea he ordered one of these delicioso paper-thin crusted pizzas for each of us (!) as well as lots of fried appetizers that included tiny musky octopus called moscardini.
Dipped in a light batter these are not your average calamari, and despite my love for these most brilliant of sea creatures and their rather disturbing teensy, tiny heads and tentacles, they were delicious. Those two dishes were memorable, but even more so was my uncanny encounter with a stranger at a nearby table who stared me down like he knew me from a past life and came over asking for my phone number as soon as Dottore Alberto stepped away to pay the bill! (No, I did not give Gianni my phone number, despite his insistent request!)
One of my favorite lunch meals was in the covered patio at La Limonaia, an indoor-outdoor venue in the park restaurant after a tour of one of Rome's lesser known villas, Musei di Villa Torlonia (more on that in an upcoming issue!): yummy branzino, the Mediterranean fish that is one of my favorites (by the way, Pane e Vino in our Upper Village does an excellent job with this fish if you can't make it to Rome). The revamped warehouse ristorante-pizzeria-cocktail bar was a sweet discovery.
Hard to believe, but tiring of terrific pastas, pizzas, gelato, tiramisu, and great Italian wines, a "sotto voce" dinner around the corner from the hotel at a very vintage style Chinese restaurant with spa-like music in the background was a pleasant respite.
It's always struck me as odd, and sometimes interesting, to have foreign food in a foreign country.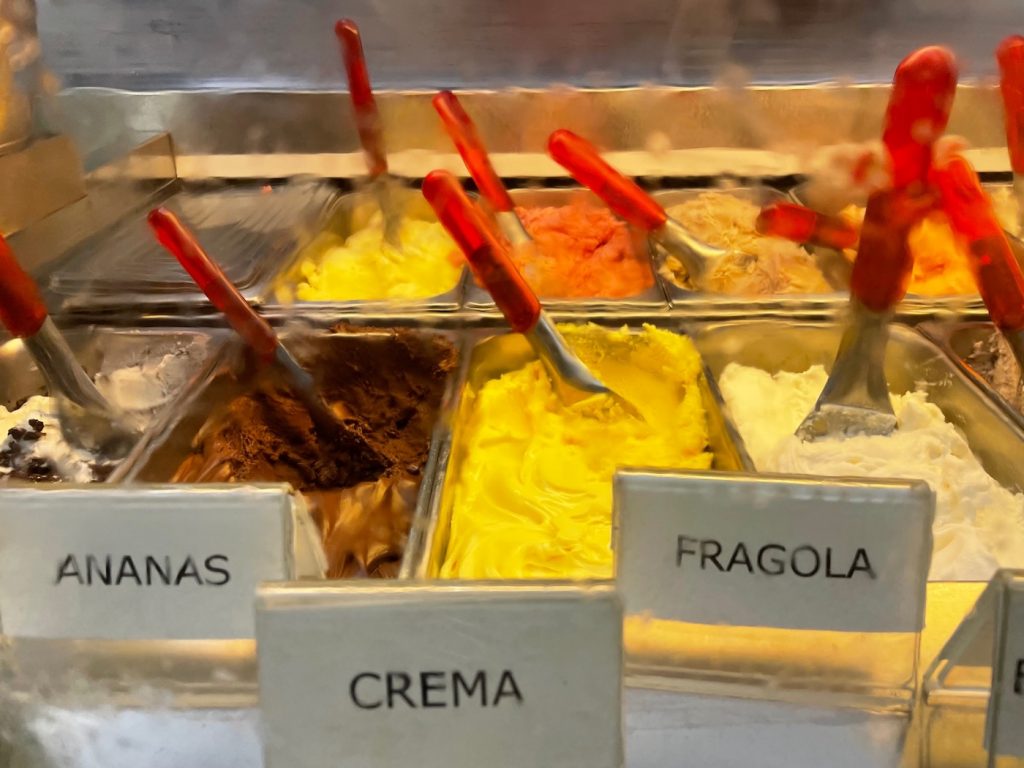 One of our funnier and more memorable dinners had less to do with the food than the conviviality. A large group of about eight of us went to dinner at Pizzeria Emma for their thin crust Roman-style pizza base "engineered" by Pierluigi Roscioli, a fourth-generation baker. Toppings are sourced from the deli counter at Salumeria Roscioli and there is plenty to choose from.
After a couple of glasses of vino, I leaned over to recite to our waiter a dirty ditty that I had somehow gathered from the cobwebs of my memory. It had been taught to me by an Italian suitor from Perugia, long, long ago. It begins like this:
"Aqua fresca, vino puro (fresh water, pure wine)…."
I stopped there, as he knew exactly where I was going.
Our waiter turned seven shades of red and we had a huge giggle. He could barely contain himself, and each time he passed by our table, he gave me "the look" — breaking out in laughter with me at our "inside joke." It was a highlight (or low light, depending on one's point of view) of the evening.
This, of course, was at the expense of my fellow diners, who, obviously, had never been versed in this naughty Italian limerick, which I refuse to fully reveal here. If my dinner companions had failed to learn some Italian, who was I to enlighten them?
I won't share the rest of the X-rated ditty on the pages of this family paper, but ask just any Italian, and they can probably fill you in. Whether they will or not, is a matter of polite society.
My daily rooftop terrace breakfasts at Settimo in the Sofitel Villa Borghese Roma were delightful: church bells peeling, the Vatican standing like a fortress or beacon of life, depending on your point of view, in the distance, and wonderful staff made sure I was fueled for daily adventures. That included one long Sunday stroll to the Vatican, gambols in the nearby Villa Borghese gardens, and even a unique shopping experience and a small private tour of the nearby Villa Borghese. Sunday brunch al fresco on my hotel's lovely terrace was delightful: great American and Brazilian jazz on the sound system; fantastic service by our waitperson; and a perfectly cooked breakfast accented by a few comments from a visiting pair of seagulls who tried to attack some leftover food at a neighboring table. The dining room and terrace always had guests gabbing in French, but on another day, a solo rooftop lunch was lively thanks to a big Italian family celebrating a baptism. My waitress apologized, but I told her I loved it and felt right at home with the talkative group posing for photos on the terrace. I had an excellent version of Amatriciana, one of Rome's four famous pastas, the others being Gricia, Cacio e Pepe (the Four Seasons Biltmore Santa Barbara used to make an excellent version), and Carbonara, the night of my arrival.
Despite pastas, pizzas, vinos, insalata mistas, and more, e molto primi, secondi, and dolce courses, a fine chocolate shop, pastry stops, and even a Chinese meal, I actually lost two pounds on my Roman holiday.
Dr. Calvieri was dead wrong.
How to Cook and Shop Like an Italian
— Book a shopping tour and cooking class (or ask your hotel concierge) with knowledgeable and fun-loving chef Paola Sansalone's Trustever Tastes (trustevertastes.org). For info, email info@trustevertastes.org or call +39-340-63-03-193. 
— Sofitel Villa Borghese Roma made the arrangements, part of a terrific program for repeat visitors to the city, that can be accessed by anyone via their Instagram account, @SofitelRome.
Mille grazie to Paola for these discoveries and suggestions:
— Cheese shop: Antica Caciara, www.anticacaciara.it
— Small grocery: Drogheria Innocenzi, Via Natale del Grande, 31, 00153 Roma RM; Instagram: @drogheria_innocenzi_dal_1884
— Eataly: Even if you can't get to Rome, check out this market/dining destination's website at www.eataly.net.
Favorite dining spots on my fall sojourn, in no particular order:
— Branzino in the garden at Limonaia Via Lazzaro Spallanzani, 1/A, 00161 Roma; www.limonaiaroma.it.
— Known for their great pizzas from a blazing hot wood-burning oven at this old-time establishment and perhaps now, tiny fried musky octopus/moscardini at Da Giggetto il Re della Pizza, Via Alessandria, 43, 00198 Roma; www.dagiggettoilredellapizza.it.
— Delicious dinner and fantastic sommelier and wines at Enoteca Ferrara ("Anytime you hear the word enoteca, GO!" one of our tour guides instructed regarding the word whose Greek roots means "wine depository"). Probably my favorite meal and wines of all in a great atmosphere; enotecaferrara.com/en.
— Dining on the rooftop terrace at Settimo in the Sofitel Villa Borghese Roma. Chef Giuseppe D'Alessio does a fine job from breakfast to lunch to dinner. His deconstructed tiramisu was actually one of my favorites even though it had nothing to do with the original version. Via Lombardia, 47, 00187 Roma; settimoristorante.it.
You might also be interested in...