My Roman Holiday
Rome, I barely know thee. I visited you briefly in the 1980s on a whirlwind trip through Italy on my first European travel writing assignment and carry a few impressions in my memory bank. Now, along with legions of visitors over the centuries, I too have fallen in love with Roma, la citta bella, one of the most beautiful, chic, and historic cities in Europe. With apologies to Paris, London, and Barcelona, other European capitals that I also adore!
Rome, Italy, November 2, 2021: Part One of Three
I exited Rome's Fiumicino Airport, rolling past a dizzying array of Italian designer boutiques, a waltz through Duty Free and breezing past customs (no questions asked, as I was arriving after a brief few days in Barcelona which, being in an EU country, made movements easy peasy), into a sea of hustling cab drivers and cigarette smoke. A tall, kindly driver named Maurizio — a dead ringer for Tony Bennett — greeted me with a name placard to whisk me off to my lodging for the week: the Sofitel Villa Borghese Roma. It is situated on a lovely small street in the heart of Rome just a short stroll to the Borghese gardens, museums and zoo and a pleasant walk from Rome's many famous sites and chic shopping streets.
The seven-story hotel, formerly a 19th century Roman palazzo, also lies within easy walking distance of some of the city's best-known cultural landmarks including the Trevi Fountain, Villa Medici, and Spanish Steps and sits directly across the street from the "Villa Aurora," which goes up for auction January 22, 2022, for approximately $550 million.
The hotel has decidedly French accents, thanks to both architect/interior designer Jean-Philippe Nuel and the fact that French President Emmanuel Macron and First Lady Brigitte stayed here during the recent G20 Summit. Apparently, I missed Madame's departure by just a few hours; Angela Merkel was at the Hassler; President Joe Biden, I believe, camped out at the home of our American Ambassador in Italy.
"I like it when we sail away," the pedal-to-the-metal driver said and we flew out of the airport. "You are staying next to the American Embassy and don't need a car you can walk everywhere, including the Via Veneto where La Dolce Vita was filmed!"
En route, Maurizio offered a fantastic, blurry historical and visual introduction to Rome peppered with recommendations, as he navigated the city's wild traffic patterns and roundabouts, pointing out fantastic sites along the way.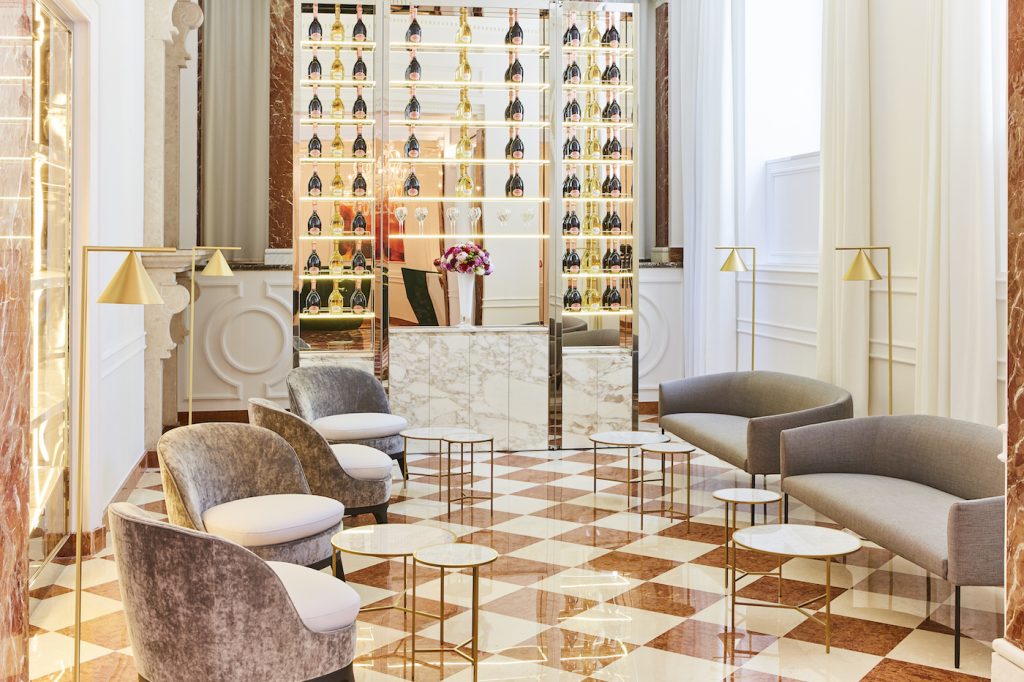 "You MUST have the amatriciana pasta… and carbonara, too… and visit the Spanish steps and the tiramisu is THE BEST in Rome!" I would soon begin my quest for the best tiramisu in homage to creator Ado Campeol, the "Father of Tiramisu" who passed away on November 2, just shortly before my arrival.
"There are Seven Hills of Rome, the Aventine, Palatine," Maurizio recited as he followed a train and drove atop the train tracks. "There's the imperial palace, Circus Maximus, where the chariot games à la Ben Hur took place … and there's the Teatro di Marcello — the Coliseum took the idea from there — and there's a ghetto there too. Capitoline Hill is great for a picture with the sculpture of the twin brothers Romulus and Remus and the she-wolf depicting the creation of Rome… and the Temple of Hercules, where you have to put your hand in…"
"Ah, the Bocca della Verità! The mouth of truth," I said. "That's where liars' hands are bitten! I remember that from a scene in the movie Roman Holiday!"
At last, we finally came upon an actual and most impressive site, certainly not my favorite, but memorable just the same, that I would see more than once during my whirls around Rome: the Vittoriano — one of the biggest, most distinctive and controversial monuments in Rome.
"What is that?" is oft muttered by passersby.
At the top of this extravaganza sits the "Altar of the Fatherland" that celebrates the unification of Rome. This humongous, impressive, neoclassical, white multi-layered Carrera marble monument towers above Piazza Venezia and took 45 years to build (1885-1935) and was inaugurated in 1911.
No way was I going to be able to squeeze all of Maurizio's suggestions in during just one week, but I was going to do my darnedest to have a great time and see as much as I could without burning out. Thankfully, I'd arrived in Europe a week earlier and conquered my jet lag in London.
Maurizio then explained that once we passed through the ancient Roman walls that surround the city, I had entered Rome.
"Ciao Rome! I can't wait to explore you!" I said out loud.
And explore I did over the next seven days.
Safely deposited at my hotel, I couldn't wait to dig in and hit the ground running.
And that's exactly what I did: Hit the ground, well, walking briskly with the first of many terrific tour guides who opened my eyes to this city of wonder.
Editor's note: In upcoming reports, follow Leslie's travels in Rome, including a cooking class, fashion tour, visits to well- and lesser-known villas, and, most importantly, the search for the best tiramisu.
GETTING THERE: I flew into Rome from Barcelona with Alitalia, which recently ceased to exist and morphed into ITA. There are currently no nonstop/direct flights on any airline from Los Angeles International to Rome (only connecting flights), but they will resume in June 2022.
I traveled via London both ways — with a week-long stop in the UK — on code sharing American Airlines and British Airlines. Business class is comfortable for overnight flights; the section looks like an office space, but the design is ingenious: small cubicles with seats that fold down for sleeping, personal movie screen, and comfortable headsets provided. Premium Economy for day flights (return trips) is fine for napping and movie watching.
Traveling in the Time of COVID-19: Time + Patience
—Be prepared to check the latest COVID-19 travel requirements for countries. It can be exhausting and frustrating. I took four COVID-19 tests between London-Barcelona-Rome-home. One testing requirement changed overnight before my London arrival – I had to book the Lateral Flow Test (rather than the more expensive PCR) — and has apparently changed yet again. As Santa Barbara Travel Agency's Charles de L'Arbre noted before I left: "Travel today is somewhere between 'we don't know what we don't know' and 'knowledge is power.'" All I can say is "good luck"! Oh, and the VeriFLY app? Phooey on that, I say!
—Unless you have reason to travel to the UK first as I did, you may elect to skip the separate UK entry requirements and fly from LAX directly to a country that is an EU member. If you have an EU passport, you can upload your U.S. vaccine record and get a digital EU COVID Certificate valid in all EU Countries. The QR code then grants you access to museums and other venues restricted to vaccinated persons. There are plans to extend this convenience to non-EU citizens, so ask your travel agent for updates.
—Be sure to plan plenty of time and patience. I have a file of papers/passes/proof of negative COVID tests from my two-week sojourn to London/Barcelona and Rome that is three times thicker than my travel notes!
—Keep a paper trail. You never know if your phone might not work or you could run out of juice. I had an EU Digital COVID Certificate; two UK passenger locator forms (airside transit and Non-Red List, document control for Spain) and more.
— You will even be asked your airplane seat number on some forms. With airlines charging for pre-assigned seats now in many cases, you will have to do last minute online paperwork, if you don't pay ahead of time for a seat assignment.
— Have all pertinent info in hand — a friend's niece was denied entry to Mexico from Portugal because she didn't have complete information on where she was staying.
For example, here's what took place during COVID-19 travel in and out of Barcelona:
— The Barcelona airport seemed best equipped, both on my arrival and departure, for the task of dealing with COVID-19 travel restrictions. Upon arrival, a nurse checked documents and a doctor took temperatures and asked questions. For departure: an airline employ wearing a face shield took everyone's temperature in line before boarding the plane — aiming his "pistola"-like thermometer at each traveler's head. (I never did find out what happens to those with a fever.)
—For my Alitalia Flight 77 from Barcelona to Rome, I was told I needed a COVID-19 test before flying into Rome, but the ticket agent at Alitalia check-in told me that a test was not necessary for Italy — after I had someone come to the hotel ($80) to test me, since pharmacies are closed on Sundays in Barcelona.
Fear of Losing
Most important tip: Be sure to have your ID (a driver's license suffices if you don't want to use your passport) for museum entrances, etc. and copy of your COVID vaccination card. I had copies made which I then encased in plastic — one guard did ask if it was the original and when I said no, after much consternation and intercession from our private tour guide, let me into the Villa Medici.
Best travel mask:
Hygiene Hero Super Mask passed the test with flying colors! It's super comfortable and worked well for approximately 20 hours of continual use (with breaks to eat!) including airport transports, flights, layover time in Heathrow, plus I love that it can be handwashed and dries quickly when traveling! If only travel COVID-19 test requirements in various countries were this easy. www.hygiene-hero.com
Sleep
Sofitel Rome Villa Borghese (Via Lombardia, 47, 00187 Roma RM, Italy Tel: +3906478021)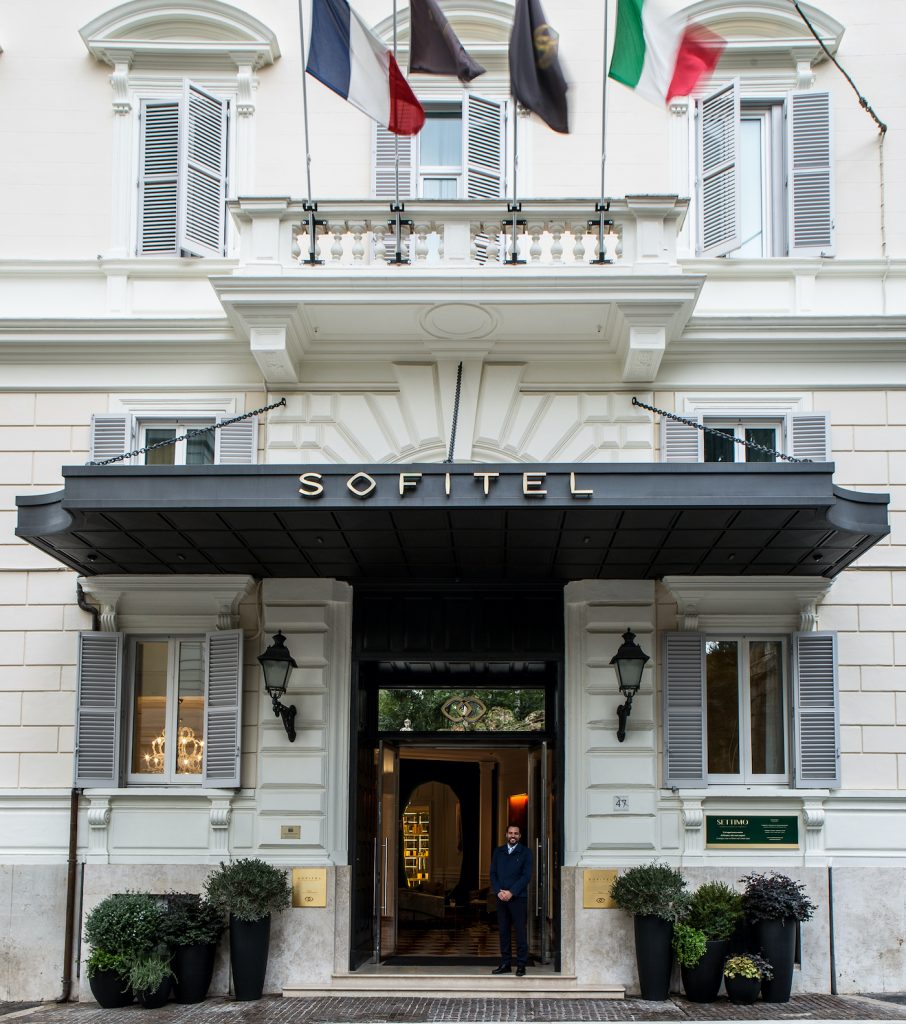 Roman hotel with a French twist in a historic building with modern design by Jean-Philippe Nuel. Hollowed out and remodeled in one of Rome's pie-shaped buildings (imagine someone pinched the tip), a former 19th century palazzo and originally a guesthouse belonging to the aristocratic Ludovisi Boncompagni family, the hotel is featured among the 190 historic buildings of Italy. Rumor has it that during his escape from Italy after committing a murder, Caravaggio found refuge in the stable of Villa Ludovisi Boncompagni. Room configurations vary: some have lots of closet space; others don't. Some have deep soaking tubs; others have showers only. I had fun trying to find the mysterious images in the ceiling frescoes above my comfy bed. I love the façade, but the interiors are a bit confusing at times. The intimate lobby, with its proximity to fabulously attentive and helpful concierge/front desk staff, has a wall of Perrier-Jouët champagne bottles in a huge glass display case (although we were in prosecco country) and Acqua di Parma in another showcase, uniting the French/Italian theme. Modern whistles and bells that, once conquered, are cool, especially lowly placed bedside footlights that go on when you get up to tinkle. (Not so cool, if you sling your foot outside the bed in the middle of the night). I get the glass shower doors in the bathrooms, but not the glass toilet door. Rates average $500 to $1,500 per night for a suite with an outdoor patio. Dining views are stellar in the rooftop restaurant and terrace Settimo — you may share your neighbors' uneaten breakfast with bold birds at the very good restaurant, enhanced by stellar service and special requests that are magically granted, without nary a blink of the eye.
Website: https://all.accor.com/hotel/1312/index.en.shtml
Leslie A. Westbrook is a Lowell Thomas Award-winning travel journalist who is happy to be cautiously globe-trotting once again, despite the required numerous Covid tests and hassles. Check out her new website at www.lesliewestbrook.com Ms. Westbrook also assists clients sell estates and individual items at auction: www.AuctionLiaison.com
You might also be interested in...