Montecito's Beautification Day: A Huge Win for Our Community
Last Saturday, something amazing happened in Montecito. A community got on its feet and spread care and love into the world. It was Beautification Day — and the impact was powerful. 
The day unfolded with two ensemble casts that had never rehearsed together taking on two big projects. The first team consisted of Montecito Fire, the Montecito Water District, the Montecito Trails Foundation, the Montecito Rotary Club, Beautification Day Committee members, MERRAG, and a slew of neighbors who convened on the Upper Green in front of Pierre Lafond's at 9 am. Montecito Water brought the water, while Montecito Fire brought a very helpful setup crew, as did the Montecito Rotary. We brought burritos for everyone from Little Alex's, supporting a long-standing business before they vacate the Montecito Country Mart later this month.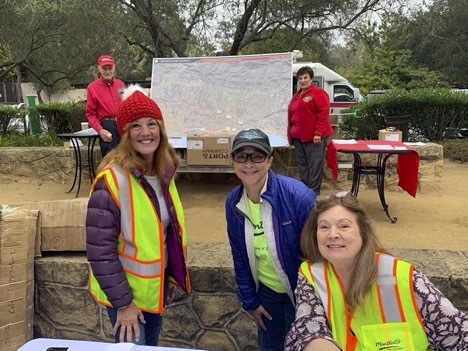 We put everyone in bright yellow safety vests and armed them with trash bags and pick-up sticks to be pandemic safe. It was a sight to be seen — the community banding together again.
Volunteers fanned out into the neighborhood and picked up litter. The sea of yellow vests stood out like bright flowers across the landscape. The large volume of collected trash went into a dumpster donated by Heal the Ocean, a huge supporter of this project.
The second ensemble convened at Olive Mill and the railroad tracks.
The Hands Across Montecito team had helped several people out of the camps along the tracks, and it was time to clear the sites. Attempts to engage Union Pacific to do it had gone nowhere, so we decided to tackle it. We hired two people that we're sheltering, and we met four people living unsheltered that wanted to work on the project. We obtained permission from Caltrans to clear their property near Butterfly Lane. They gave us 200 bags and were surprised we paid everyone $20 per hour. We wanted to express that the community cares about the individuals stepping up to help us, truly valuing what they're doing for us. They deserve a living wage. When people paid minimum wage face $2,000 per month rent, it's not hard to see the route to homelessness. Caltrans was keenly interested in this project, and perhaps replicating our model. 
Our first Hands Across Montecito graduate Andrew Velikanje was the foreman. We helped him get housed last December. He started EarthComb to hire individuals experiencing homelessness to pick up litter. Andrew has a mission — he wants a cleaner California.
Lt. Butch Arnoldi from the Santa Barbara County Sheriff's Office joined us, his job simply to keep us all safe, since we'd be working adjacent to the tracks. We had no idea he was going to be such a powerhouse in the cleanup itself.
The team took off down the tracks towards a massive camp to tackle, now an environmental hazard.
When Arnoldi saw it, he felt it was way too big for this team, that Union Pacific should have handled it. We've been asking them for a year. The team knew it was Herculean, but they jumped right in.
Karma and Jessie are familiar to many Montecitoans. We got them out of the camp at Hot Springs in April and moved them into a hotel. They now have housing vouchers and have done outreach with the Hands team. They set a fast pace.
There was an enormous skateboard ramp up in this camp, with Andrew disassembling it, and the team, including Arnoldi, moving it off the cliff down to the area beside the tracks. Lunchtime was approaching, so we hustled to finish this behemoth of a camp. Hands team member Andrea Hein brought lunch from Panino, and Kath Washburn guided the team to the pool area at Montecito Shores to have lunch. These two ladies are "sheroes" in every sense of the word. They never miss an outreach session and were early backers of the Hands project.
A new camp had appeared by Montecito Shores, and it was occupied by a man who assured us he will be returning to San Francisco soon.
The team then moved to Butterfly Lane area and dissembled three abandoned sites there and hauled the trash to the dumpsters provided by the Heal the Ocean, and the freeway shoulder for Caltrans.
We finished at 5 pm, and everyone was elated. We got everything done! Six people that had been repeatedly told they were worthless proved they were rockstars by delivering something of enormous worth to the community that had sheltered them and wanted to see them fly.
You might also be interested in...