CALM Before the Fundraising Storm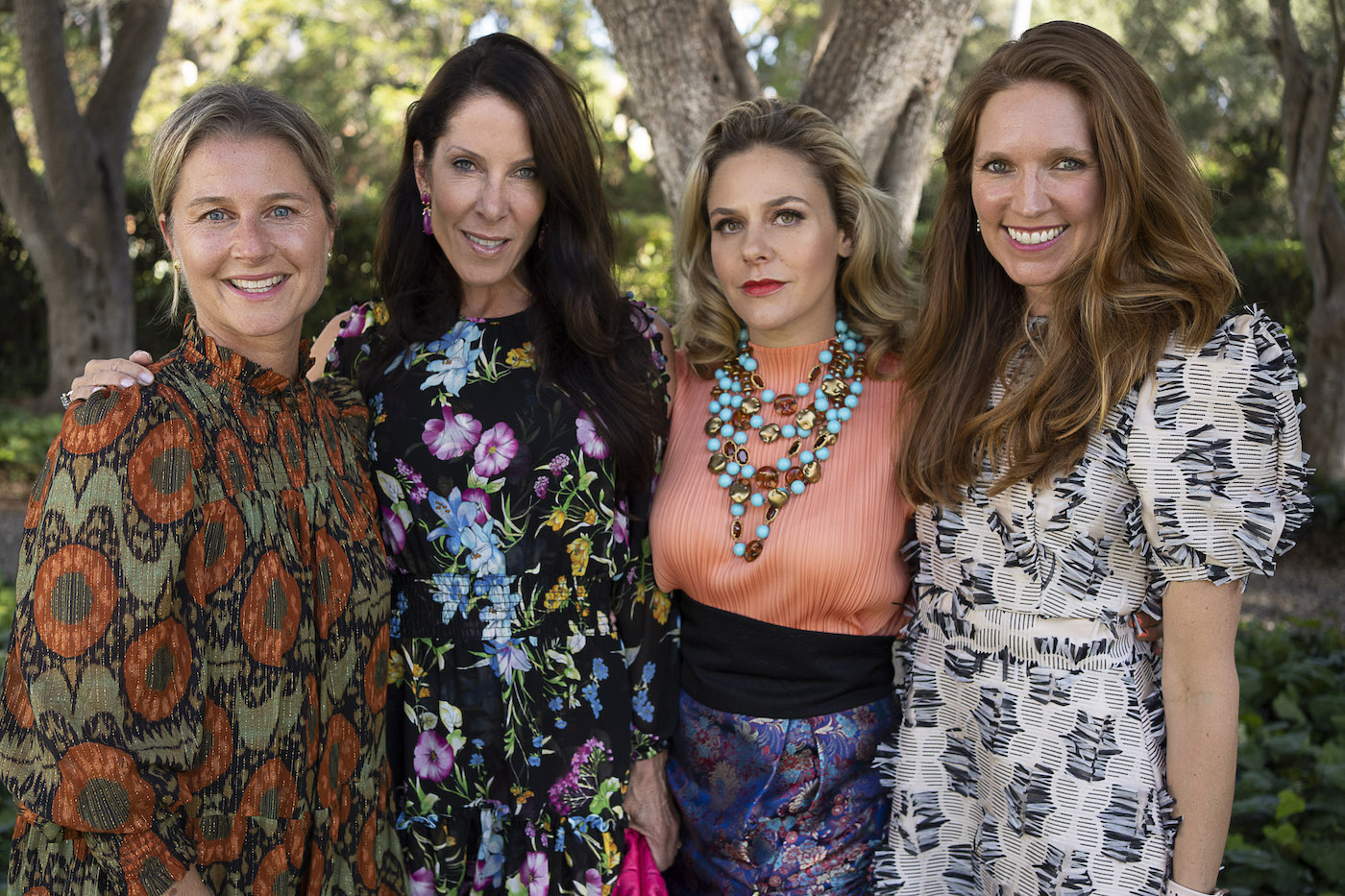 Santa Barbara nonprofit CALM, which is celebrating its half-century, hosted its 10th Annual Calm at Heart Lunch Transforming Communities at Los Suenos, the Montecito estate of corporate attorney Robert Lieff and his wife, Susan, which raised around $300,000 from 260 guests.
Fortunately, the sea mist cleared for blue skies and sunshine for the boffo bash, co-chaired by Belle Hahn, Carolyn Fitzgerald, Analise Maggio, and Caroline Powers, and designed by uber event planner Merryl Brown.
The ubiquitous Geoff Green, CEO of the Santa Barbara City College Foundation, emceed the fete and auctioned off stays at the Rosewood Miramar, which went for $4,000, a New Year vacation to Mammoth Mountain for $12,000, and a four-day stay at one of four destinations around the world, including Grand Cayman, Los Cabos, Mexico, Costa Rica, and Lake Tahoe, which was snapped up for $9,500.
"After nearly two years of uncertainty and unfamiliarity we are reinventing the way we help the most vulnerable," said Alana Walczak, president and CEO. "Our work is far from over. We have to be ready."
Among the guests, noshing on the Seasons Catering fare and quaffing the Lieff 2018 Syrah-Grenache, were Lois Capps, Joanne Rapp, Carrie Towbes, Steve and Amber Ortiz, George Leis, Teresa McWilliams, Patti Herman, Dinah Calderon, Christine Emmons, Greg Gorga, Deb Richards, Joanne Rapp, and Marcia Wolfe.
Another One Bites the Dust
Billionaire Peter Sperling, whose father founded the University of Phoenix, has sold his Montecito estate for $19.1 million, making it the third of his properties to sell in the past few years.
The first of Sperling's homes to find a new owner was his Bay Area property, a 1900-built 8,850-square-foot mansion in San Francisco's Russian Hill neighborhood, which sold for $13.8 million in the summer of 2019.
At the same time, he put his estate in Los Angeles' Holmby Hills up for grabs for $21 million, ultimately selling it a year later for $16.5 million.
The latest property dates back to 1999 in Riven Rock, just a tiara's toss from the estate of Prince Harry and Meghan Markle. The 5.56-acre estate is a seven-bedroom English-style villa.
Amenities include a detached gym and two guest cottages bringing the property's total square footage to 16,668 square feet.
Sperling's net worth is $1.6 billion, according to Forbes.
A Take on the Big Apple
To the Lobero Theatre for 11-year-old Santa Barbara-based Nebula Dance Lab's take on Manhattan, my home for nearly 25 years.
The work, "Humanity," choreographed by Texan Chloe Roberts, a teacher at Santa Barbara Dance Arts, is a nine-part tale loosely based on Charles Dickens' "The Child's Story," with the main character dancing a metaphorical journey through the pulsating locales of New York City, including Greenwich Village, Little Italy, Broadway, Central Park, the West Village, and Grand Central Station, illustrated with multimedia projections, music, and movement.
The entertaining 50-minute piece was accompanied by the premiere of "Quantum," choreographed by Meredith Cabaniss, exploring the minutiae of energy and labor through expanding ideas of temporality and scale inspired by the work of Nobel theoretical physicist Max Planck and set to music by Liszt and Chopin.
A delightful evening…
This One Hurts . . .
Prince Harry, 37, will not be allowed to wear military uniform when he hands out awards to war heroes at the Salute to Freedom gala on a former aircraft carrier in New York this week.
The Duke of Sussex, scheduled to present five medals, served two tours in Afghanistan with the British army, but will dress in black tie at the Intrepid Sea, Air and Space Museum as he was stripped of his honorary titles by his grandmother, Queen Elizabeth.
Particularly painful for him, I'm reliably informed, was losing his rank as Captain-General of the Royal Marines, a position held by his grandfather, Prince Philip, Duke of Edinburgh, for around 60 years, as part of a deal for him and Meghan Markle to step back as frontline royals.
Harry had hoped to keep the titles, but such a plan was vetoed. He spent 10 years in the army with the Household Cavalry — the Blues and Royals — and later in the Army Air Corps, where he rose to the rank of captain. However, he will be allowed to wear his four medals on his tux.
You might also be interested in...