Turning Tide: New Wine Label Spotlights Sustainability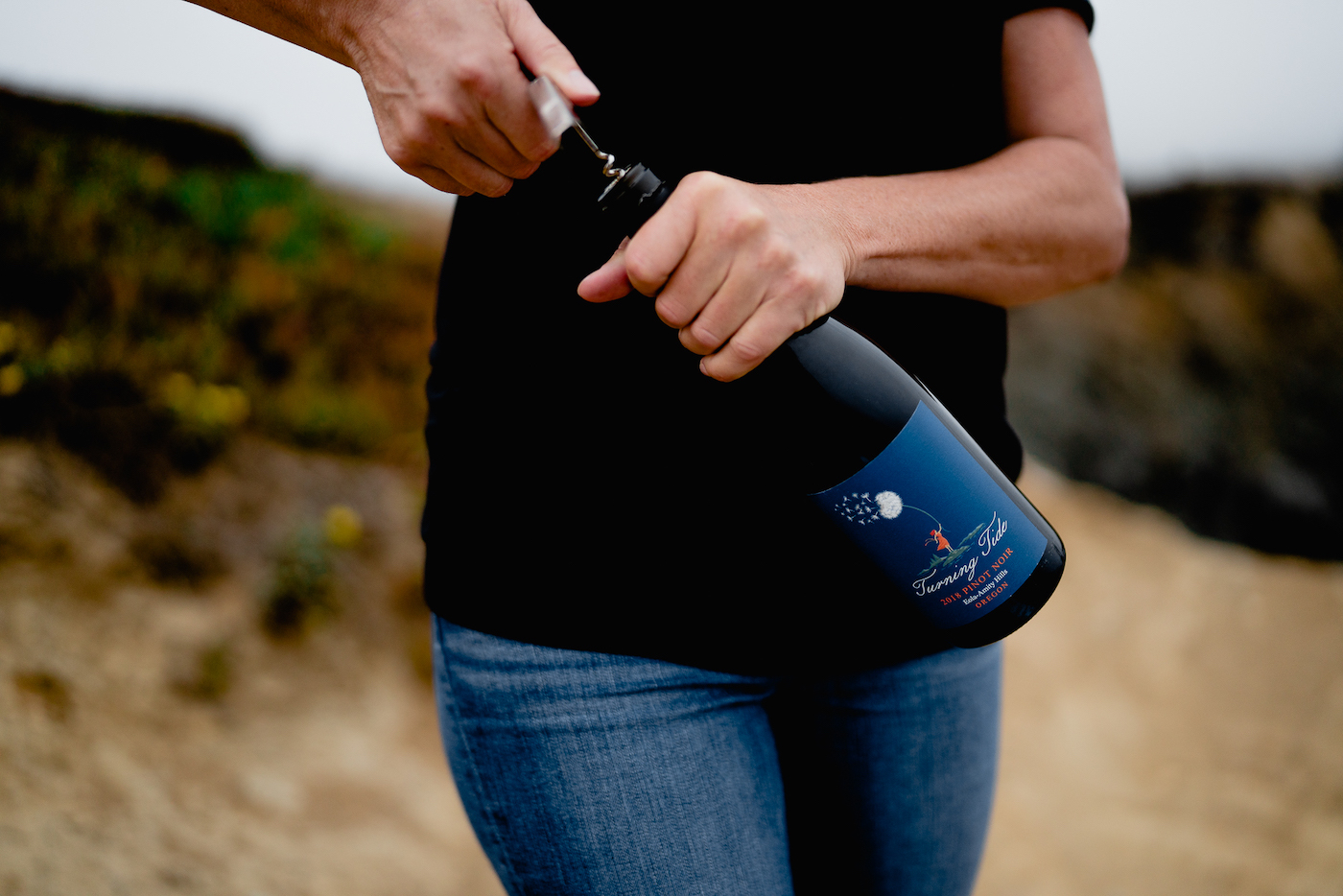 Her new label, Turning Tide, marks a significant shift for winemaker Alisa Jacobson. As director of winemaking for 19 years for the mega producer Joel Gott, she oversaw the production of some 1.6 million cases of wine a year. With her new pet project, she's spearheading a far smaller output of right around 1,000 cases a year. 
"It's a more thoughtful approach," she says, "and one that connects me back to my roots."

Turning Tide also opens the door to greater experimentation, she adds, and the increased creativity that comes from "ongoing modifications to make the wines you want."
I met Jacobson at her new property along Baseline Avenue in Santa Ynez, a bucolic road speckled with equestrian centers and estate vineyards. The celebrated Camp 4 Vineyard is right across the street. Jacobson's 10-acre property, which she purchased late last year, and which also features an already popular four-bedroom vacation rental set amongst the vines, was once home to an apple orchard. She's got young sauvignon blanc vines growing there now, along with a small plot of the northern European white wine grape, Grüner Veltliner.
"It's a hard grape to find in California," she tells me, "so I thought I'd grow my own!"
As we stroll the grounds, our chat quickly turns to sustainability.
"I'm all about it," she insists.
Nearby, gardeners are pulling weeds that are sprouting along the base of the vines, where "more beneficial ground cover crops" will soon be planted in their place.
"You've got to have the right things planted in the right place," she continues, delving deeper into her winegrowing philosophy. That means dependable daytime heat for a grape like sauv blanc and for some of the grapes growing in Jacobson's 17-acre, all-red varietal vineyard nearby.
"And a natural water source is key."
This zone, where morning fog stretches dozens of miles inland from the cool Pacific before the reliably warm afternoon sun melts it away, delivers both.
Jacobson, who lives near Pismo Beach, is an avid SCUBA diver and a regular camper, and she loves the outdoors. Her affinity for nature is something she brings to the winery – a reverence for all those natural elements at play in the vineyard and for the seasonal shifts that drive the life cycle of wine grapes. It all illustrates the "connectivity" among all things, she tells me, that is the driving force behind environmental mindfulness.
One of the important perspectives stemming from her nearly two decades with Joel Gott is a focused familiarity with the wide-ranging wine regions of the American West: California, Oregon, and Washington. With Turning Tide, she's seeking out carefully vetted vineyards for her fruit sources. And she's aiming to craft wines that represent those areas carefully and respectfully.
After sipping through some of Jacobson's inaugural releases, it becomes clear that the Turning Tide wines share a common thread: they are subtly elegant, remarkably fresh, and very approachable.
Turning Tide 2019 White Blend ($20): Freshness prevails here, with plenty of citrus notes and lots of acidity and minerality. Sourced from the Santa Ynez Valley, this wine is 64% chenin blanc, which offers pretty lean notes on the palate, and 36% Grüner Veltliner, which enhances aromatics. The low 12.5% alcohol makes it extra easy to sip – wine with lunch, anyone?
Turning Tide 2019 Chardonnay ($30): "This is my own representation of what chardonnay can be in California," says the winemaker, "and the Sta. Rita Hills was the place to do it."
Fruit from the coveted region between Buellton and Lompoc creates a wine here that's bright and vibrant, yet subtly supple on the edges.
Turning Tide 2020 Red Blend ($25): This luscious wine is made up of 72% grenache, which delivers lovely red fruit notes, and 28% mourvèdre, which brings a dash of spice. The youth on this wine makes it bouncy and clean, but the silky mouth feel, and an impressive balance of peppery notes and red berry flavors, makes it extra food-friendly.
Turning Tide 2018 Pinot Noir ($42): Jacobson headed to the Eola-Amity Hills in Oregon's Willamette Valley for this one. "Compared to their Santa Barbara counterparts, Oregon pinots tends to be bigger, fruitier, riper," she says. This one is rich but velvety, and the brightness on the palate balances out the darker fruit flavors. Sourced from organically farmed vineyards.
Jacobson's eco-conscious commitment extends to her packaging, too: the labels feature recycled paper and compostable ink, the glass is lightweight, and the absence of foil diminishes waste.
Visit turningtidewines.com.
You might also be interested in...