Supreme Tribute: Montecito Importer's New Wine Honors Justice Ginsburg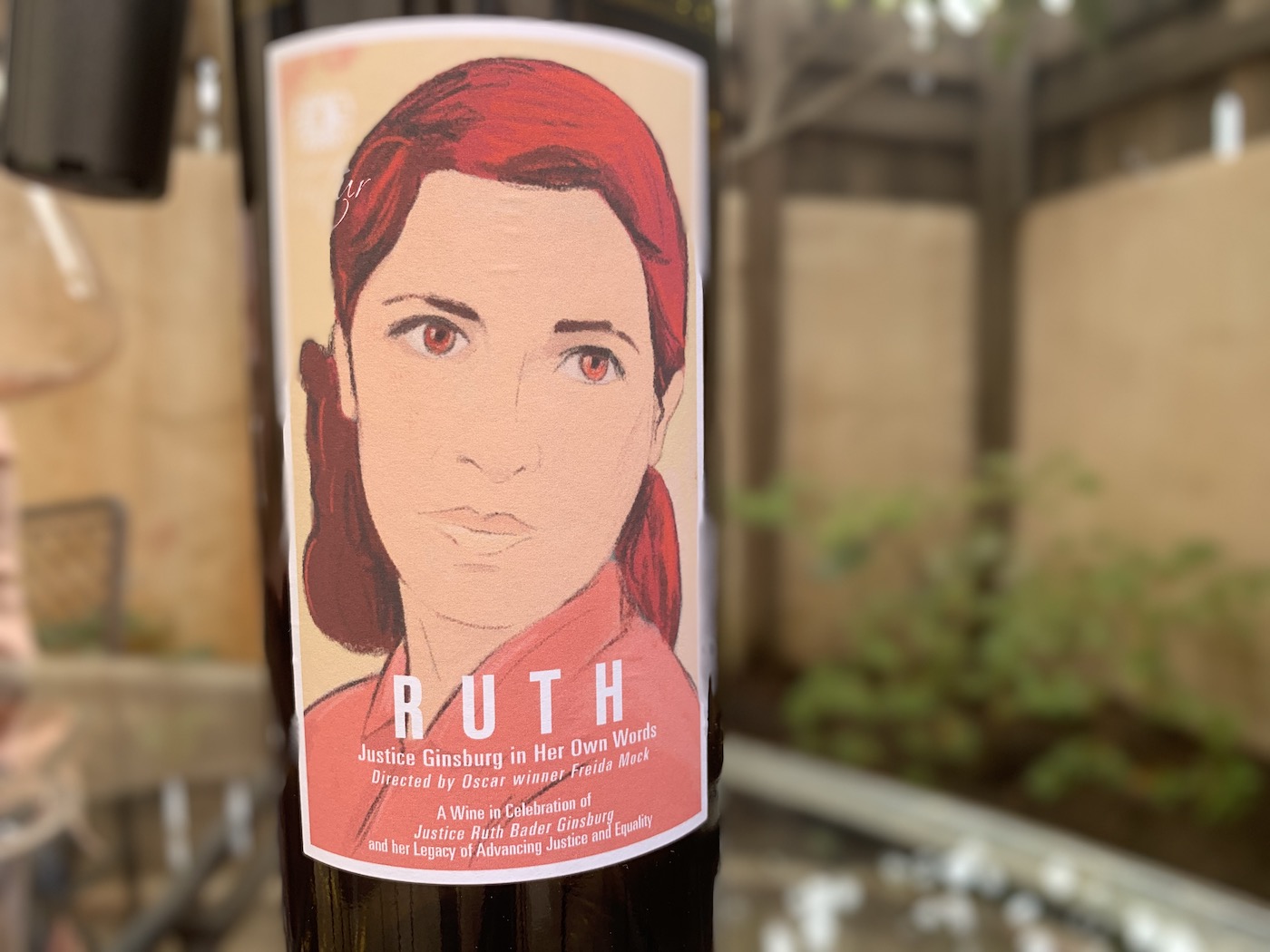 A Montecito importer is commemorating Ruth Bader Ginsburg's death with the launch of a limited-edition wine. The 2018 "Ruth" Special Edition Roussanne is an organic white wine produced in France. It'll officially become available on September 18, to coincide with the one-year anniversary of the passing of the revered Supreme Court justice.
Justice Ginsburg served as an associate justice of the Supreme Court of the United States from 1993, when she was nominated by President Bill Clinton as the second woman ever to hold the post, until she died last year at the age of 87. Her accomplishments spawned a series of creative projects spotlighting her legacy, including the documentary Ruth: Justice Ginsburg in Her Own Words, directed by Oscar-winning filmmaker Freida Lee Mock. Through rare footage and intimate interviews, "the film dramatizes a confluence of factors — personal, psychological, social, and political – that impacted the course of her work and life," says the movie's press release.
"The film is designed as an immersive experience through the direct words of Ruth Bader Ginsburg as a professor, advocate, Judge, and Justice; the use of evocative animation and intimate illustrations to visualize complex constitutional cases."
When Frank Caterinicchio watched the film, which was released early this year and is currently streaming through apps like Starz, Apple TV, and Amazon Prime Video, he was inspired.
"It's a really inspirational film," he tells me, as we sit in the backyard of his Montecito home to sip the 2018 Ruth. "And there's also this connection she had with France."
Indeed, as the back label of the new wine points out, "Her French phrases in landmark cases endeared her there, as did her parasailing in the south of France." (When Justice Ginsburg used the words, "faute de mieux," or "for lack of a better alternative," in a 2016 Supreme Court opinion that struck down a Texas abortion law, searches for the phrase on Merriam-Webster spiked 495,000%.)
Caterinicchio, a formal political consultant, launched his wine import business, Provencal Collective, in 2019, after a trip to France. With headquarters at his Montecito home and a sizable cellar in Goleta, he is the sole American importer of various boutique French producers of rare, high-end organic wines. The Ruth documentary inspired him to partner with the film's creative team to launch a wine to help amplify its reach and to honor Ginsburg's "commitment to advancing justice and equality," says Caterinicchio. Only 225 cases of the commemorative bottles, with a label that reproduces the movie's poster, were produced.
The 2018 "Ruth" Special Edition Roussanne comes from winemaker James Wood at Domaine Vintur, a small, independent, 30-acre producer near Avignon, in France's southern Rhone Valley. Grapes here are grown organically — no herbicides and no pesticides – and hand-picked before the wines are processed naturally, without added sulphites. The "Ruth" wine features a beautiful golden color, intense aromas of lemon curd and lychee fruit and flavors of green apple with subtle notes of caramel. Hints of spice emerge as the wine warms in the glass. And the mouthfeel is silky, with a lean, clean finish. It retails for $49, with proceeds earmarked for various charities that Ginsburg championed.
The wine's official release will take place this Saturday at a private affair in Washington, D.C. It'll include a virtual tasting with the winemaker, Wood, along with a screening of excerpts from the Ruth documentary.
For more information, including dibs on the "Ruth" Roussanne, go to provencalcollective.com.
You might also be interested in...