Montecito Association Meets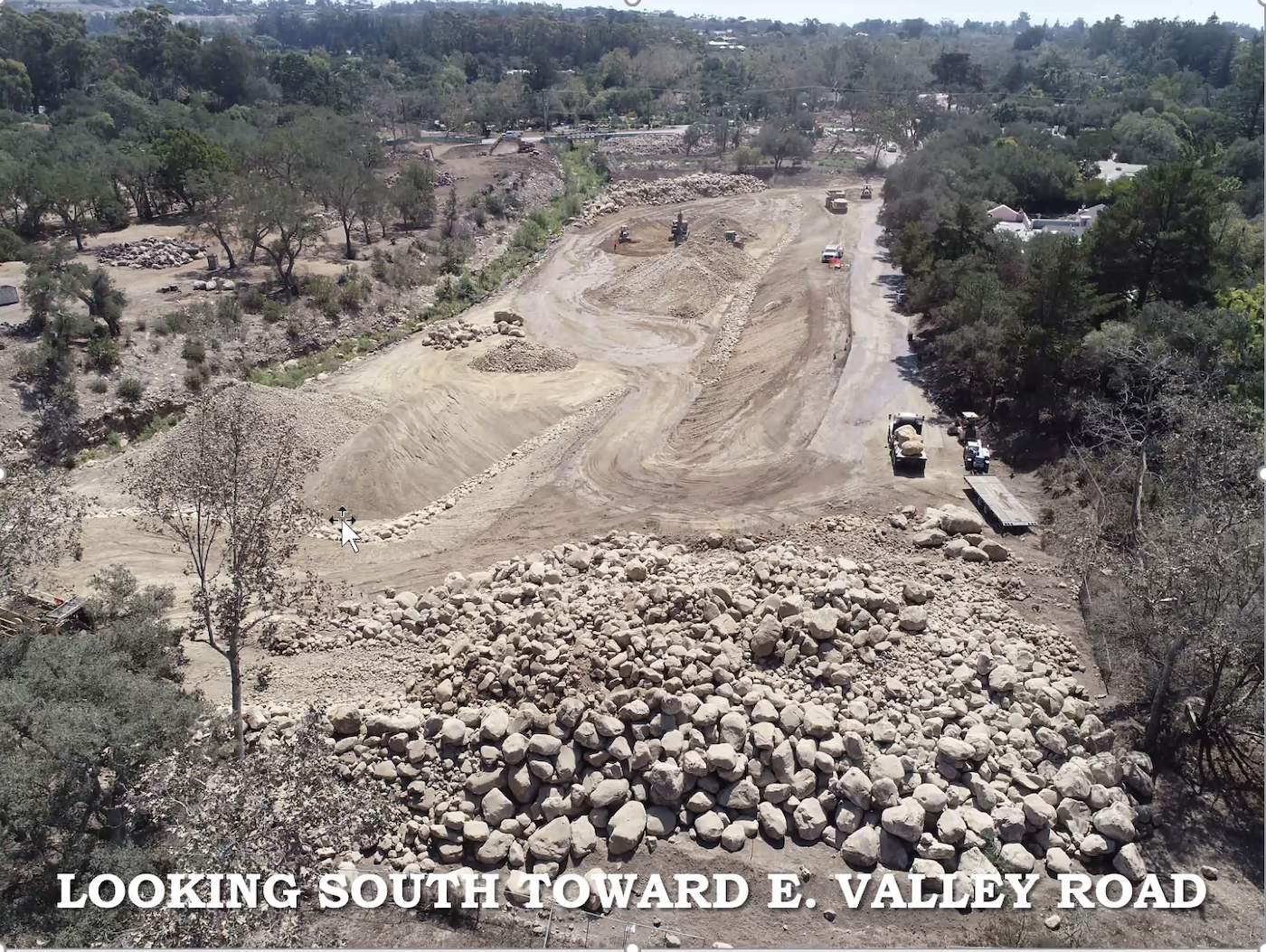 At this month's Montecito Association Board Meeting, the board heard from Jon Frye of Santa Barbara County Flood Control, who gave a photographic update on the Randall Road Debris Basin, which began construction in May.
Following the Thomas Fire and 1/9 Debris Flow in 2018, the debris basin project was proposed along Randall Road in Montecito by private interests, mainly resident Curtis Skene, along with the general support of affected property owners in the area. The project received approval by the Santa Barbara County Board of Supervisors in August 2020 and a $13.5 million grant from FEMA in November 2020. The cost included acquiring six private properties on Randall Road and one on East Valley Road.
V Lopez Jr. & Sons are serving as the contractor on the project. The estimated project cost of $15.5 to $17.5 million is funded by FEMA ($13.5 million) and local flood control money. Construction on this project is expected to finish by the end of the year.
Frye explained that he has been working with FEMA regarding updated maps that will take into account the improved basin network in Montecito; those maps will not be completed for another 30 months.
Also at the Association meeting, representatives from local Community Choice Energy companies presented an update on upcoming enrollments for Montecito residents. Central Coast Community Energy and Santa Barbara Clean Energy are Community Choice Aggregation (CCA) programs which can purchase electricity on behalf of residents and businesses, in place of investor-owned utilities such as Southern California Edison. Over the last decade, local governments in more than 200 towns, cities, and counties throughout the state have chosen to participate in CCA to meet climate action goals, provide residents and businesses with more energy options, ensure local transparency and accountability, and drive economic development. There are currently 23 operational CCA programs in California serving more than 11 million customers, and with many more in progress, those numbers are set to grow. Over 40,000 customers in Carpinteria, Goleta, Montecito, and unincorporated areas of Santa Barbara County are slated to be enrolled this year.
In Montecito, Central Coast Community Energy will soon be sourcing energy instead of SCE, while SCE will still be responsible for delivering energy, maintaining utility lines, and billing customers. Automatic enrollment for this change will begin in October.
Oswaldo Martinez with Central Coast Community Energy (CCCE) explained that CCA programs allow greater consumer choice, local control, and accountability; it's a tool to help communities reach their climate and economic goals, and transition to a cleaner, more efficient energy supply.
"Revenues are reinvested in the community, not distributed to shareholders," he explained. Customers will also be able to utilize energy incentive programs such as solar and storage for resilience, low-income solar, EV vehicle and infrastructure incentives, feed-in-tariff, net energy metering (NEM), energy efficiency, demand response, and more.
Customers will be enrolled in the program automatically, and can disenroll if they choose. Customers will automatically be enrolled in the 100% carbon-free energy program, which will cost $3-$5 more per month than their current SCE bill. There will be an option to downgrade to a 50% carbon-free energy program which is the same cost as Edison's electricity cost. Martinez emphasized that the energy acquisition charge shown on monthly bills is not in addition to SCE acquisition charges; it is in lieu of them.
"You are not being double billed," he said.
CCCE's goal is to reach 60% clean and renewable energy by 2025 and 100% by 2030. For more information, visit www.3Cenergy.org.
During community reports, Santa Barbara Sheriff Lieutenant Butch Arnoldi shared the crime statistics for the last month in Montecito, which included multiple bear sightings in upper Montecito; DUIs at Butterfly Lane, Coast Village Road, Fairway Road, La Vereda at North Jameson, and several others; hub cabs stolen on Hot Springs; a dog bite on Butterfly Lane; mail theft on East Mountain; an online vehicle scam on Hot Springs; and several thefts from mailboxes throughout Montecito. Lieutenant Arnoldi reported that a new Sheriff deputy, with a specialty in DUIs, has increased patrols in the area, leading to a greater number of DUIs in the last month.
Montecito Union School's Anthony Ranii reported that work begins this week on a large solar structure that is being built at the school's Nature Lab. It will ultimately provide electricity for the entire campus. Next year, work will begin on much-needed infrastructure updates for the older buildings on campus, which will require temporary classrooms during the 12-18 month construction period. "It's a big undertaking but it's necessary," he said.
The next Montecito Association Board Meeting is scheduled for Tuesday, October 12.
You might also be interested in...