Two Days Tucked Away in Heavenly Santa Ynez Valley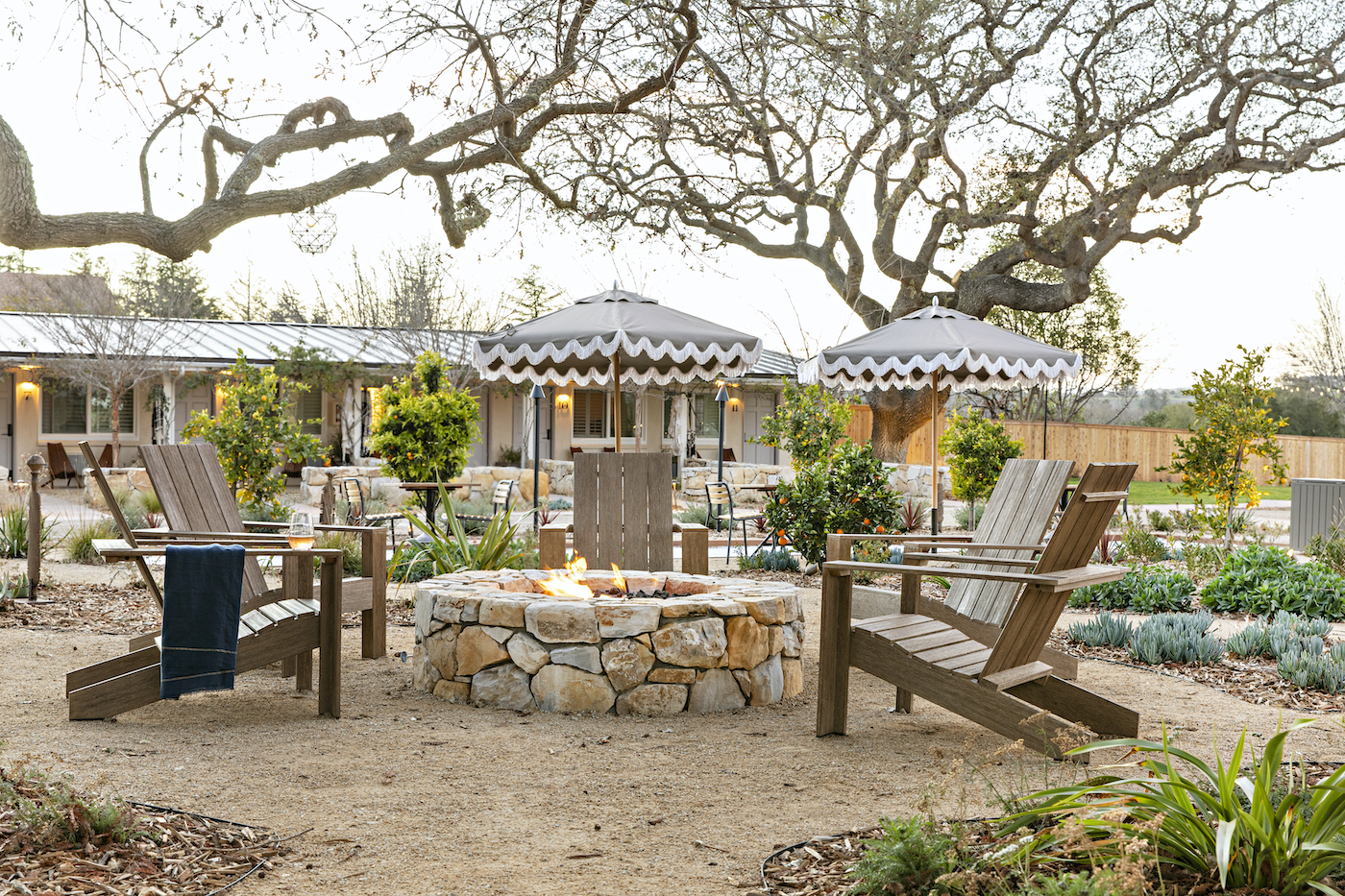 I'm swaying in a heavenly hammock on the porch of an absolutely charming room (#18 of 18 guestrooms) with views of the creatively landscaped central courtyard at the Hotel Ynez and life is good. Located just off Highway 246, in the heart of the Santa Ynez Valley, and nestled between Solvang and Santa Ynez, this newly reimagined motel (formerly the Meadowlark Inn) is a delightful addition to the valley's many overnight options. There are bikes, a pool, and a stylish reception area/breakfast room.
Kimberly Walker, founder and managing partner, has done a terrific job — right down to the smallest details. Guest rooms even smell divine thanks to a specially made room freshener from San Luis Obispo's Fable Soap Co., whose hand and body cleanser and lotion are in the rooms.
My two-night getaway began in bustling Solvang with lunch on the patio at family-friendly Peasants Feast. My feasting was off to a stellar start with a modern-day twist on the old-fashioned relish tray of carrots/olives/celery (which you will find at The Hitching Post!): Pickled dinosaur egg cucumbers that packed a punch, carrots and fennel from nearby Sunrise Organic Farm, and a soupçon of delish parsnip soup dotted with herb oil, chives, and almonds that resembled a very good Modernist painting and was equally pleasing to the palate.
My dining companion "oohed and aahed" at the huge burgers and tater tots that passed by, but we opted to share the swiftly consumed crispy carnitas and tasty mushroom tacos and a shaved Brussels sprouts salad with bacon that was so generous we couldn't finish it. We also enjoyed the Rosé of pinot noir from Loubud — the list features wines by a lot of SYV women winemakers. Despite our fullness we couldn't resist the popular frozen key lime pie — a humongous palate cleanser that resembled the iceberg that sunk the Titanic. Still, I yearned for the traditional Key Lime pies of yesteryear that I was introduced to by high-powered publishing friend Seymour Lawrence at his Key West retreat that were whipped up by his maid, whose name has escaped me over the decades.
Back at the Hotel Ynez, Sam and Dave singing "Bring your sweet loving" echoes across the grounds. At night, tiki torches and firepits transform the central garden of redwood, oak, and Madrone trees to a different kind of magical locale.
The beds are like giant marshmallows — a bit soft for my taste, but everyone else I asked loved the "sinkiness" of their beds. Designed for couples, the lodging only has one bed in each room (full or king size), a trend which I find annoying since I often travel with a friend or relative (my mom) who I don't care to share a bed with. In the meantime, I happened to find fabulous bamboo beds for sale at a fun boutique in Solvang called Cariloha that's popular with kids: t-shirts, nail polish, and other fun things that change color in the sun!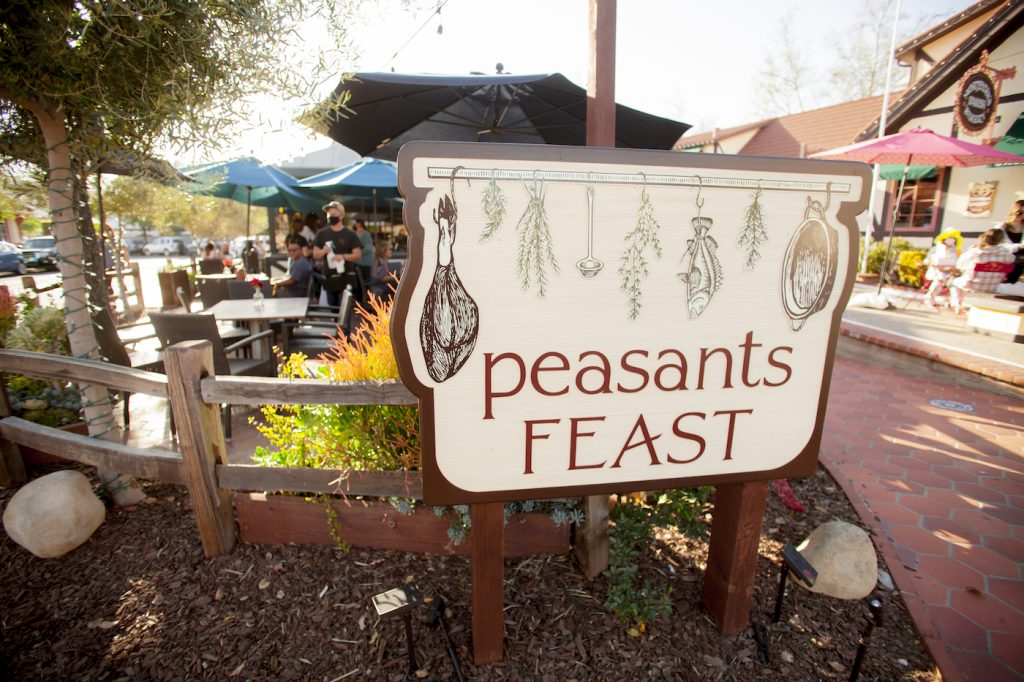 It's so nice chatting with tourists again: lots of L.A. couples with dogs and/or babies stroll the dirt path; two girlfriends chat over glasses of wine; a woman suns herself by the small pool and neighbors all chat each another up during "box" breakfasts in the spacious front patios with low stone walls. Florian (L.A. via France) does a market run for orange juice "if anybody wants some" — then disappears with his paramour Jasmine back into their love cave.
I very much enjoyed a tasty dinner with a friend in one of the newly reimagined outdoor patios at the long established, and packed to the gills, SY Kitchen (I don't think I've been since it opened many moons ago). We loved the grilled Parmesan encrusted artichoke that set the pace for a delicious dinner of homemade spinach pasta with a lamb/porcini mushroom ragu dotted with burrata and a tasty, huge lamb shank over polenta. But when my friends' grandchildren (who live in the valley) joined us for dessert, it was all hands on deck to protect the fab tiramisu (our favorite), creamy chocolate gelato, and tasty Tahitian vanilla panna cotta.
Before moving on from the Hotel Ynez, I enjoyed a little workout and a sweet morning swim in the lap pool. I admired the wall of succulents in pots, but I coveted the huge woven baskets storing pool towels. A refreshing shower and it was time to move on!
All is well and Ms. Rip Van Winkle feels like she has awoken from her 100-year dream.
Back in Solvang, a lovely visit and tour with a docent at the charming Elverhøj house/museum included viewing a fine exhibition of Rembrandt etchings (up until mid-August).
I also enjoyed a swell "bar menu" lunch of tasty fresh oysters and light and crispy fish and chips at Vaquero Bar — the new hot spot in Solvang. I can't wait for their Coast Range Restaurant to open (hopefully in September) where diners will select fish or meat from the deli case that will be weighed and then prepared. This should be a great spot for a tête-à-tête in the private booths which promise to be quite romantic in the cozy venue that will be a mélange of Old World/bordello/Western style.
Buellton: Divine Dinner and Slumber at Zaca Creek
It's just a skip, hop, and a jump to my next stop: one of the cool, cave-like, stone-walled guest rooms in Buellton at Zaca Creek, Tavern and Inn — the perfect hideout from the heat and for naps after wine tasting. There are just a handful of gorgeous rooms here — they are spacious and constructed of hand-hewn stone and raw timber with beautifully carved headboards. The walk-in shower in Room 5 (two beds here) with waterfall showerhead could house 10 people.
While the lodgings are lovely and the beds super comfortable, it's the restaurant that is the real star here.
Run, do not walk, to The Tavern at Zaca Creek. The house-made angel hair pasta I ordered was out of this world and perhaps the lightest and most heavenly I've ever had. The dish came with tasty abalone from Dos Pueblos and boar sausage, but I could live — and die — on the pasta alone. Much can be credited to the Fiore di Finocchio (wild fennel pollen) seasoning, popular in Tuscan cooking.
Starters included slivers of crunchy pig ears (really dug the Thai-influenced sauce, had a bit of a hard time getting over the ear part) and a lovely, rich chilled caviar lasagna layered with crème fraîche and generously topped with Calvisius (Russian sturgeon) caviar. Another generous "appetizer" of braised celery was also a standout dish. Oft times, appetizers outshine the entrees at restaurants, but both the pasta and a divine pork entrée – barbecued Winfield Farm Mangalitsa pork collar (one of the fattiest pigs in the world) with squash blossoms, nectarines, and pickled mustard seeds, to be exact – were also stellar. More good news? There's an awesome 3-6 pm Happy Hour Thursday through Sunday — one of the first I've seen during post-pandemic dining.
So close — less than an hour drive away — yet so far away, in feeling, the Santa Ynez Valley had added (and continues to add) quite a few new tourist attractions since I was last there, pre-pandemic. Fortunately, many stalwarts, like SY Kitchen, survived the pandemic and are once again thriving. Going from Danish windmills to Western saloons to a casino (the Chumash museum can be seen rising from the highway) in just a few mere miles has always been a bit of a chaotic experience, but it is what it is. You do need a car to shop in Solvang, Santa Ynez, or Los Olivos if you stay at either Hotel Ynez or The Inn at Zaca Creek but retreating in lodging slightly out of the hustle and bustle does have its advantages.
Two nights away — good food, good friends, chatting up tourists, swims, and good sleeps — felt like a week. I ended my stay with a solo morning swim (weekday at Zaca Creek and no one else there!) except for two magnificent russet colored dragon flies doing their spectacular balletic dance overhead.
I spotted plenty of "NO VACANCY" signs on my sojourn — so best to not only reserve ahead but have a back-up plan.
You might also be interested in...