After the Deluge
Three years after Montecito's devastating debris flows, some memories just won't fade away
Although the mud is gone, and most of the rocks have been either carted away or stacked in piles nearby, the intersection of Hot Springs Road and Olive Mill Road still bears witness to the work that remains to be done before all the visible scars are wiped away from the January 9, 2018 debris flows that swept downhill from the mountains all the way to the sea. First of all, there's the bridge, which instead of concrete rails still has freeway dividers on either side to prevent cars or people from falling off. The asphalt along the road near the bridge is still scored with deep grooves from either the boulders that poured onto the street or the teeth of the earth-moving equipment that eventually removed them.
Montecito has made great strides in recovering from the natural disaster. Although some damaged or destroyed homes remain, mired in myriad lawsuits and insurance settlements, many more have been rebuilt. Roads that used to be closed to through traffic have reopened, and bridges that were swept away have been replaced.
In the days after the tragedy, groups like the Bucket Brigade drew volunteers together to literally help residents dig out of the mud and have continued to thrive as a source of community togetherness. The nonprofit organization One805 purchased three mobile command units in order to immediately support emergency workers, an investment that will help prepare for future emergencies. The Montecito Trails Foundation both restored and expanded our local front-country and community trail network. And the Partnership for Resilient Communities constructed several Swiss-made steel nets in the canyons above town that stand ready for the next time the forces of nature combine to spill forth a deadly downhill landslide of liquid, wood, and rock.
Ground Zero
Last week, just a few days before the third anniversary of the event, Andrew Schmoller sent a frustrated letter, a copy of which he shared with the Montecito Journal, to First District Supervisor Das Williams asking why the bridge still has yet to be fixed. "Maybe with all the things going on people might have forgotten about it, but it's still right here for everybody to see," he said on a recent afternoon, pointing at the bridge as he hiked up the creek, which is still decorated with random flotsam that continues to appear as stark reminders of the tragedy.
Schmoller points at somebody's zip-up windbreaker and then a stray rubber tire from either a child's toy or a landscaper's wheelbarrow both of which could be seen half buried in the soil. "Whenever it rains, the earth pushes this stuff up," Schmoller said, pointing at the creek-side debris on display in the shadow of the bridge. "This is what we find on a daily basis: dolls, clothes, pieces of glass, all kinds of things."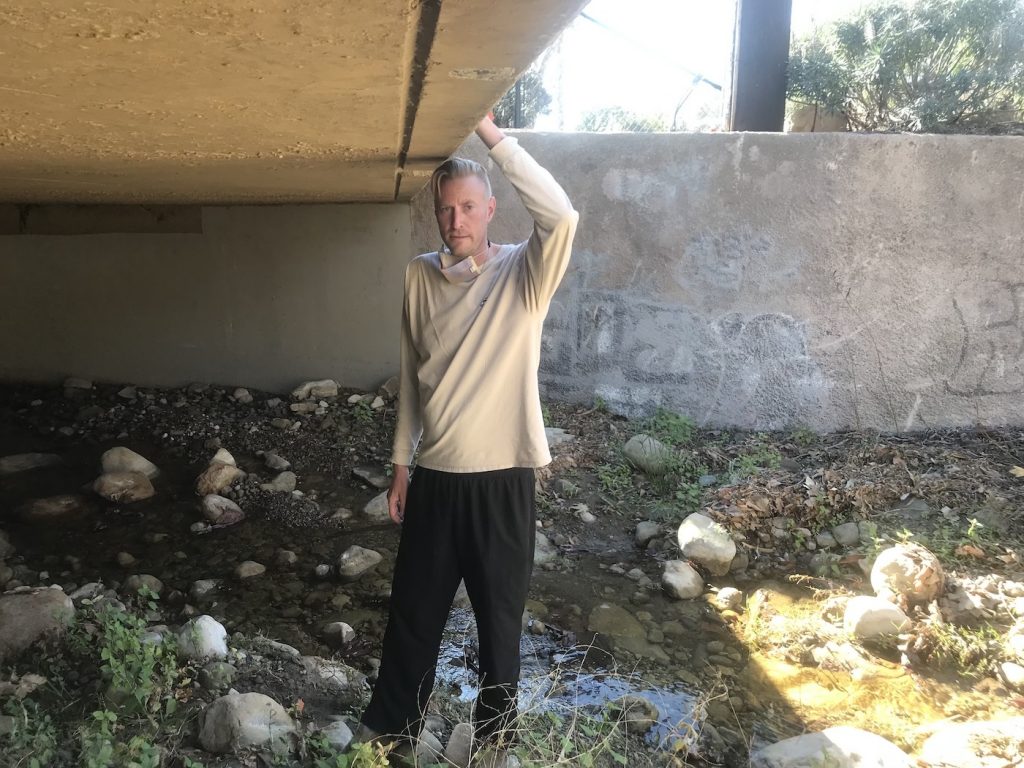 On the morning of the disaster, Schmoller recalled, he awoke at about 3:30 am amid a violent downpour. "I got out of bed and went outside," he said. "And then it was over as soon as it started. I went back to bed and put my head down and maybe five minutes later there were flashes of light and I heard a 'boom, boom, boom' and could hear the whole creek coming down and I knew something was very, very wrong."
Schmoller later realized the sounds were of his neighbor's house and a gas line exploding and that the light flashes were from electrical transformers igniting. He ran back inside his house and gathered his family together upstairs. "I went outside on my balcony, and I could hear it coming," he said. "It sounded like a massive rush of water. The house was shaking, and it went from a freight train sound to the sound of trees just snapping apart in an avalanche."
Next door, Lalo Barajas and his partner, Peter Fleuret, were also both awakened by the rainfall. While Barajas remained in bed, Fleuret got up to answer the telephone. The call was from friend of theirs who lived uphill and who tried to warn them that something terrible was coming their way. "There goes the trampoline," the man observed. "You need to be ready."
Fleuret hung up the phone and called Barajas over to the window. "I could see the orange glow of fire and heard 'pop, pop, pop' and the snapping of the trees," he said. Barajas grabbed his clothes and was able to put on a pair of shorts. "I grabbed the keys and ran to the door and was just about to open it when it burst open."
Mud began to pour into the house as Barajas and Fleuret sought to find another way out, but to no avail. "The whole house was just lifted off its foundation," he said. What happened next was initially a blur to him, but three years after the fact, Barajas says, he finally gained a clearer picture in his mind of his last moment he shared with his partner.
"The memory just came back to me somehow," he recalled. At first, all Barajas could remember was him and Fleuret running to the bathroom and standing on the sink. "He was trying to keep me calm and kept saying that we just had to get higher." Barajas is now able to recall that moment in more detail. "We were in the bathroom when the house finally started to splinter and lift up," he said. "I looked over at Peter and he was trying to break the window. As he did that, I started to fall backward into the house, but he hooked my elbow with his and pulled me through."
Tree of Life
Fleuret managed to pull Barajas through the broken window and out of the house. The effort resulted in a severe gash on Barajas' forehead, but saved his life. "If he hadn't done that, I would have been lost in the house," Barajas said. "His last words were, 'Grab onto some wood and don't let go.' So I grabbed onto a tree and hung on to it and pulled my body around. I was freaking out, thinking about all these cars and boulders and wires and pipes and cables and how something was going to come along and kill me now."
From his perch on the oak tree that he clang to, Barajas saw his own vehicle sliding downhill before he closed his eyes and reopened them, struggling to see. He later learned that his blurry vision was the result of a profusely bleeding head wound. Barajas never saw Fleuret again. "He was found at the corner of Hot Springs and Olive Mill," he recalled. "The last time I saw him was when he yelled at me to hang on."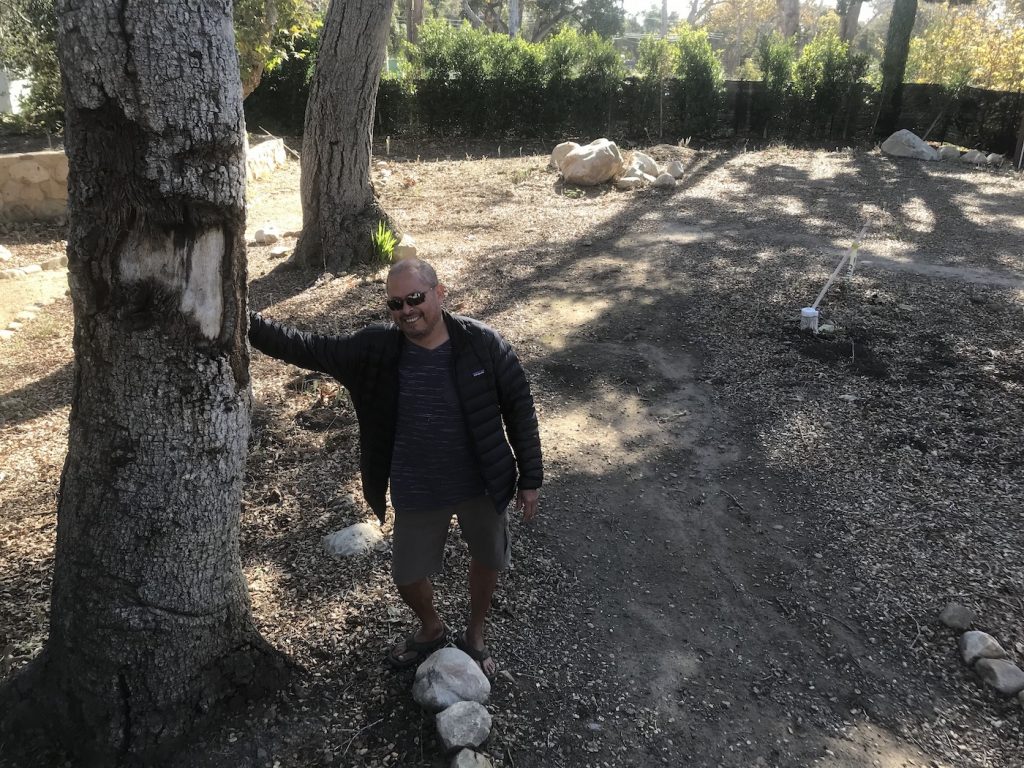 The tree that helped rescue Barajas was in Schmoller's backyard, where the body of another victim of the disaster was also found. "It's a tough memory," Schmoller said. "I had to go outside. My wife didn't want me to. Everything was still moving and the water was draining downhill, and I was being pushed by the mud and the water. And five minutes later it was all over."
Barajas managed to walk through the mud to Schmoller's house. "I didn't have any shoes on," he said. "I was lucky to have shorts on." Three years minus one day after the event, Barajas hugged the tree that helped save his life during the disaster. He estimates that the mud and water was at least waist high before it began to recede, allowing him to reach higher ground. Barajas says his biological clock has yet to reset. "My alarm doesn't go off until 4:30 am," he said. "But my body still gets up at the same hour. It's crazy."
Bridge Over Troubled Water
Schmoller, whose house miraculously survived the disaster, considers himself lucky compared to his neighbor Barajas, who now lives in a trailer that is parked in the vacant lot where his house used to sit. Schmoller had only moved to Montecito seven months before the event, "to get away from L.A.," as he puts it, and he had barely had time to acquaint himself with his neighbors when the disaster struck.
"All the authorities and government and law enforcement agencies did a good job and that was confidence boosting," Schmoller said. "But there is still a lot to be done. There are some open issues, and things that remind me on a daily basis of what happened. It's going to be a long time to heal for me and for people like Lalo it will never go away."
Schmoller would like to see the bridge fixed and the dirt triangle at the intersection of Hot Springs and Olive Mill to be turned into some kind of memorial for the 23 victims of the debris flows, which includes next door neighbors Dave Cantin and his son Jack Cantin, whose body was never found and is presumed to have been washed to sea.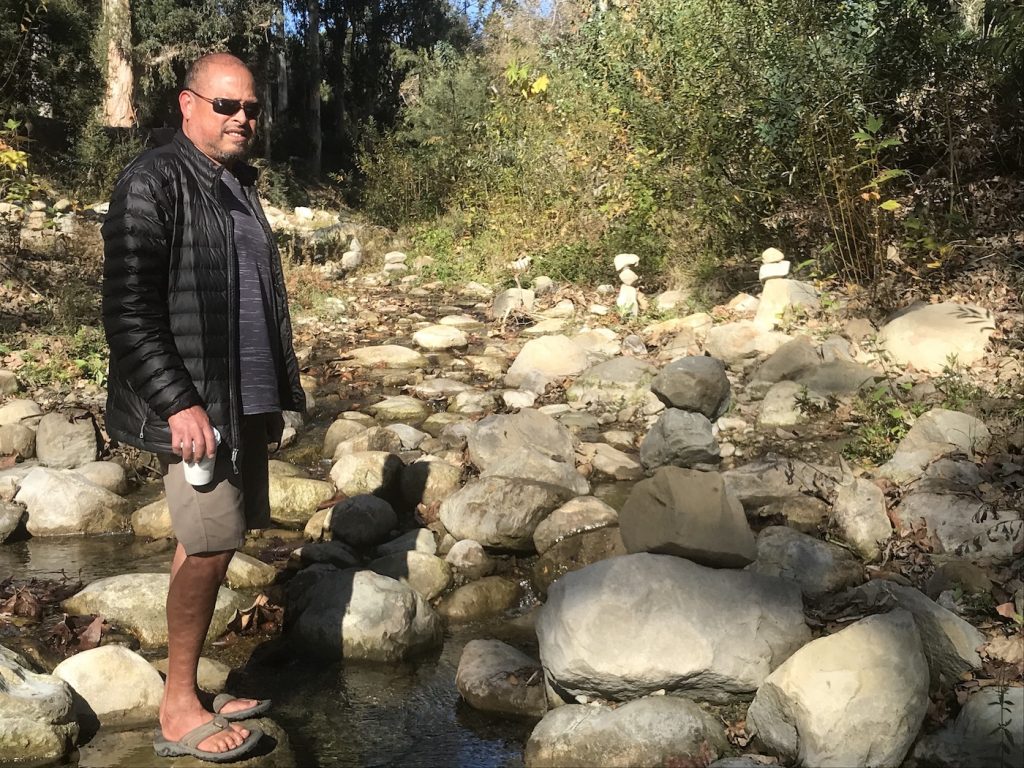 "It's three years later, and still this hasn't been addressed," Schmoller said, standing beneath the bridge, pointing at the detritus still visible in the creek floor from the debris flow. "This stuff reminds me on a daily basis what happened because it is still here. I would like to see our street paved and our bridge fixed. And the triangle relandscaped in some way or another in tribute to the twenty-three people that died."
Meanwhile, for both men, the creek that abuts their properties, no longer a source of dread, has become something of a spiritual refuge. There's even a small pool where, on hot days, Barajas likes to take a dip. "It took me awhile to get okay with the creek," Barajas said as he hiked alongside the empty lot where he now lives in a small trailer outfitted with a makeshift outdoor patio and heat lamp.
"I used to come over to the water but not get down in it," he explained. "But I finally made peace with the creek." In his free time, Barajas has constructed a makeshift memorial consisting dozens of rock cairns that line both sides of the water. "I made twenty-three little stone gardens in honor of the people we lost," he said. "But since then I've made many more, every once in a while. There's maybe sixty of them now. It seems like they want to be together."
Continue reading...