Santa Barbara's Wonder Woman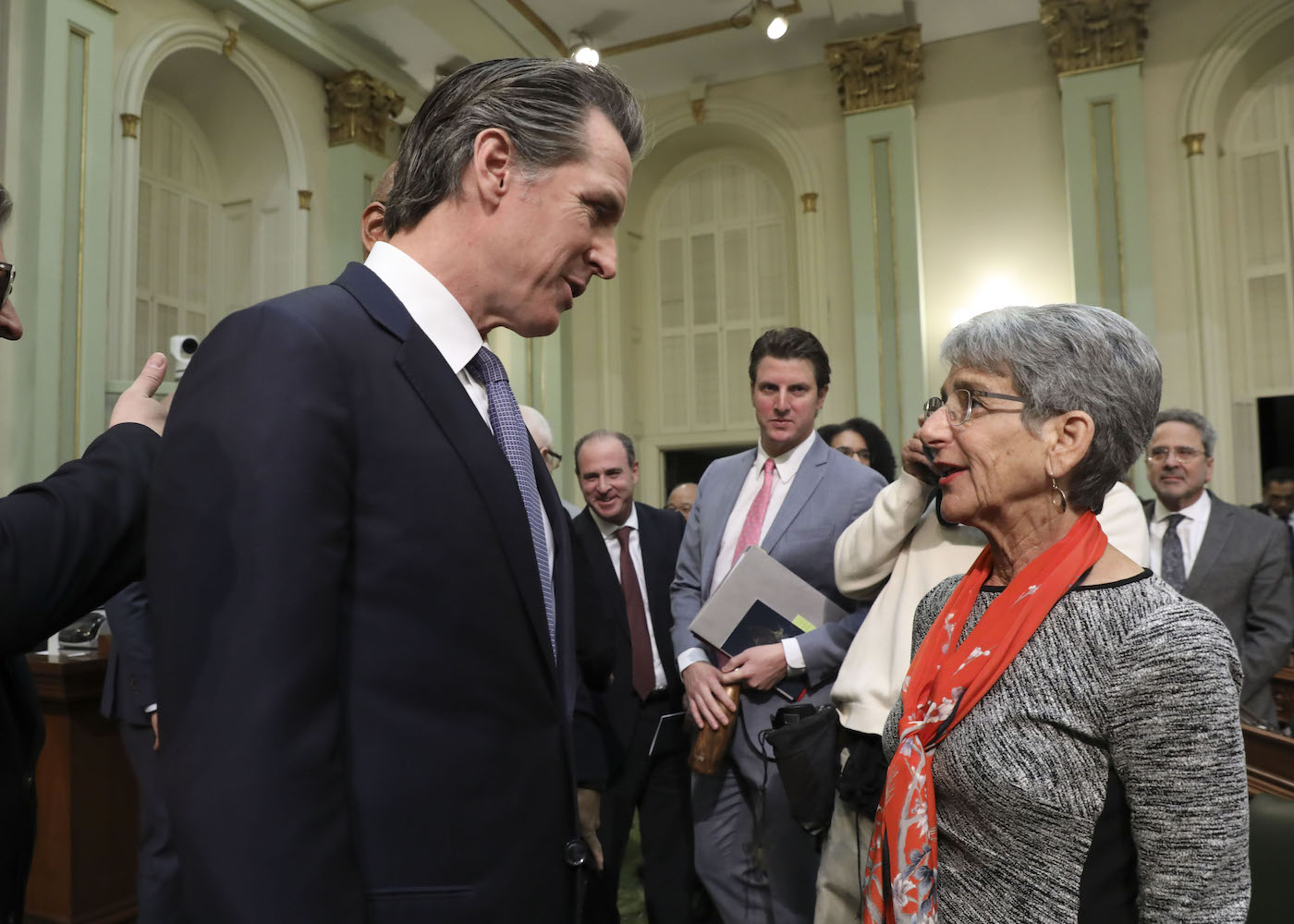 Hannah-Beth Jackson may have run out of time as State Senator, but she never ran out of the fierce will that got her to Sacramento. She looks back on a legacy of fighting for disaster relief and equal rights for all.
Q. Which superhero do you visualize yourself as?
A. "I love Wonder Woman – that's how I would visualize myself. She's fighting for good, takes no grief from anybody, and is clearly an equal to anyone she comes in contact with. And in the movie, she was willing to withstand cold temperatures and difficult circumstances to continue pursuing her goals and was pregnant as well!"
– Hannah-Beth Jackson, former State Senator for California's 19th District
Sure, Montecito has Ellen, Oprah, Meghan, super-celebrities whose fame is so outsized that just their first name alone lives large in our collective imagination. But there is another woman in the 93108 whose (albeit hyphenated) first name alone is enough to stir amazement. That's Hannah-Beth, as in Hannah-Beth Jackson, the Boston-bred politician and Santa Barbara's own superhero.
Hannah-Beth Jackson has served fiercely in the halls of justice as an attorney, prosecutor, politician, and a California state representative, first as our assembly member (1998-2004) then as senator in Sacramento (2012-2020). And I imagine her just as competitive on the tennis courts of Knowlwood Tennis Club. On November 30, she finished her state senatorial duties because of term limits. Hannah-Beth, as we all know her, has ably and tirelessly represented some one million constituents for the past eight years.
The self-avowed feminist (also a wife, mother, and grandmother) has plenty to be proud of, including authoring the Equal Pay Law, the strongest one in the country ensuring equal pay for women, a model today for more than 43 other states. And we, the people, have plenty to be grateful for.
"I want to lend my voice to the chorus of voices acknowledging your extraordinary leadership," Governor Gavin Newsom told her during Sunday's 50th Annual Holiday Membership meeting of the Santa Barbara Democratic Women. "Your stewardship, your faith, and devotion to the cause of working families, working on unpaid family leave, incredible environmental stewardship, your legacy of environmental leadership that's been demonstrable for years and years – not just recently but for the greater part of your career."
Her many other accomplishments during 12 years in Sacramento (first as assemblywoman, then senator), as well as those in her final legislative session, are well-known to those who follow her: paid family leave, corporations required to put more women on their boards (both have taken root in other states) and, most recently, the capping of the leaking Becker oil wells in Summerland, which she fought for and passed legislation on – and secured $14 million in funding.
During our chat, I asked Hannah-Beth whether there were other things she'd hoped to accomplish that didn't make it across the finish line of our democratic system. We spoke about the "deliberate" slow and winding legislative process, the limitations of the final session due to COVID-19, including the interesting twist during final days when her Republican colleagues were banished to Zoom after one member came down with the virus.
"The normal joviality, friendly debate, and discussions on the floor were moot," she said.
A lot of people were, and still are, upset that the clock ran out and bills left not voted on. Hannah-Beth's last hurrah – a landmark bill assuring job protection for those returning to work after paid family leave that includes for childcare leave of up to 12 weeks (the original bill is 16 years old) was passed in the last few minutes; the image of a member voting on the floor with baby in arms went viral on Twitter. 
One senator, angered that his fellow Republicans were being shut out of the debate, screamed a profanity to decry the hearings.
Hannah-Beth, unfazed and wearing a white pantsuit and her red Wonder Woman facemask, remained calm. "That was part of the ploy, it was unfortunate," she says. "They say the fish rots from the head. The lack of respect and consideration for the fact that this virus really doesn't know your political party or care. In our legislative family, if you will, where we are all on one floor and frequently in very close contact with each other because we are trying to negotiate with each other on bills – answering questions, asking what do I need to do to get you to support this bill? At the end of the day, it's all about knowing how to count. To get a bill passed, you need 21 votes in the Senate or if it's an urgency bill you need 27. You gotta know how to get to that number."
Hannah-Beth had a lot to say during our hour-long Zoom conversation (and a subsequent two-hour talk with MJ Editor-in-Chief Gwyn Lurie). Between the two of us, we have enough to write a book – something that Hannah-Beth may engage in – writing her memoirs – while she is mulling over her next act.
During our chat, Hannah-Beth was at her 93108 home, where she lives with her husband, retired Superior Court Judge George Eskin. She was wearing a bright pink jacket, pretty pearl earrings, and rosy lipstick – no sweats on this lady's Zoom calls. She was excited to share that Governor Gavin Newsom was about to sign one of her final bills an hour after we signed off. "I think it's the first Zoom bill signing in history," she said. "It's certainly the first in California!"
Wonder Girl
Hannah-Beth grew up outside of Boston, in Newton, Massachusetts, where her father owned a small business; her mother was a secretary. "My parents chose Newton because it had one of the top public education systems in the country. I'm a public-school kid," said Hannah-Beth, who still holds public education near and dear.
She was also an athletic child. "As a little girl I wasn't allowed to play Little League even though I was the best guy on the team!" she noted, "Girls weren't allowed to play Little League and I thought that was ridiculous in America."
"I went around with a clipboard in my neighborhood talking to my neighbors asking them to sign my petition to allow girls to play Little League. Some of them signed and some of them didn't – and those who didn't, I remembered at Halloween!"
Don't mess with Wonder Woman: she refuses to fully disclose her childhood Halloween revenge, but her laughter reveals it's still a happy memory.
Part of the inspiration for her career path as an attorney began after she sent a petition to the Little League Association, although they never even extended the courtesy of a response. 
"I remember saying to my parents: 'They're going to regret this. Someday they're going to regret this,'" she recalls. "And that was the birth of my feminism and my determination to try to make a difference, to try to change things so that girls do have equal opportunity in sports and in science and in any field that we want. Everybody should have those opportunities, regardless of their gender, regardless of their race or ethnicity or religious beliefs. This is America where we judge people on the content of their character. That's the aspiration and something I've been committed to achieving my entire life."
But what really got her into the legal profession was her love of a good argument and her encounter with a theologian. "I got into a big argument with a very well-regarded Rabbi. I was twelve and he was the head of some big national organization. He made some statement and I took great umbrage to it. I got into a very respectful, but significant disagreement with him and he said to me, 'Young lady, you need to become a lawyer.'"
After graduating from Scripps College in Claremont, California with a joint major in government and sociology, Jackson received her law degree from Boston University Law School. She then returned to California to work as a deputy district attorney for Santa Barbara County. Eventually, she became the managing partner for the Law Offices of Eskin and Jackson, with offices in Ventura and Santa Barbara.
Fast forward beyond her legal career, marriage, a daughter, Jenny (also an attorney, wife, and mother) and a blended family, to Senator Jackson's starring role as a politician. Massachusetts's loss has been California's gain.
Getting Those Bills Passed
"You don't want to watch legislation being made, the same as you don't want to watch sausage being made," is one of Hannah-Beth's favorite quips to reporters. I disagree. I find the entire exercise fascinating albeit at times frustrating.
If you think the wheels of justice move slowly, try following a bill as it makes its way through the laborious process of committees, votes, revisions, etc., until it lands on the governor's desk to be signed (hopefully). Citizens can actually watch much of this process – though not the backroom dealings – live and online, which I highly recommend.
A number of State Senator Jackson's bills made it to the governor's desk recently (for that noon Zoom signing) including one that ensures six million additional California workers who work for companies with five or more employees up to 12 weeks of job-protected leave during a crisis, whether it's to take care of a newborn, care for a sick loved one, or take care of their own medical issues, secure with the knowledge that their job will still be there for them.
(A profile in The New York Times this past fall touted this accomplishment and others with the headline: "Meet the State Senator Shifting California's Workplace Culture.")
One has to be extremely clever as a legislator, to get the hoped-for results, and I've seen some midnight fancy-dancing in Sacramento that would make an Olympian ice skater's head spin. It can be safely assumed, for instance, that most people in Santa Barbara want to prohibit federal drilling offshore, considering our history with oil spills; unfortunately, California doesn't have jurisdiction on what happens in federal waters. Well fine, thought Hannah-Beth. If you can't beat them, trick them. She pushed a piece of groundbreaking state legislation that permitted offshore drilling but refused to expand the infrastructure to bring the oil onshore, effectively terminating drilling activity.
Another bill of concern to our community, for which we can also thank Hannah-Beth, is legislation that requires insurance companies to include coverage for homeowners for a flood that occurs as a result of a fire.
"That meant a great deal to our community that suffered the devasting debris flow right after the Thomas Fire," she said.
Hannah-Beth acted as the chair for eight years on the joint committee on Emergency Management.
"The primary role of government, the initial role of government, was to bring people together to protect themselves and to be a source of safety and security," she said. "And I take that responsibility very seriously."
Having been impacted by the fires and debris flows, and having created plenty of related legislation, Hannah-Beth has lots to say about not building in high-risk fire areas – or else doing it as "best as humanly possible" to prevent the risks of fires destroying homes, property, and human lives.
"We need to harden our infrastructure, making sure we have more than one way in and one way out," she said. "Making sure there's sufficient water and firefighting equipment and opportunities in those high-risk areas."
Over time, she said the fires would continue getting worse as places with traditional humidity dry out and become susceptible to intense wind-driven fires with scorching temperatures.
"We've got to get the message! The message is the temperatures are not going to start cooling," she said. "We have to listen to science, whether it's with the pandemic, climate change, sea level rise. The message is about as clear as we can make it. And we have got to listen to it."
"We're seeing the worst fires in California history in the last 10 years and they are definitely the result of climate change."
California Setting the Bar
So, what's the upside? The good news, Hannah-Beth says, is that California has really been in the lead.
"We've set high standards, that I've been very proud to be very much a part of, including aspirations for renewable energy that really isn't just an aspiration," she said. "We can do it! California is the state that invents the future! If we put our minds to it, being the largest state in the country, the fifth largest economy in the world, there's nothing we can't do if we put our minds to it – and we have!"
Education
Public education is a huge part of Hannah-Beth's interest and legacy. And mojo. It's something she seems still likely to still be involved in, among other passions, in her new incarnation, since it's in her blood, as a former educator.
"I want to see us improve our public schools so that we are able to give every child the opportunity and the education so that they can be successful and achieve whatever their goals are," she said, "in a country that made that promise to my grandparents who came over from Eastern Europe during the pogroms of Russia and Eastern Europe. They came to America with the belief that if you worked hard, did your best, and played by the rules, anything was possible. That is my belief in this country and education is the key."
It's also something that made her realize that we needed to make opportunities for sports more available to girls and to women. Hence, she's been a strong supporter of Title IX and done a lot of work in that area to assure that girls and women have equal opportunity in education and something that her parents taught her: If you want something, this is America, you have an opportunity to fight for it, to redress grievances.
"I think it's really important that young women and young girls see women in leadership roles," she said. "We still haven't had a woman president, but we need to. That being said, we do see more women in the medical field, doctors, lawyers, professionals. We need more women CEOs, we need to see more women on corporate boards. We know that when women are in those leadership positions, businesses do better."
What does she hope her legacy to be?
"I do hope the 'take-away' of my work is that I served as a positive role model on what true and honest public service can be and that I have inspired others to do the same at some point in their lives. Helping others – whether through giving or serving – is extraordinarily rewarding – to oneself and those being helped."
The Pink Tax and Other Unfinished Work
I asked whether there was legislation that Hannah-Beth wanted to accomplish that just didn't get done? 
"The year being a COVID-19 year, the legislative session was truncated," she said, "We were directed to reduce our bill packages. I had about eighteen bills I had introduced, leaving me with a total of about twenty-three. I had five other bills that were two-year bills working their way through the legislature. There were a couple of issues I wanted to close the loop on was something called the pink tax."
As the senator did research on inequality, it was one of the areas where she discovered enormous inequities.
"It's not just that women are paid less for comparable or substantially similar work, but women pay more for products that are directed and designed to be marketed to women. I just feel that is so inappropriate and outrageous, so I did a bill that would have prohibited charging more."
She cited a couple of examples. First for little girls who want a pink bicycle helmet.
"You go to a store, and a black one and a red one are $19.99. The very same helmet, the very same helmet," she stresses twice for effect, "in pink (costs) $22.99! Two dollars more."
Then there are medicines for women with monthly periods.
"Motrin is used for a variety of things. There's a box of pills – 400, I think – that advertises on the package 'helps with menstrual cramps.'" The same exact product – $7.99 for a package of 400. The one without that message on the packaging, 400 tablets, same product: $4.99."
(I did check at CVS and was not able to verify this, but similar products are stocked in different sections.)
She had to drop that bill.
"It was going to be a very tough slog anyway," she said, "but there wasn't enough time and I wanted to stick with things that I had been working on, or things like job protected legislation (which passed)."
I wondered whether Monique Limón, who won Hannah-Beth's state senatorial seat, would pick up the pink tax issue? Hannah-Beth said she hoped so and noted that her successor knew these issues were also important.
Other issues important to the former Senator: getting hitched and what it really means.
"When I first got elected I had practiced law with an emphasis on civil litigation and family law," she said. "It was clear that most people who enter into the marital contract have no idea what that contract means. They don't know what their rights and responsibilities are under California law."
Twenty years ago, she attempted to pass legislation that would provide a pamphlet to be given to couples when they go to get their marriage license.
"It could be done in a lighthearted way!" Hannah Beth said, "What does community property mean? What are your responsibilities toward your children?"
Then, more realistically and soberly she added: The fact is, every marriage ends. When I joked the pamphlet should read: "Run!" Hannah Beth replied: "That was suggested when it was vetoed the first time around by then Governor Gray Davis. That's what he thought."
"But absolutely the contrary," the long-married wife sternly said. "I was going to bring that bill back this year, as I thought Governor Newsom would have an appreciation for people knowing what that marriage contract is. But I had to drop that bill as well."
Other unfinished business she hoped to tackle was in the area of pesticides and pesticide regulation.
"A very, very tough area," she admitted, "The people that chair those committees are people who frankly represent big ag areas who I think sadly are too focused on the growers than on the workers and the communities that are exposed to those pesticides.
"Those are a couple of areas where I was a little disappointed. But not enough to really feel that I wasn't able to accomplish a lot."
Like her efforts to protecting privacy issues and rights, advancing legislature to reduce gun violence, advocating for commuter rail, supporting veterans and more.
What's Next?
So now that the nitty gritty of getting a bill written, getting it passed, the chess game, as well as the travel back and forth to Sacramento, the glad handing, baby kissing, and the fundraising is behind her, as well as being able to respond to her constituents, I asked Hannah-Beth whether she had any plans to continue working in politics in the future – even on a national level?
"I don't have any desire to run again for public office," she said. "If there were something in the Biden administration that would be a logical continuation of my work, I would certainly consider it, but I am really not actively pursuing anything at this time. I would certainly consider serving if asked. I'm really happy and excited to be back in Santa Barbara and look forward to a new chapter that includes time for family and travel. I'm interested in doing some consulting work."
Hannah-Beth, who is also a breast cancer survivor and one of the founders of the Santa Barbara Women's Political Committee, is thinking about writing a memoir, mentoring women who want to run for public office, and even hanging a shingle out her door to share her expertise in how the "system" works.
"I tell young women all the time, don't ask permission," she said. "Talk about the importance of women running for office, I was an example of it, I didn't think I was ready. My first run for office, I was 48 years old and I wasn't sure I was ready, but I had women who encouraged me, who told me I was ready. I say to young women: look at your young male counterparts who run for office. They don't ask permission. They don't ask, am I ready? What they say is, 'I want to do this.' And so, they do it."
On the other hand, Hannah-Beth admits she has neglected other areas in life and is a terrible cook.
"Any cooking teachers out there?" she quipped.
Before the shutdown, she and George would go out to eat a lot. Some favorite spots include Zookers in Carpinteria, Pane e Vino, Renaud's, and Ca'Dario, among other restaurants.
Gearing up for the change from a place of power and, what she has reported to other reporters including this one, she worries will be no one will "laugh at her jokes or return her phone calls." That seems doubtful.
Well, maybe the jokes, depending.
"I'm now at a point where I can retire, but it's all subject to change!" she concluded.
A world of possibilities – and yes, longer walks on the beach with George, her hubby of 40 years next June – awaits her. And us.
"Some say that when God closes a door, she opens a window."
You might also be interested in...