Dueling Dens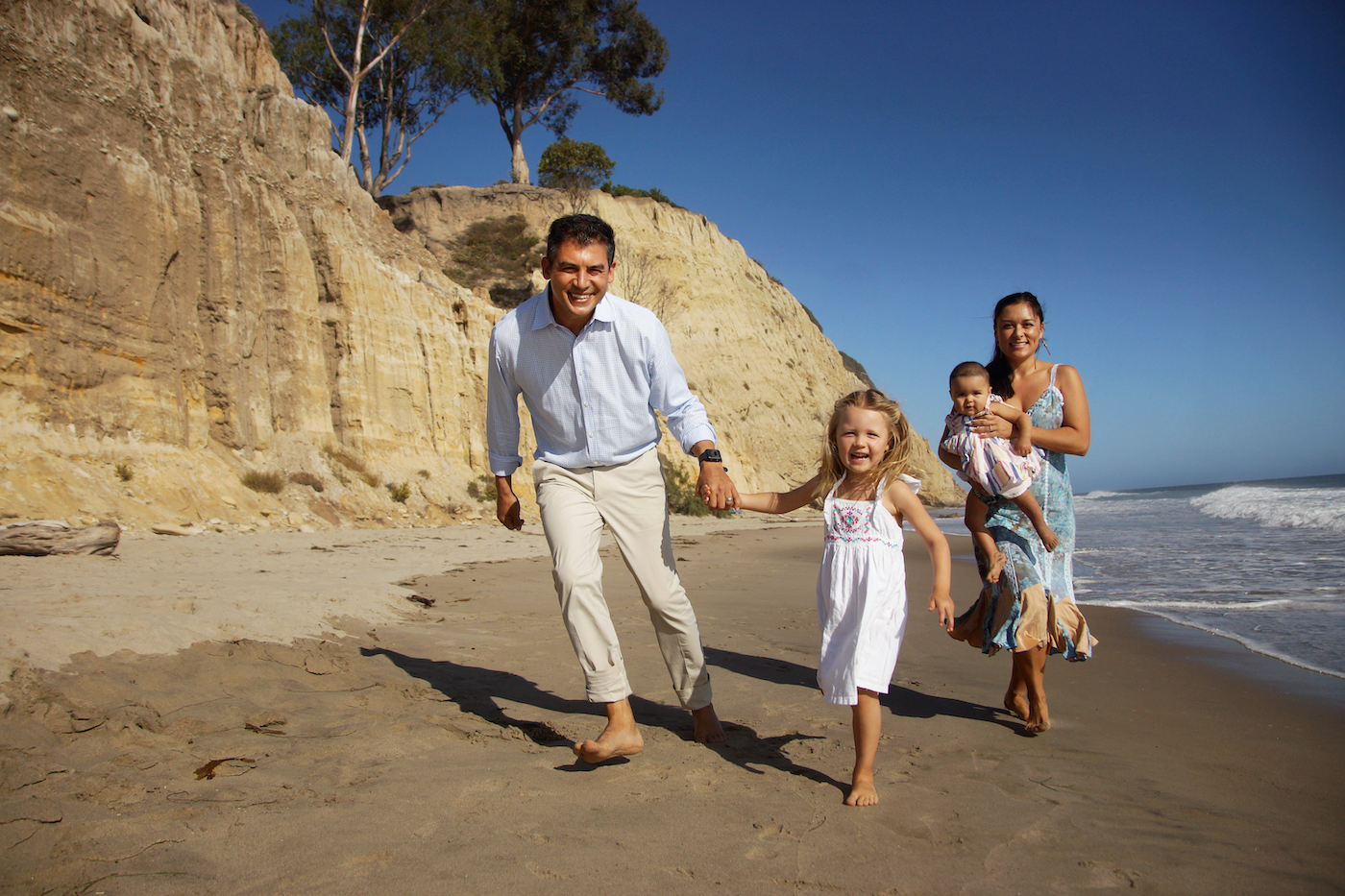 Only in California is it possible for two accomplished Democrats, with near perfect party pedigrees, to run for one job to represent the voters of District 1 as a Supervisor for Santa Barbara County. Political pundits promise that this year's race for the District 1 seat between the incumbent Das Williams and the challenger Laura Capps, will be closer than the normal non-contested shoo-in for the Democratic candidate.
The case for Das Williams for County Supervisor hinges on his leadership persona and his 17-year record of public service as a Santa Barbara City Councilman, State Assembly Member, and most importantly, his last four years as the 1st District Supervisor.
How Did We Get Here?
When Das Williams first won the right to represent District 1 back in June 2016, he recorded a solid win over his opponent, county investment officer Jennifer Christensen, with 59% of the voters supporting him vs. 40% for Jennifer.
Back then, some viewed Das Williams as a rising star in Democratic politics who was content to temporarily trade a loftier position with running for the Santa Barbara County's First District Supervisor seat. It was thought that he might use the Supervisor position as a steppingstone to await the retirement of the ever-popular Hannah-Beth Jackson in the California Senate, or perhaps that of our Congressional representative, Salud Carbajal, who himself hailed from the Supervisor seat?
His decision to take up residence in Carpinteria, raise a family, and commit himself to the 1st District has been a pleasant surprise for his local constituents who admire his personal participation at every local community gathering from the 1/9 Memorial Service, to the 4th of July Parade, to Montecito Beautification Day.
The current irony is that Das now faces a bit of a horse race, not against a traditional weak Republican challenger, but against the dynamic daughter of the politically powerful Democratic doyen, U.S. Congresswoman Lois Capps.
Who is Das Williams?
Dohassen Gault-Williams, better known as "Das," was born on June 29,1974. He split his adolescence between his mother's home in Ojai and his father's in Isla Vista, where he became involved in local politics and election campaigns. Forced to drop out of his senior year at Dos Pueblos High School because his mother moved to San Luis Obispo County, Das chose to stay in Santa Barbara to attend City College, while sleeping in his car in order to stay in town. His passion for politics kicked up like a windstorm when Das spent two semesters in South Africa working with Nelson Mandela on Mandela's first presidential campaign in 1994.
After 2½ years at SBCC, Das transferred to UC Berkeley, earning his bachelor's degree in Political Science. He returned to Santa Barbara to work on Hannah-Beth Jackson's campaign for State Assembly, then followed her to Sacramento. He next attended graduate school at UCSB's Bren School of Environment Science & Management with a focus on water pollution, planning processes, and land use law. Seeking practical political experience while at the Bren School, Das ran for and won a seat on the Santa Barbara City Council in 2003 before finishing his master's degree.
In 2010 when Pedro Nava was termed out in the State Assembly, Das filled the void by running and winning his vacated California State Assembly seat. He served for two three-year terms before being termed out himself in 2016. In addition, Das has held teaching posts at both Antioch College and in Junior High School.
Even though this year's opponent could claim that behind every great man lies an even better woman, Das Williams might counter that the "better women" behind him are his wife, Jonnie; his two daughters, Ya'Ash and Khaya; and his long-time Chief of Staff, Darcel Elliott.
Both Das and Laura are Democrats Cut from the Same Policy Cloth
In terms of Democratic policy positions, both Laura Capps and Das Williams are about as close as two halves of a zipper. Both are staunch supporters of renewable energy and the reduction of greenhouse gas emissions. As a city councilmember, Das spearheaded efforts to require that 30% of the City of Santa Barbara's energy come from renewable sources by 2011.
As a state Assemblyman, Das upped the ante by advocating that 33% of the entire state's energy come from renewable sources by 2020. Still not satisfied, he authored legislation to increase the renewable energy goal to 50% by 2030. He has worked consistently to stop offshore oil and natural gas drilling.
Both Das and Laura are strong advocates for the homeless; oppose fracking; support sanctuary cities; favor decriminalizing illegal border crossings; oppose a border wall, support climate change and the "Green New Deal"; favor stricter gun control; embrace forgiveness of student loans; support public service unions; and oppose serious public pension reform, including lifetime retiree health care coverage.
Both champion affordable housing; all environmental causes; elimination of all fossil and nuclear fuels; Medicare for All; free college tuition; income redistribution; and higher taxes on corporations and the so-called wealthy.
Let's take a closer look at Das' record of accomplishments:
City Councilman for City of Santa Barbara: 2003-2009
In 2003, while still in graduate school at the UCSB Bren School of Management, Das successfully ran for the Santa Barbara City Council. He established himself as a leader in the effort to stop offshore oil drilling, protecting the coast and local water supplies by working to restore local creeks and wetlands and preserve open space. He led the push to expand the city's public transit system. While serving as a Santa Barbara City Councilmember, Das also served on the Board of Trustees for Peabody Charter School where he helped avoid teacher layoffs during the Great Recession.
State Assemblyman: 2010-2016
In 2010, Santa Barbara and Ventura County voters elected Das to represent them in the California State Assembly. He was re-elected twice more in 2012 and 2014 before being termed out at the end of 2016. His signature accomplishments included passing strict standards to decrease the state's dependence on fossil fuels and protect groundwater. Additionally, Das established himself as a champion for California's public higher education system, serving as chair of the Assembly Higher Education Committee and authoring legislation focused on creating a dedicated revenue source for higher education and establishing harsher punishments for students who commit sexual assault.
First District Supervisor, Santa Barbara County: 2017-2020
In June 2016, Das was elected First District Supervisor – one of five elected officials to govern Santa Barbara County – a position he currently holds. As Supervisor, Das has provided leadership through the Thomas Fire and subsequent 1/9 debris flow that rocked Santa Barbara County. In addition, he has taken a proactive position to develop clean energy locally; supported the legalization, permitting and growth of the cannabis industry in the county; and diverted drug revenue to protect vital public services, such as our libraries.
On January 9, 2018 Montecito was rocked by a mud and debris flow emanating from the Thomas Fire which cost the Montecito community 23 precious lives, 400 homes, and businesses destroyed or damaged, and multiple mandatory evacuations and power losses while emerging from the muck and mud.
Das and his County team sprang into action. Using funding from FEMA, Caltrans and the U.S. Army Corps of Engineers, the cash-strapped county cleaned inadequate creek beds and debris basins; fast-tracked "Like-for-Like" rebuilds of demolished homes; helped permit the community-funded ring nets to double the effectiveness of the existing undersized debris basins; replaced storm damaged bridges, albeit two years too late; and expanded efforts to enlarge the county's debris basin capacity on San Ysidro Creek at Randall Road.
Stung by L.A. Times criticism for poorly maintained creek beds, inadequate debris basins and faulty evacuation warning systems, County Public Works and Das fought back with support for the community-based and community funded Bucket Brigade; the Project for Resilient Communities; and the builders of the North Jameson Lane pathway.
Das claims he has been central to restoring a community culture of resiliency and renewal, even while lacking a massive infusion of county funding.
The Carpinteria Marijuana Scuffle
Bud growers in Carpinteria have saluted the efforts of Das Williams to develop an orderly process to convert former flower nurseries into more profitable marijuana factories. In the process, the county won the dubious distinction of earning the label, "Santa Barbara County – The Marijuana Growing Capital of the World." Unfortunately, the unmistakable aroma of legalized marijuana for recreational use, wafting across Carpinteria schoolyards, has created strong and vocal concern from a group of citizens labeled as "Concerned Carpinterians."
Das has been criticized for accepting a reputed $60,500 in campaign cash from individuals and businesses related to the billion-dollar cannabis lobby. He notes that he does not take campaign contributions from oil, tobacco, or vaping donors, and adds that he has halted accepting contributions from marijuana farmers whose applications for permits are before the Board of Supervisors.
The Power of the Incumbency:
Das Williams has all the obvious advantages of incumbency which includes the support of the Democratic Party and strong visibility and name recognition. He has the support of local labor unions; a long list of Democratic donors and traditional Democratic endorsements.
Come to the January 27th Candidate Debate and Decide for Yourself:
Be sure to take your seat on Monday night, January 27, at 6 pm in Hahn Hall at the Music Academy of the West. Only those who care about the future of the Montecito community are invited to attend. All others, who moan and groan about our community without taking responsibility for electing our leaders, please remain at home.
Sidebar Story
We Want You!
When: January 27, 2020. 6 to 8 pm. Mark your calendars now!
Where: Music Academy of the West, 1070 Fairway Road, Montecito. Hahn Hall. 350 plush seats with fabulous acoustics.
What: Debate for the First District Board of Supervisors seat between the challenger Laura Capps and the incumbent champion Das Williams.
Why: Because you live in Montecito. You are probably well-educated and successful, but you know next-to-nothing about your 1st District County Supervisor, or his challenger, for an election that will shape your future for the next decade.
You might also be interested in...