The Day We Nearly Lost Montecito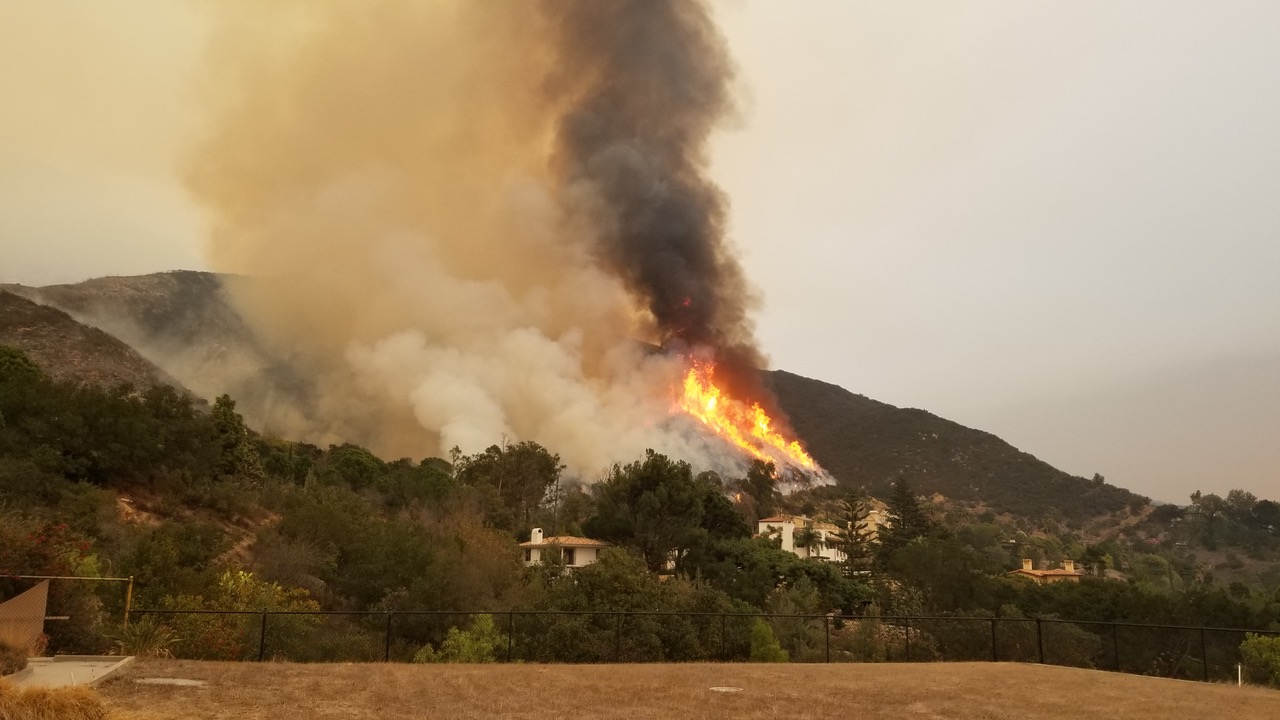 (photos courtesy MFPD chief Chip Hickman)
Most in Montecito have no idea how close we came to community decimation two weeks before Christmas. At 6 am Saturday, December 16, 2017, sundowner winds of 30 mph, gusting up to 60 mph, drove the Thomas wildfire, the largest in California history, past the firefighter containment lines on East Mountain and Bella Vista drives. Montecito faced imminent destruction.
An army of firefighters from 19 states and more than 300 fire engines created a formidable line of defense below San Ysidro and Cold Springs Canyons striving to save homes along Mountain Drive, Park Hill Lane, Bella Vista Drive, Park Lane, Cold Spring Road, and Ashley Road. As the fast and furious flames advanced across the ridgelines, fireballs and burning embers carpet-bombed Montecito from East Mountain Drive all the way down to East Valley Road (State 192). Spot fires were extinguished as far south as the corner of Sheffield and East Valley and halfway down San Ysidro Road, almost to Fire Station #1. Flames, ash, and smoke obliterated sunrise that morning.
All residents north of 192 (East Valley Road) were already under mandatory evacuation. Earlier in the week, homeowners cheered as firefighters successfully defended fire lines in Toro and Romero Canyons, thanks to favorable winds. Saturday morning, winds offered a new challenge as blazing chaparral threatened to create a wind-driven inferno cascading all the way down to Butterfly Beach, burning everything in its path.
Firefighters from as far away as Red Hook, Montana and Spearfish, South Dakota stood by fire trucks with charged fire hoses, clearing brush to protect as many homes as possible and to try and save the vulnerable and historic San Ysidro Ranch. Firefighters peered through dense smoke, haze, and falling ash, spotting and extinguishing flying embers before they could explode into more fires and fireballs.
Loss of Homes and Structures
It is almost miraculous that only 10 homes were destroyed by fire in Montecito. Narrow roads lined with luxury homes, hidden behind iron gates and even narrower driveways weave their way up the mountainside. Firefighters risk their lives for lack of escape routes if the fire line is breeched. Two homes were lost on Park Hill Lane, four more on East Mountain Drive, two on Hot Springs Road, and two on Park Lane.
Linda O'Hare, owner of Lily on Coast Village Road, was one who saw the total destruction of her 124-year-old home and all her possessions at 1088 East Mountain Drive, where she had lived for 24 years. Stop by her shop at 1131 Coast Village Road and buy one of Linda's special winged-heart soap sculptures. All proceeds are being donated to the Firemen's Fund.
Saving Montecito
Three things saved Montecito: 1) a week's lead time to fully implement the Wildfire Urban Interface Incident Attack Plan prepared by the Montecito Fire Protection District; 2) the presence of 8,300 professional firefighters from all over California and adjoining states, fighting fires within 10 feet of homes and defusing flying ember shots; (3) three full days of containment efforts by hand crews using backfires and coordinated air drops before the Saturday morning blowout.
The fickleness of Mother Nature played a large role. Fortunately, she chose to calm down and even offered onshore inflow winds for Montecito at critical times.
The Advantage of Time and Prior Planning
The Montecito Wildland Urban Interface Incident Plan, developed by battalion chief Travis Ederer and his team, proved to be an invaluable resource for out-of-town firefighters. The plan identified every home in the Montecito wildland-urban interface, including street number and Google Earth profiles, in what out-of-town firefighters called the best documentation package they had ever seen, according to MFPD chief Chip Hickman, whose own home near Ojai was saved from fire, but with the loss of three smaller structures.
A year ago, the board of the Montecito Fire Protection District (MFPD) had the foresight to fund and employ two former U.S. Forest Service Wildland Fire specialists, Kerry Kellogg and Maeve Juarez, under the direction of fire marshal Al Gregson, to help craft and implement the community protection plan for Montecito.
MFPD invested a quarter of a million dollars in community fuel-reduction programs in the 12 months prior to the Thomas Fire. Working with Cal Fire crews and homeowners on Mountain Drive, Park Lane, and Bella Vista Road in the High Fire Severity Zone, 500 tons of flammable vegetation had been removed from 12 miles of roadways and homes. Defensible space plans were created for homeowners resulting in the removal of 500 tons of flammable vegetation, including 152 trees.
In the critical week that preceded December 16, firefighters bulldozed, set backfires, cleared brush, and positioned engines and hose lines at every vulnerable home on the wildfire-urban interface in Montecito. That preparation time proved invaluable in terms of local knowledge when the "big wind" finally arrived on that Saturday morning.
Communications and Coordination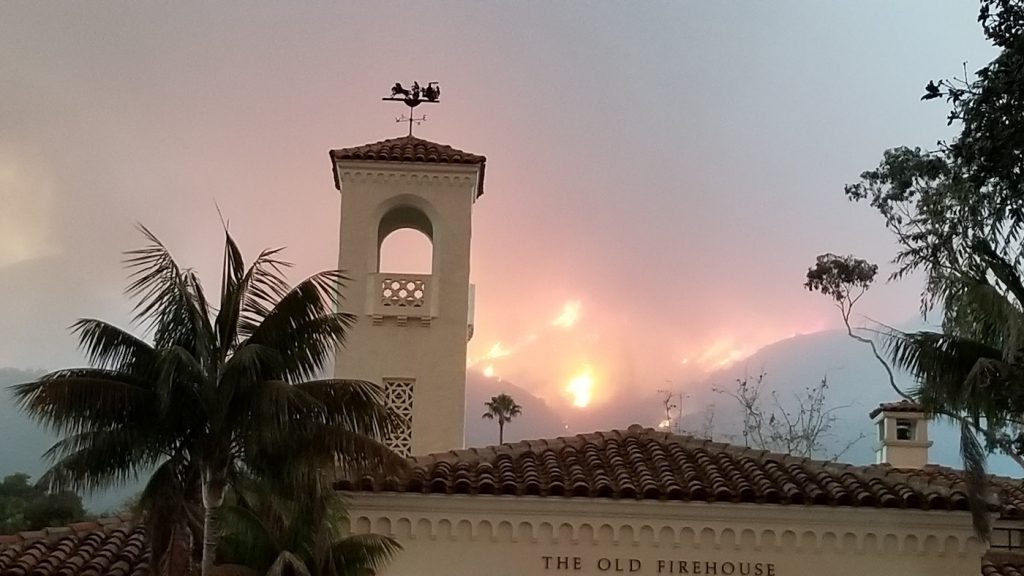 The 8,300 firefighters included volunteers from Cal Fire assembled from all across the western United States, the USDA Forest Service, Los Padres National Forest, and Santa Barbara County Fire, working with local mutual aid fire districts in Montecito, Santa Barbara, Carpinteria, Summerland, and Ojai. The Santa Barbara County Sheriff's Department, the California Highway Patrol, and National Guard were responsible for evacuations and public safety.
The Santa Barbara County Office of Emergency Management; Santa Barbara Air Pollution and Flood Control; Caltrans for highway safety; MERRAG for community communications, Montecito Water for maintaining fire hydrant pressure; and private citizens such as Palmer Jackson and Sam Frye, who allowed access to irrigation lakes for water for helicopter drops, were all plugged into a common network.
The unified command post for the coordination and allocation of all fire resources was headquartered at the Ventura Fairgrounds. Engines were staged back-to-back along all Montecito roads to be diverted as needed by strike team leaders.
Individual strike teams consisted of five fire engines with four firefighters each, with a leader for every team. These were positioned in the driveways of threatened homes with fire hoses already deployed and connected to fire engines. Firefighters cut brush, prepped the homes, positioned ladders, and fireproofed each home to the greatest extent possible.
Montecito was divided into divisions with each strike team leader reporting to a Division Supervisor. Firefighters worked 24-hour shifts. Every firefighter and agency was connected to the command center on 16 frequencies for coordination and tactical commands, an advantage not available years ago.
The peak hour of peril for Montecito came on Saturday, December 16, beginning at 6 am with maximum winds driving the fire from the wildland interface toward the coast and the potential destruction of some $9 billion in Montecito residential real estate.
Through a miracle of timing, the fire peaked one hour before a planned shift change. Fresh teams were inserted on schedule, while the old team remained in place for an additional 24-hour shift, doubling the resources on the Montecito fire line. A third shift of reserves stayed in place to fight spot fires as soon as they were reported. Twelve hours later, strong downwinds abated and Montecito was spared.
The Thin Red Line
Every resident of Montecito owes a deep and sincere appreciation for the fearless efforts of this "band of brothers (and sisters)" who came to Montecito, camping out for days and sleeping in our driveways, to protect homes and lives in the face of severe winds and flames.
One firefighter, Cory Iverson from San Diego Fire, paid the ultimate cost: his life. Iverson, aged 32, a member of a Fire Apparatus Engineer at Cal Fire San Diego, died of burn injuries and smoke inhalation while fighting the Thomas Fire in rugged terrain on the eastern front, north of Fillmore.
Aerial Drops
At the peak of the Thomas Wildfire, Cal Fire had at its disposal 27 fixed-wing air tankers dropping suppressant; 59 helicopters dropping a mix of retardant and water; 152 hand crews and 80 bulldozers.
Twenty-four heavy-lift helicopters, including the huge Sikorski 58, the CL-25 Bombardier "Superscooper", and 12 UH-1H "Super Huey" helicopters, worked out of privately owned Santa Paula Airport and the Air Attack Base at the Santa Maria Airport, pouring water and retardants on the fire when wind conditions and smoke visibility allowed low-level drops.
Jumbo tankers, including a Forest Service DC 10 and the world's largest supertanker, a converted Boeing 747, joined the fight to lay retardant to help boots on the ground establish containment lines. Fixed-wing aircraft such as C-130s work best to cover ridge tops, but they are limited in getting into canyons where visibility is limited by smoke.
Drones played a new and important role in fire discovery and instant mapping of changing conditions.
Evacuation of Montecito Residents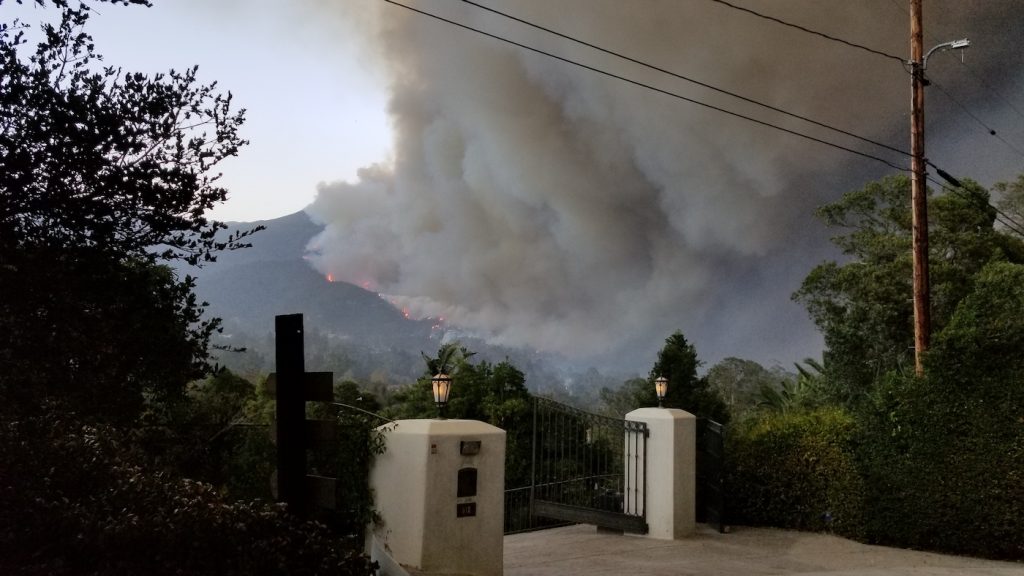 Residents north and south of the 101 were placed on mandatory evacuation. Each has a personal story of gathering up what was near and dear to them, as they fled to stay with either friends and family, or to the Doubletree Hilton or the Ritz-Carlton Bacara Resort, or the Buellton Hampton Inn, or Pismo Beach, or San Francisco. Others fled south to Los Angeles, Orange County, and San Diego.
Coast Village Road was empty, except for a few diehards hiding behind surreal facemasks, hacking and coughing, darting between empty storefronts to watch the flames that were less than a mile away.
Animals at the Santa Barbara Zoo were crated to prepare for possible evacuation. The Four Seasons Santa Barbara Biltmore and the San Ysidro Ranch were shut down because of smoke inhalation problems for both employees and guests. Ash cleanup delayed their reopening for nearly a month.
All evacuation orders for Santa Barbara County were lifted at 9 am on Thursday, December 21. For almost two weeks, the California Highway Patrol, aided by the County Sherriff's Department and the National Guard, posted police protection at every street intersection under evacuation to prevent looting of unguarded homes prior to the return of residents.
Looting and Other Mischief in Montecito
Thanks to a strong police presence, looting of unguarded Montecito homes was almost nonexistent. On December 20, a 32-year-old Lompoc man, Adam Smith, was spotted on surveillance video and arrested at the beachfront home of Beanie Babies tycoon Ty Warner on Channel Drive.
On December 11, Cesar Flores, 31, was arrested by the Santa Barbara County Sheriff's Department on suspicion of a bike burglary, possession of a burglary tool, and using drugs in public after he was seen prowling on private property in the 600 block of El Bosque Road, north of Highway 192 just east of San Ysidro Road, an evacuated area.
On December 16, police officers and firefighters battling the flames came across a Montecito residence in the 2200 block of Bella Vista Drive with 400 pounds of cut marijuana, 20 pounds of hashish, and numerous cans of butane, used for a commercial-grade extraction lab to produce THC from marijuana leaves. After all, this is Montecito.
The Upper Village of Montecito
The mandatory "Get-Out-Now" message to Montecito residents north and south of 192 was heard loud and clear. Both Casa Dorinda and Westmont College implemented carefully crafted, pre-tested evacuation plans that moved both distressed seniors and young students out of harm's way according to plan. Westmont reported spot fires that were extinguished in the riverbed between the campus and faculty homes. Flames swept around Page Hall on the upper campus but were extinguished by firefighters assigned to the area.
According to Gwen Stauffer, CEO at Lotusland, damage was limited to thirsty plants, a burned date palm, and melted irrigation pipes near the house in the Palmetum. Only mulch and Clivia burned in the citrus orchard. It was clear that vigilant firefighters onsite extinguished spot fires, protecting the gardens.
The Lower Village of Montecito
In the lower village along Coast Village Road and the Middle Road district, fear of fire was more muted. Businesses closed, events were canceled, schools were closed and most residents donned uncomfortable R95 facemasks that steamed up eyeglasses but filtered out toxins, asbestos, and other dangerous particulates from the smoke and ash.
The most popular viewing spot in Montecito became Ortega Ridge Road, which separates Montecito from Summerland. The panoramic nightly fire scene was astonishing in its breadth and ferocity. Flames erupted from fireballs into towering blazes within minutes. The rising fire created a mushroom cloud over Montecito visible both day and night.
Weather: the Driving Force
At its height, the Thomas wildfire was powerful enough to generate its own winds and weather system, qualifying it as a firestorm. There were periods when the fire was advancing at a rate of one acre per second. A favorable wind change allowed firefighters to hold the hillside fire from sweeping into Montecito. Not so fortunate was Ventura, where Santa Ana winds pushed the fire rapidly toward the coastline, invading the city before firefighters could set up a planned defensive line.
Ventura Scorched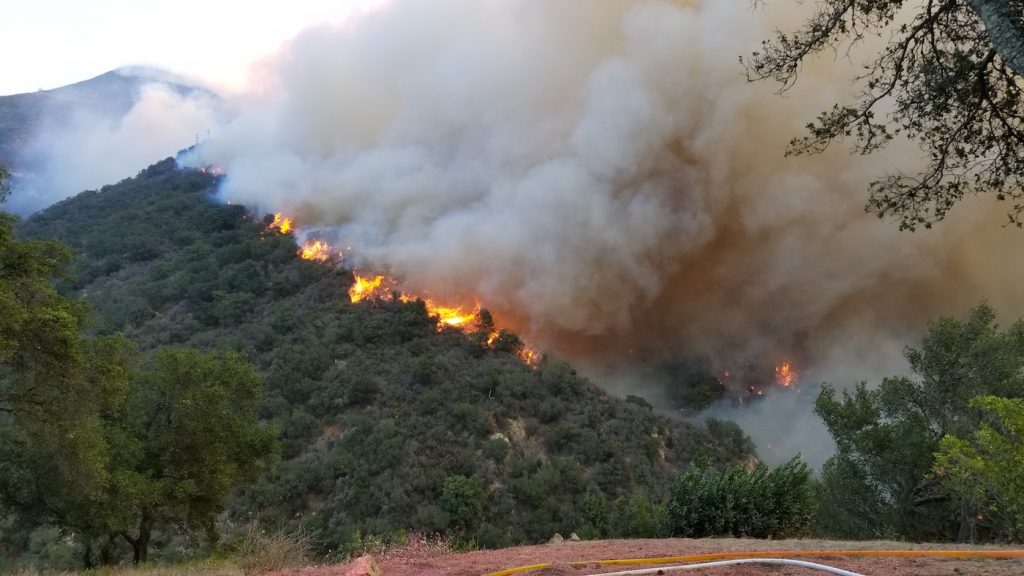 Fueled by 50 mph winds, the small brush fire that ignited at St. Thomas Aquinas College near Santa Paula raced through the rugged mountain terrain, crossing 11 canyons before sweeping down the Santa Clara River Valley into eastern Ventura on the night of Monday, December 4. With no time for planning, entire neighborhoods were cremated. The wall of flame swept into the heart of Ventura, reaching just behind the courthouse. Wiped out were the Vista del Mar Hospital and the Hawaiian Village Apartments, despite the emergency deployment of 1,700 personnel, 362 fire engines, 19 bulldozers, and four water tenders, and the mandatory evacuation of 27,000 residents in the first 12 hours.
Said mayor Neil Andrews: "I was sworn in as the new mayor by the City Council on Monday night, December 4. As I walked out of City Hall, all the lights in the City went out. In the next 24 hours, the fast-moving fire destroyed 427 homes and damaged another 85 in Ventura." What saved Ventura was a wind change that suddenly turned the blaze northwest toward La Conchita and the Solimar Beach area on the Pacific Coast Highway, where the fire jumped the 101 before attacking the Rincon Coast, Carpinteria, Summerland, and Montecito.
On December 4, Montecito Water District general manager Nick Turner was slated to close on a newly purchased home in Ventura, but on the proposed closing day, he learned that his new home burned to the ground. Said Turner, "Had the fire happened one day later, I would have completed my purchase and lost everything."
Power Losses and TV Coverage
Early on, Montecito residents were besieged by a continuous stream of power losses shutting down KEYT reporters John PalmInteri and Beth Farnsworth's ability to deliver TV fire reports. Desktop computers were shut down, while smart phones and laptops could not be recharged. Interruptions in light and power added to a climate of fear and angst. After an initial burst of outages, Southern California Edison performed exceptionally well under difficult circumstances.
Chris Childress, Santa Barbara County Fire chief, and his associates, did an outstanding job of informing and reassuring nervous residents with his daily 4 pm fire briefings on KEYT.
Flood and Mud
With the prospect of rain on a fresh burn area, the immediate peril has now switched from fire to floods and mudslides. Heavy rains could force naked hillsides to release debris, boulders, and mud from denuded hillsides into populated areas, or into vulnerable watersheds. Preparedness teams are working now to mitigate this possible post-fire disaster.
The Thomas fire burned through Montecito's Jameson Lake watershed, destroying several structures. That reservoir is vulnerable to debris, sediment, and ash contamination in the event of significant rainfall, resulting in a need for higher treatment levels at the City-owned, but shared, Cater Water Treatment Plant. The threat at the Cachuma and Gibraltar reservoirs is less severe.
Montecito Vegetation Mitigation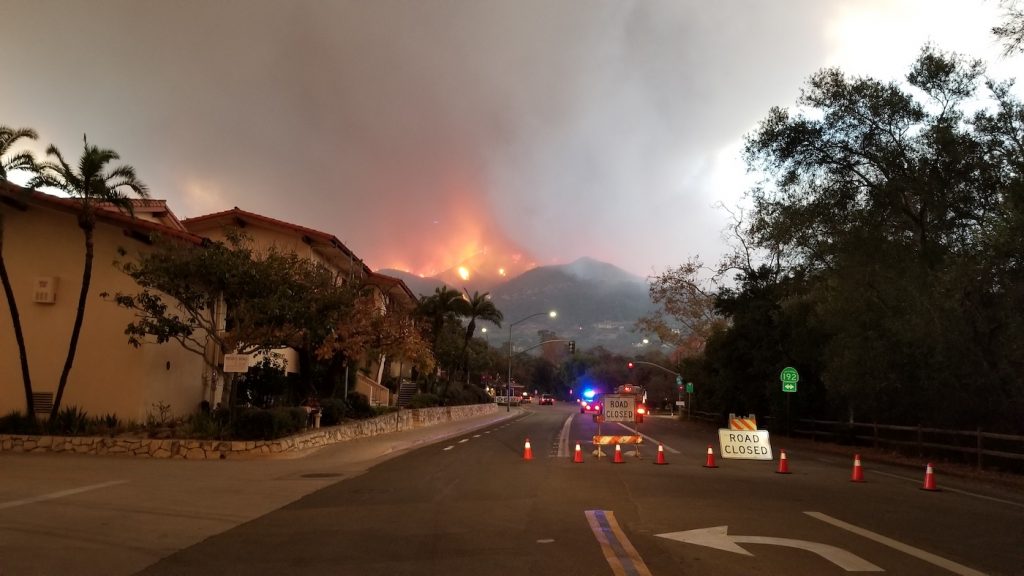 Montecito today will benefit from the reduction in wildfire fuel caused by the Thomas Fire burn of 281,893 acres in December 2017; the Jesusita fire burn of 8,733 acres in 2009; the Gap Fire burn of 9,443 acres in 2008; and the Tea Fire burn of 1,940 acres in 2008. Fuel buildup in the hills overlooking Montecito has been greatly diminished. The challenge will be to prevent the threat of flammable vegetation with removal, controlled burns, and firebreaks.
Montecito, with its winding roads, steep terrain, and lush residential landscaping, presents a unique challenge in wildfire management. The Los Angeles Times, in reporting on the Thomas Fire, labeled the "towering Eucalyptus trees of Montecito, whose sap and bark are highly flammable" as the primary culprit in creating "fire danger in the starry enclave of Montecito."
Mitigation of fire-receptive vegetation will be the subject of post-fire analysis and more community discussion.
Thomas Fire by the Numbers
In California, the wind-driven Thomas Fire roared to the head of the state list as the largest wildfire in California's recorded history, surpassing the Cedar Fire in San Diego in October 2003, which burned 273,246 acres, destroyed 2,820 structures, and killed 15 people.
Acres burned: 281,893 acres as of year-end 2017.
Federal land: 181,333 acres (64%)
State land: 96,199 acres (35%)
Private land: 2,362 acres (1%)
Start date: Monday, December 4, 2017 at approximately 6:35 am below Thomas Aquinas College, outside Santa Paula, on the east side of Highway 150.
Containment: 92% as of year-end 2017.
Estimated containment date: Saturday, January 20, 2018.
Cause: Still under investigation.
Fire trajectory: Fueled by strong sundowner winds and dry vegetation from five years of drought, the blaze rushed through Ventura, where it destroyed 400 homes. It continued up the coast past La Conchita and north toward Ojai. Turning west, it threatened Carpinteria, Summerland, and eventually Montecito, before being mostly contained at Gibraltar Road, the gateway to Santa Barbara.
Evacuations: 104,607 homes 
Structures destroyed: 1,063 plus another 280 damaged
Firefighters: at its peak, 8,300 firefighters from 17 states
Cost to Fight: $177 million as of year-end 2017
Worst time for Montecito: Saturday morning, 6 am, December 16, the day Montecito was saved by nearly a thousand firefighters such as Cory Iverson, who lost his life putting other people's safety before his own. 
California Wildfires in 2017
1.38 million acres of California's forest and foothills were destroyed in wildland fires in 2017, representing an area twice the size of the entire state of Rhode Island (775,900 acres), and slightly larger than the state of Delaware (1.25 million acres). The 9,053 wildfires in California in 2017 cost the state an estimated $13 billion in insured property losses.
On October 8 and 9, 2017, a series of California wildfires started in Sonoma, Napa, Lake, Solano, and Mendocino counties that have become the most deadly and costly wildfires in California history. These fires have become collectively known as the "North Bay Wildfires," and are composed primarily of three major fire complexes: 1) the southern Atlas Fire; 2) the central Tubbs, Nuns, and Pocket fires; and 3) the Mendocino Lake Redwood and Sulphur fires.
The Tubbs Fire started on October 8, 2017, just northwest of Calistoga, California, and burned a total of 36,807 acres in Sonoma and Napa counties. The fire was contained on October 31, 2017. This one fire alone generated some $3.3 billion in insured losses.
In October 2017 alone, 250 California wildfires ignited across Northern California, destroying at least 8,900 structures, forcing more than 230,000 evacuations, killing 44 people and burning more than 230,000 acres. Much of that damage and loss of life could have been avoided with a stronger vegetation management program.
You might also be interested in...